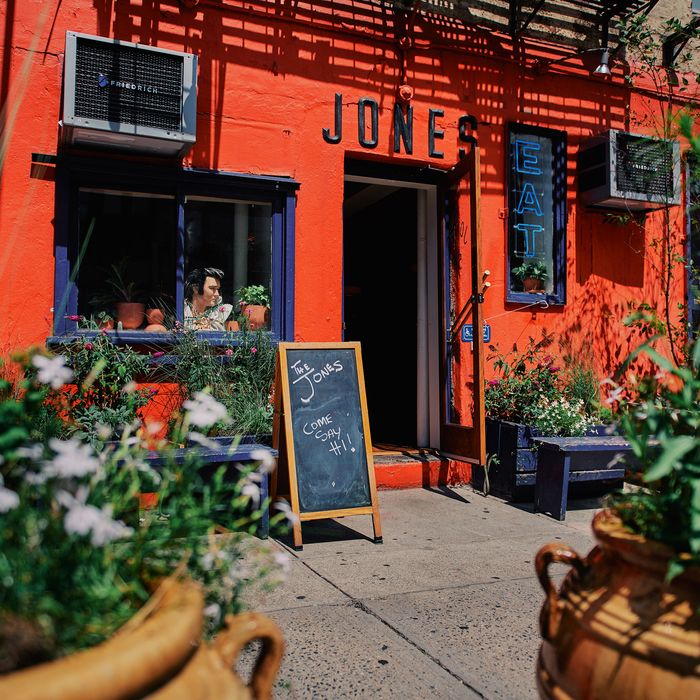 Stulman opted to keep the restaurant's façade intact.
Photo: Christian Rodriguez
Here's what restaurateur Gabriel Stulman didn't change when he took over the iconic Great Jones Cafe: the orange-and-blue exterior, the Elvis bust in the window hung with cheap Mardi Gras beads, the neon EAT sign, the pair of blue benches with chipped paint, the original bar — all totems of the Cajun restaurant run by Jim Moffett, who died last year at age 59. Here's what he did change: everything else.
The menu that once spanned the space's entire western wall, advertising a burger for $9.95 and 95 cent jalapeño cornbread, is now covered with a massive mirror framed with blond wood. The leather banquettes have been stripped bare and trimmed in kilim fabric from Morocco. The tables in the center of the room, also gone, have been replaced with one communal table, a leather sofa, and a few short stools for patrons who are just dropping by. The daffodil-yellow walls and ceiling have been painted white and now feature exposed wood. The Great Jones Cafe has become the Jones.
Stulman wanted the 36-year-old restaurant for its history — he points out that Jean-Michel Basquiat lived across the street in a building owned by Andy Warhol and used to drop by with Madonna — but he didn't want to preserve it exactly as it was. "I'm not trying to re-create Great Jones Cafe," Stulman says. "My thoughts are, Here's a spot that's on a great block with great energy, great history, and it feels very familiar to me."
The Jones is Stulman's ninth venture; he already has a collection of West Village eateries — Joseph Leonard, Fairfax, Bar Sardine, Fedora, and Jeffrey's Grocery — as well as a number of recent projects at the Freehand Hotel in Gramercy: Simon & the Whale, Studio, and George Washington Bar.
After the hotel sideline, the Jones, opening today, is a return to business as usual for Stulman: It's more similar in size and scope to his West Village establishments. Like Joseph Leonard, it opens early (at 7:30 a.m.), and once dinner service starts next month, it will close a little after midnight. Like Jeffrey's Grocery, there's a raw bar. And like Fairfax, it has a café vibe with small meals — a cheffed-up Filet-O-Fish, shaved-summer-squash salads, tinned sardines served with a hunk of baguette, egg sandwiches, artful pastries, fresh-baked bread, third-wave coffee — and a handful of main dishes.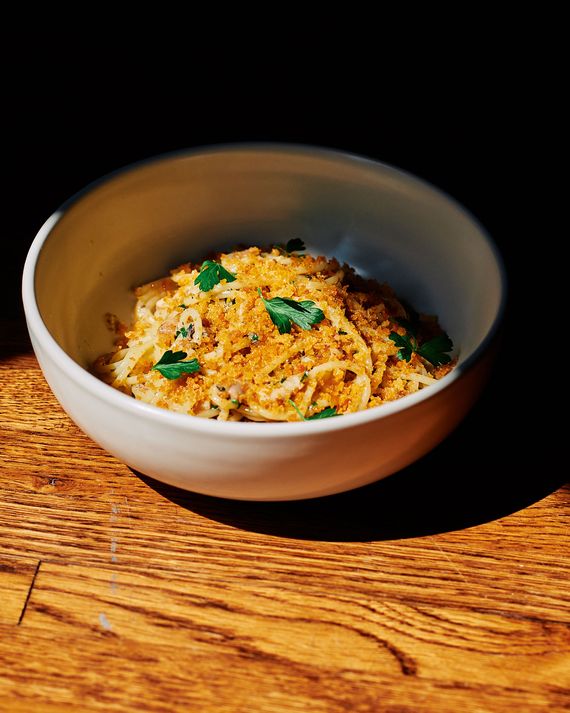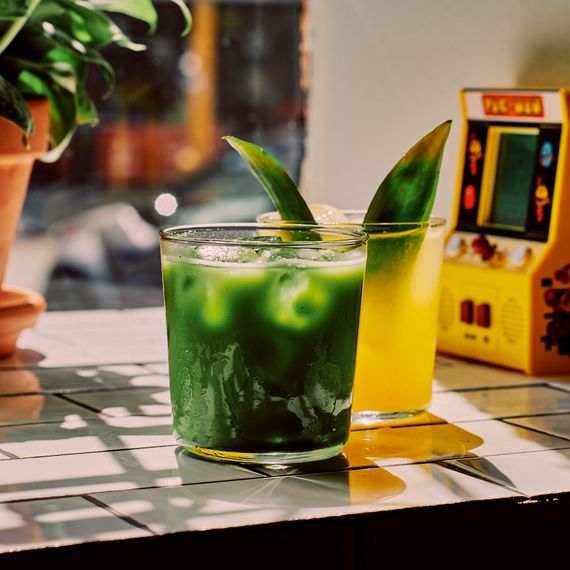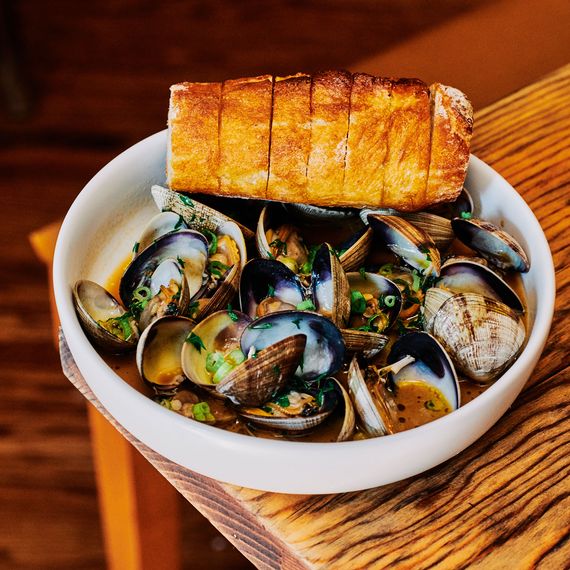 Stulman also acknowledges that the Jones is, in a way, like his restaurant Fedora, a decades-old neighborhood haunt transformed by him into a sleek destination for the upwardly mobile, much to the consternation of critics like Vanishing New York's Jeremiah Moss. Stulman's rebuttal is that "New York is always changing, and each generation should do their own thing." Like taking a few pointers from a chic Parisian spot: A major source of inspiration, he says, was Clamato, an intimate, "ungimmicky" Paris restaurant with a cult following and serious seafood-heavy menu centered around sharable plates and a few main courses.
The menu, put together by longtime collaborator and managing partner Jack Harris, becomes more Clamato-like as the day progresses, and by dinnertime, patrons can expect poached prawns, spaghetti with sardines, and other filling fare alongside low-ABV and no-AVB drinks like Five On It and salted celery lemonade plus a small wine list, all put together by beverage director Nick Grenier.
"Use the Jones how you want to use the Jones," Stulman exhorts. "I want it to be like your favorite pair of worn jeans, like your best friend."