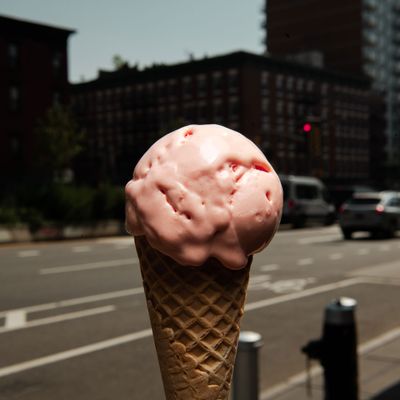 Il Laboratorio del Gelato's Tomayto Tomahto special.
Photo: Scott Heins
Every month in New York, there are a bewildering number of new dishes to eat, drinks to imbibe, and food-themed events to attend. Often, the hardest part is just figuring out what's really worth your limited time. So Grub Street kicks off each month with a curated selection of dishes, drinks, and events that should absolutely be on your agenda. Make your plans now.
1. Celebrate tomato season with a pizza that's all about Sungolds.
Some people are tomato fiends; some people go crazy for Sungolds, the tangy, juicy little tomatoes that you can't help but pop in your mouth like vine candy. Upside Pizza owner Noam Grossman is one of those Sungold fanatics, and they're the basis for an August special at the midtown slice shop. Called the Sunny Goldstein ($5), it uses the usual tomato sauce with one made from these radiantly orange little tomatoes, plus fresh mozzarella, sliced garlic, breadcrumbs, and parmigiano reggiano. August is the peak of tomato season, what better way to ring it in?
2. … then go downtown for tomato gelato.
You may not want to face the truth yet, but there's no escaping it: Ice-cream season will be over sooner than later, and it won't be long before the Mister Softee trucks flee the streets for shelter. Which is all one way of saying, you should carve out some time this month for a tour de New York ice cream (a.k.a. a lazy day eating at the city's best scoop shops). Just make sure to pop into Il Laboratorio del Gelato before August 14, through which they'll be serving a special flavor (all are $4.75 to $9.50) made with canned-tomato brand Mutti. Called Tomayto Tomahto, it's available plain or topped with a balsamic glaze. In other words, you can eat your tomatoes and have your ice cream, too.
3. Eat jerk chicken and pot stickers at Afropunk.
The annual festival of black music and culture, Afropunk, which the Cut has called "a tapestry of indulgences," is back in Brooklyn on August 24 and 25. There's a killer lineup featuring avant-pop artist FKA Twigs, saxophone savant Kamasi Washington, ascendent rapper Tierra Whack, and many more. All that jamming out in the August heat will have you burning a lot of calories, but don't fret: The organizers have delivered a worthy lineup of food vendors, including Cachapas y Mas, Destination Dumplings, Jamrock Jerk, La Newyorkina, Monk's Vegan Smokehouse, and others.
4. Have New York's most famous pastrami sandwich at the Met.
Name a more iconic (New York) duo: Katz's and the Metropolitan Museum of Art are teaming up to bring the city's most famous pastrami sandwich uptown. Thursday through Monday until the end of the summer, Katz's sets up shop at the Met's Cafeteria. There won't be any museum-themed specials, but who needs them when you can get your classic pastrami, corned beef, brisket, and turkey sandwiches served with potato salad, coleslaw, and pickles. You have been meaning to check out the Epic Abstraction exhibit anyway, haven't you?
5. Support the Brownsville Community Culinary Center in Midtown.
Every Saturday through August 31, Claus Meyer's Nordic restaurant, Agern, will transform into a Manhattan outpost, of sorts, at the Brownsville Community Culinary Center. Chef Charlene Johnson-Hadley will run the show with her BCCC crew those nights, serving a changing three-course menu for a very affordable $37. Dishes will include Nigerian-style suya beef skewers, escovitch snapper with festivals (a type of Jamaican fried dumpling), and peach malva cake. Even better, the proceeds will go to the Melting Pot Foundation.
6. Go to a special dinner cooked by the chefs of Atoboy and Paris restaurant CAM.
On August, the popular Koreatown restaurant Atoboy will host chef Esu Lee of Paris restaurant CAM. for a collaborative dinner ($90, reservations here) of small plates and natural wine. (Note there are plenty of reservations for parties of three and up, but none for parties of two.) Details are still mum, but there will be seven savory courses followed by a dessert. As for what those could be? CAM brings Korean and Chinese flavors to the French wine bar, like tartare with XO sauce and pecorino and quail with walnut-chili sauce.
7. Eat prawn crudo and lamb Calabrese sausage at a summer dinner series hosted by Narcissa.
The folks over at Narcissa are closing out the season with the Summer Table, a special dinner series they'll be holding through August. Each one will feature a different chef, farmer, or writer, who will each be behind a multiple-course meal ($75, tickets here) that's served family style with beverage pairings. They'll kick off this month on August 5 with a tasting of wines from the Canary Islands with the hotel's beverage director, Ashley Santoro, before bringing in Jocelyn Guest and Erika Nakamura of the recently launched J&E SmallGoods on August 14. Their dinner will start with a Negroni Sbagliato and includes a focaccia salumi board; entrées like red prawn crudo, charred tomato panzanella, and lamb Calabrese sausage with salsa verde; and pudding for dessert. The second half of the month will feature Andy Baraghani of Bon Appétit, on August 19, and Threes Brewing, on August 20.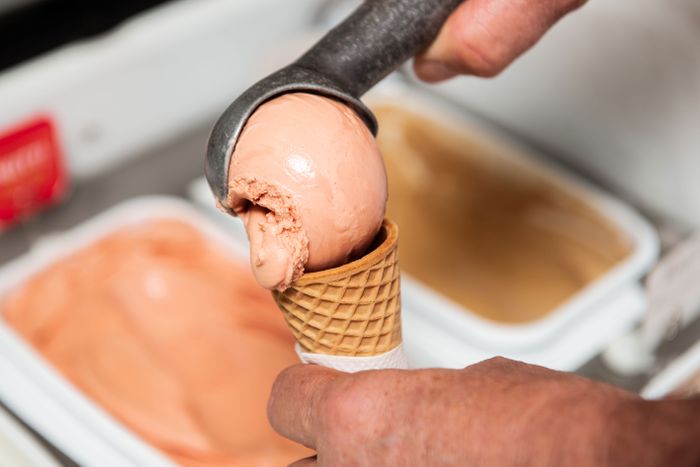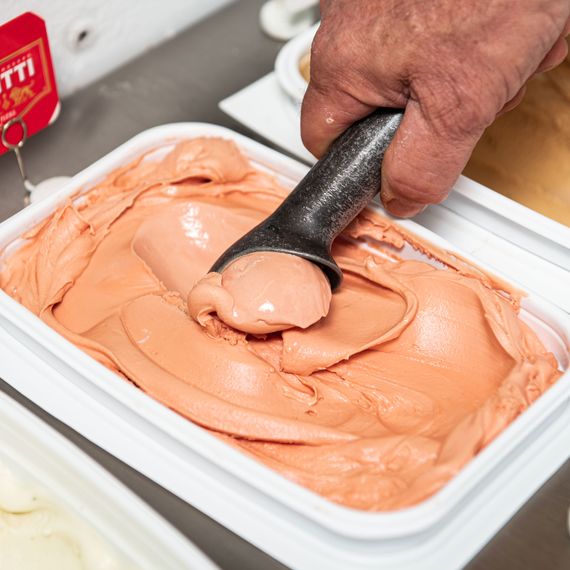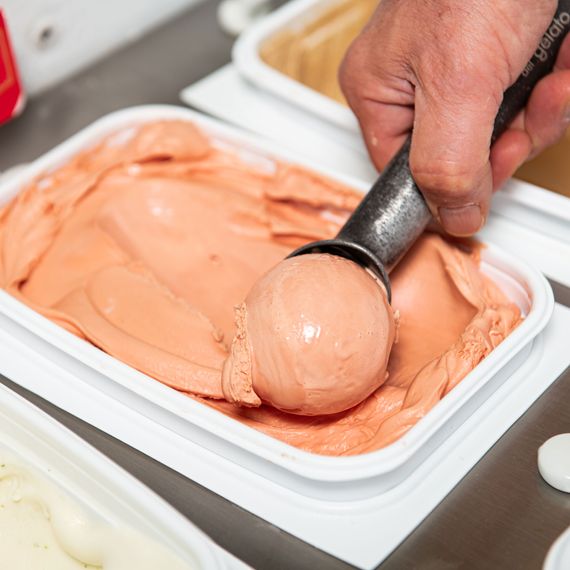 8. Or go to an end-of-summer seafood roast.
On August 20 at 7 p.m., the Beatrice Inn will host a seafood roast to celebrate the end of summer, something Angie Mar calls a personal tradition. (Though, don't worry, there will still be a few weeks left by the time it rolls around.) This being the Beatrice Inn, expect it be lavish (dinner is $230, reserve here): there will be oysters and foie gras torchon, grilled lobster and roasted clams, boudin blanc, roasted cockles and mussels, steamed langoustines, duck fat potatoes, truffled corn, and fried soft-shell crab. You'll finish with a apricot and armagnac custard.
9. Check out the new pan-Latin spot from the chef behind Scampi.
Adding to a roster of restaurants that includes Scampi and the Spaniard, the chef PJ Calapa will open Paloma on August 2. Located in the new Hotel Hendricks, it's being billed as a pan-Latin restaurant that's a nod to his hometown of Brownsville, Texas, though the menu speaks more in broad strokes than in specifics that bring to mind the border cuisines. There are a handful of Mexican dishes, like a now-obligatory Contramar nod in the tuna tostadas ($22) with chipotle aioli and four tacos ($18-$1) as well a ribeye taquiza ($64). Other dishes draw from Peru, as in skewers like beef ($18) with aji panca, and Spain, as in the gambas al ajillo ($20).
10. Eat macarons and more at the relocated, revamped Boise.
Since it opened in 2011, Bosie Tea Parlor has been a destination for West Village tea nerds and pastry lovers. After eight years on Morton Street, the owners relocated the restaurant to 506 LaGuardia Place, rechristening it Bosie and bringing on an executive chef. Jeanne Jordan, who worked at Mas Farmhouse and the Standard, has introduced dishes like French onion soup ($11), baked eggs with ratatouille ($15), and chicken cordon bleu ($24) to the menu. There's a full bar with tea-infused cocktails (all $14), like the Negroni Wilde (mezcal, Lapsang Souchong, Campari, reduced riesling), and the baked goods you loved before.
11. Spend a day at the beach and eating in Rockaway, then go to a surf-film festival.
Maybe your plan is to get one more beach weekend in during August, or maybe your plan is going to the beach every weekend. (Plus or minus a couple personal days?) Either way, here's one possible plan: Head down during the weekend of August 9 to 11, when you can spend a day at the beach and eating around the neighborhood before heading, at night, to the Rockaway Beach Surf Club will host the NY Women's Surf Film Festival. Put on by Lava Girl Surf, it's a free, two-night festival with an exhibit from photographer Bryanna Bradley. Spend your day hanging out at the beach, and grab lunch at, say, Rockaway Beach Bakery, and get dinner and drinks at Tacoway Beach at the Surf Club.