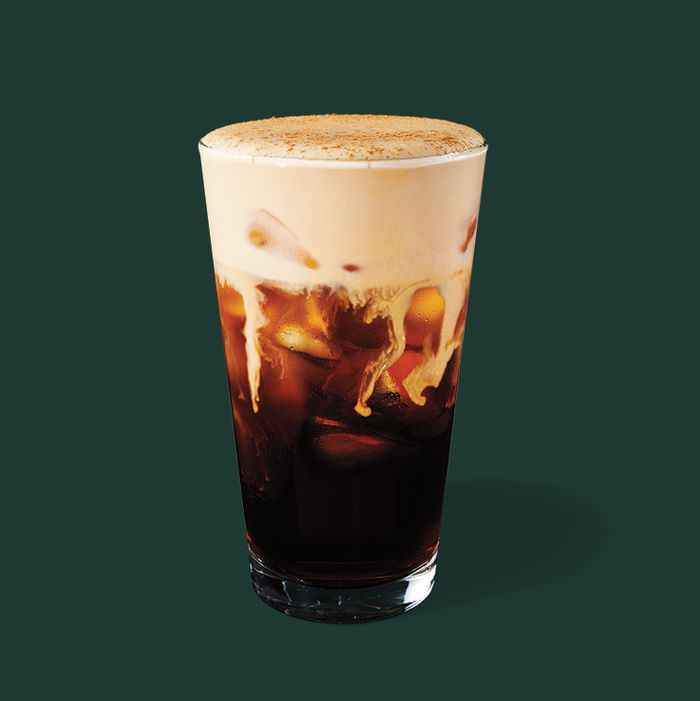 It was only a matter of time.
Photo: Starbucks
As you may already know, Starbuck's Pumpkin Spice Latte is dropping tomorrow, August 27. This is, of course, the earliest PSL drop in the drink's controversial 16-year history, but that news is small potatoes compared to Starbucks' second announcement: Tomorrow, the chain will introduce a new pumpkin-spiced cold-brew coffee.
The new drink has been dubbed the Pumpkin Cream Cold Brew. It includes cold-brew coffee with a vanilla base, pumpkin-cream foam, and pumpkin spice dust. The drink was developed this year in response to the rising popularity of cold-coffee beverages. In a press release about the pumpkin cold brew, Starbucks execs say iced coffee now represents 50 percent of Starbucks coffee sales compared to 37 percent in 2013. It also addresses complaints about PSLs hitting the market a whole month before the official start of fall: This cold brew most definitely straddles summer and fall.
So go and grab one tomorrow if you're so inclined, and check back here when Starbucks inevitably announces a pumpkin-spiced spiked seltzer.