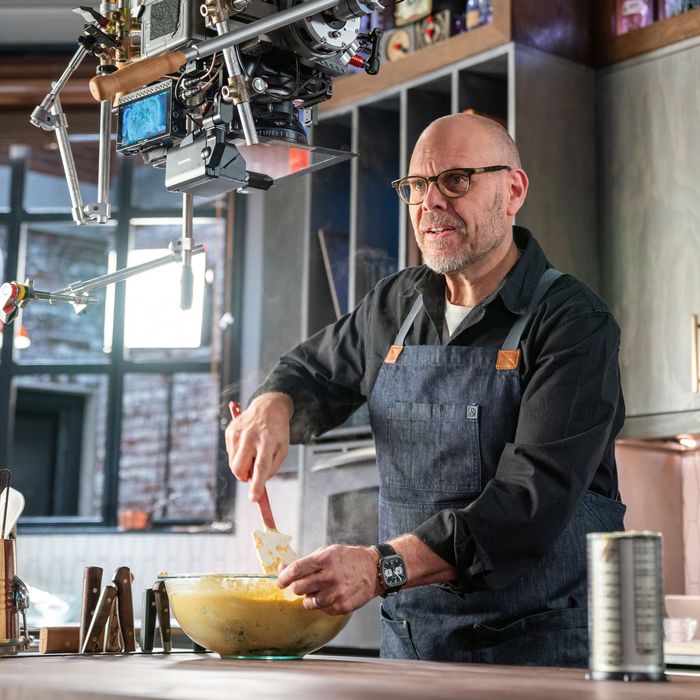 Photo: Courtesy of Food Network
On a recent Tuesday, food-TV personality Alton Brown sat down to do a Reddit "Ask Me Anything" session. The occasion: The revival of his food-meets-science show Good Eats, which originally ran on the Food Network from 1999 to 2012. The new program, appropriately dubbed Good Eats: The Return, premieres this Sunday — and is available to watch on YouTube right now. For a particular kind of mid-aughts food-TV viewer, this is a special moment.
"You've enriched my life immeasurably, and you've created one of the best shows ever, IMHO," wrote DBCooper_IRL.
A note from hazejulianhazze read, "You were my first source of culinary inspiration and I want to thank you from the bottom of my heart."
"Good Eats was what got me interested in food as a kid," wrote Kelbot9000. "As excited as I am for The Return, when are you going to do a video with Bon Appétit?"
Brown waved off the question, vaguely referring to his desire to put more videos on YouTube. But it's a question that deserves at least some probing: Over the last year, Bon Appétit has become a streaming juggernaut, molding its team of test-kitchen chefs into some of the food-loving internet's biggest personalities with series like It's Alive With Brad Leone and Claire Saffitz's Gourmet Makes show, where the professional chef attempts to create elevated versions of Twix, Reese's, and Pop-Tarts.
And that's just one of the newer entrants: The seven years since Good Eats went off the air has seen the rise of shows like Chef's Table, Ugly Delicious, Salt Fat Acid Heat, Binging With Babish, Cutthroat Kitchen (which Brown hosted), Nailed It!, Hot Ones, and The Mind of a Chef. While the shows may vary widely in terms of topics and structure, they have collectively helped raise the profile of food TV to levels of prestige viewing. How does Good Eats: The Return fit in?
It fits in by staying true to what made it popular in the first place: Brown's dry, silly sense of humor and knack for explaining food science in laypeople's terms haven't changed or softened, and it's comforting to see a new show that is just like the old show. It's a mindful panacea in times of chaos and unrest.
Skits continue to play a big role in the show, though they can be a bit uneven. A segment about San Marzano tomatoes — modeled as a mob deal — does a great job of explaining why most supermarket tomatoes labeled "San Marzano" are fakes, but it also leans heavily on dad humor. The repeated appearance of a Hernán Cortés character in an episode devoted to ancient grains becomes grating as the episode progresses.
But more important, the new Good Eats still takes the idea of an instructional cooking show as a jumping-off point to become a show that goes quite deep on a single idea. Something as simple as chicken parm — the subject of the premiere episode — becomes an opportunity to explore the history of Italian-Americans in the 19th century, the U.S. government's refusal to acknowledge Italy's food certifications, and the ins-and-outs of mortars and pestles.
That kind of depth is more impressive when you consider that it all happens within a relatively breezy 22-minute structure. Brown and his team have perfected his ability to tell a comprehensive food story without once losing the audience's attention along the way. As food TV, and especially digital-first programs, have gone in an unscripted direction, relying on hosts and subjects who are speaking off the cuff or dealing with the unexpected, Good Eats' tight, three-part structure can feel surprisingly refreshing.
Good Eats outlived so many of its contemporaries because it wasn't centered on a bigger-than-life TV personality or aspirational living. Focusing on home cooking with the necessary history and research to back it will always be interesting subject matter. Of course, the show's recipes — a better chicken parm, quinoa casserole, chia chocolate pudding, shakshuka, and more — are crowd-pleasers by design, and the entire operation feels instantly familiar. Good Eats: The Return succeeds by sticking to what made many people love the show in the first place: total dedication to cooking great food at home.