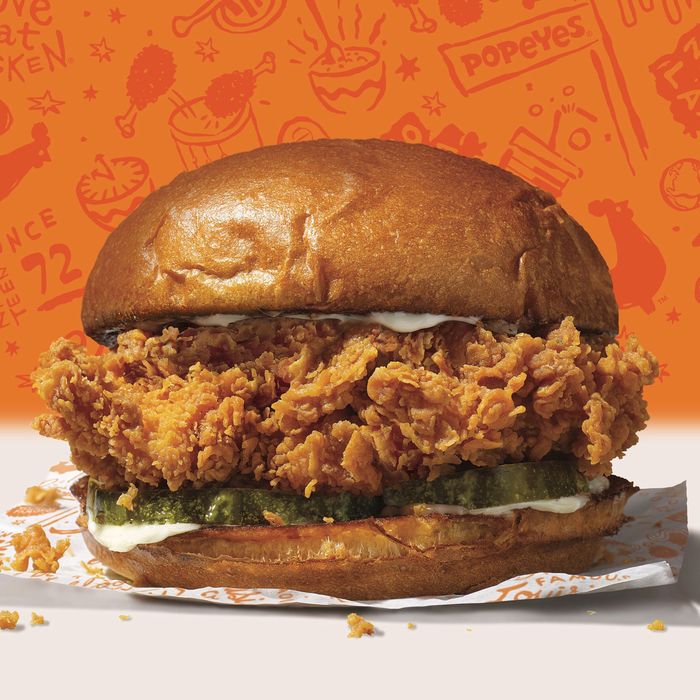 A chicken sandwich from a fast-food chain.
Photo: @PopeyesChicken/Twitter
In a not exactly surprising turn, the Popeyes chicken sandwich craze sounds like it has been particularly crazy for the chain's workers. Business Insider spoke with five employees from around the country, who talked about exhausting hours, sandwich shortages, and abusive customers — with one from Orange County, California, saying, "I was working like a slave." The same day, Popeyes announced that the sandwiches will be sold out at every location by the end of this week.
In a statement sent to NBC News, Popeyes — or its council of fried-chicken fanatics — says that demand "in the first few weeks far exceeded our very optimistic expectations." (As Business Insider points out, the sandwich has actually been available at some locations for a year now.) The company says that even though its forecast for September was rainy with a lot of fried-chicken sandwiches, it has totally sold out that inventory. A representative told Business Insider that "restaurants experienced unprecedented volumes over the last couple of weeks" and that Popeyes is grateful that "employees have worked very hard."
The social-media-fueled mania has reportedly caused some uncouth behavior by customers. A manager at one Popeyes on the East Coast told Business Insider that customers nearly fought employees after being told the sandwich had sold out. The California employee said that one customer threatened to assault workers, shouting, "Do we have a problem or what! Why no sandwiches!" Do people really have to be told not to physically threaten workers because they're losing their shit over a stupid sandwich? Breaking: You can eat a fried-chicken sandwich at many, many places, some of which don't have the baggage of fast food and industrial agriculture attached!
One Popeyes employee told the website "everyone wanted to quit so bad"; another part-time worker said some nights her co-workers were staying until 2 a.m. (three hours after closing). A New Jersey former employee (who quit last week in the middle of her shift) got right to the point, telling the Business Insider that the problem with the chicken chain is the treatment and compensation of its workers. Popeyes might not be Chick-fil-A, but it treats and pays its workers as poorly as any fast-food chain. Those workers aren't going to benefit from dealing with the chicken craze, and they're paid next to nothing to begin with.