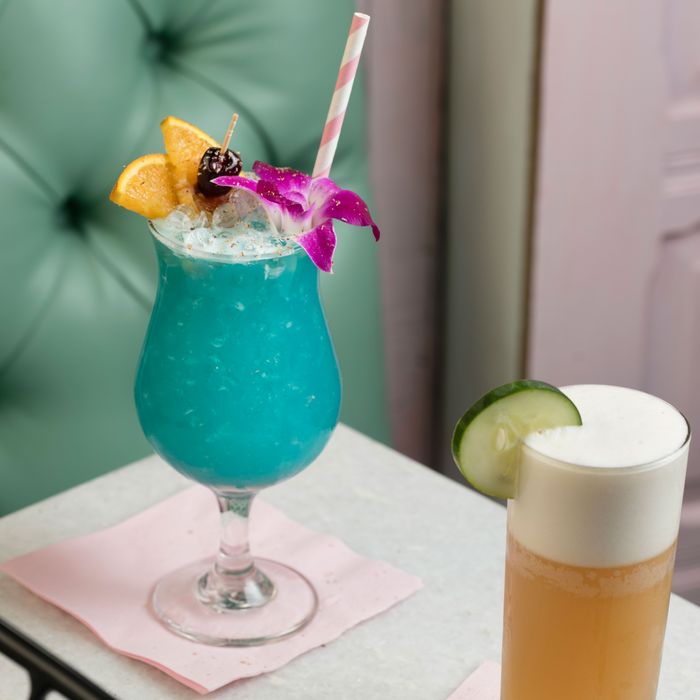 Two of Izzy Rose's colorful cocktails: the Fistful of Seashells (left) and the Izzy Fizz.
Photo: Melissa Hom
If you're vegan, you'll be happy to know that Clinton Hill is now home to a bar for people like you, dubbed Izzy Rose, from Elle Barton, the owner of neighborhood favorite Clementine Bakery. But if you're not vegan, you should be equally excited because Clinton Hill is now home to a very stylish bar, with a large, sunny backyard, and Mexican-inspired bar food that just happens to be vegan.
Bars have proven to be great way for promoting vegan ideals in a casual environment. Restaurateur Ravi DeRossi has done it with his three vegan bars Mother of Pearl, Ladybird, and, most recently, Honeybee's. In Brooklyn, there's Pine Box Rock Shop, which is as much a place to catch the NBA Finals as it is to get vegan drinks and food. (Once a month, the bar hosts a Vegan Shop-Up market.) Outside New York, bars like Beelman's in L.A., No Bones Beach Club in Seattle, Charlie Was a Sinner in Philly, and Austin's the Beer Plant are also slinging creative drinks alongside vegan fare.
When Barton first heard that a nearby South African restaurant called Amandla was closing, it was the backyard space that immediately stood out to her. She also recognized that the neighborhood could use a cool bar. The vegan menu was a footnote.
"Nowhere in the bar do you see the word 'vegan,' so you don't know until you're in and then you look at the menu," Barton says. "It's about creating a space that's welcoming and had great cocktails that doesn't feel too pushy about veganism."
The 65-seat bar is also a pastel ode to Barton's 4-year-old daughter, Isadora Rose, with a narrow barroom featuring high-top tables for small groups, chairs and marble tables in the middle, and a seafoam-green booth that runs the length of the room. The backyard that first got Barton's attention is now painted pink and yellow, with a teal tarp providing shade, a gaggle of elephant ear plants, and several tables for large gatherings.
For the food, Barton, who grew up in California, tapped self-taught vegan chef Allison Montana Emmet, who previously ran a vegan lunch club and worked as a private chef, to take her vision for a Mexican bar menu and run with it. Accordingly, the options — four vegetable-centric tacos, vegan nachos with cashew cheese, an elote-style corn cup, two salads, and chips and dip — are made to fly out of the kitchen fast (in as few as 10 to 15 minutes) and satisfy. The vegan nachos are salty and fresh, set over thick tortilla chips that are, frankly, addictive. And the feta crunch salad with kale, cabbage, pepitas, and lemon-parsley vinaigrette is a rare bar-menu item you don't regret eating afterward.
And because Barton's first project is a vegan bakery, she opted to fill the restaurant's former raw-bar case with pastries from Clementine, like a peach amaretto cake and Mexican chocolate cupcakes. "I just love taking things and making them work, like recycling," she says.
As for cocktails, you're unlikely to find, say, a White Russian on the menu. (In fact, every drop of alcohol in the bar has been cleared through the vegan liquor, beer, and wine database Barnivore.) In place of egg whites, bartender Tom Roughton uses aquafaba, or chickpea water, in cocktails like the Izzy Fizz, a spin on a Pimm's Cup with apple brandy, hard kombucha, and ginger beer. And the bar's Bloody Mary subs vegan Worcestershire sauce for the real thing, which typically contains anchovies. Roughton has also made a show of leaning more into the "plant-based" aspect of cocktails, using fresh fruit juices where he can to craft an eye-catching array of boozy drinks in dark purple (blackberries), bright red (strawberries), and warm yellow (turmeric).
For Barton, it's all a natural extension of the goodwill she's built at Clementine, feeding people baked goods for breakfast, on their birthdays, or for special occasions. Izzy Rose is an opportunity to keep that going in a neighborhood that also appreciates a great bar. "I got this opportunity to take over a bar down the street and decided that I knew what the neighborhood wanted," Barton says. "I knew that everybody loves an outdoor space and a nice place to get a drink after work. Because at the end of this day, this is really about making relationships and connections stronger."