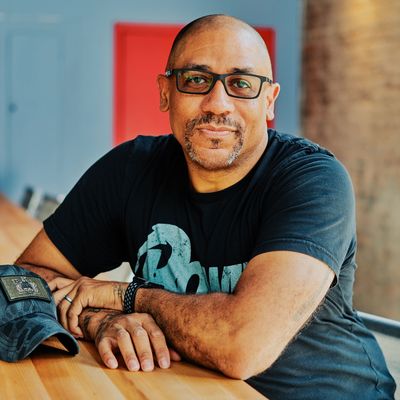 Chef Russell Jackson at his new restaurant, Reverence.
Photo: Christian Rodriguez
On a recent weeknight, with Frederick Douglass Boulevard still glistening from a rainstorm, a petite, middle-aged woman was being waved away from a small restaurant, Reverence, a new 18-seat spot in West Harlem run by a chef named Russell Jackson. The woman didn't realize a reservation was needed to eat there.
"I have to lock the door," says Ashley Harmon, the restaurant's director of operations, hostess, and de facto server, "or people just wander in." She flashes a red-lipped smile. "I think I've basically met everyone on the block at this point."
Neighbors aren't the only ones curious to see what Jackson is up to. The chef, who spent the majority of his 36-year career in California, is largely unknown in New York, yet Reverence is the kind of ambitious, multicourse-tasting-menu-only restaurant — where dinner clocks in just under $100 per head and must be paid for in advance — that's typically opened once a chef or owner has the cultural currency to entice New Yorkers. Adding to the mystery: The opening has largely eschewed the kind of PR blitz that accompanies almost all high-end restaurant openings in New York, and Jackson himself has banned photography — professional and amateur alike — in the restaurant.
In California, Jackson worked at California cuisine stalwarts like Spago and Border Grill. He also ran a supper club and opened two (now closed) restaurants, Russell's and Lafitte. The latter was on prime real estate, Pier 5 in San Francisco, with views across the Bay. The restaurant opened with no set menu but planned to use seasonally fresh ingredients. Two years later, Jackson's 21 investors pulled the plug. "I blew $ 5 million last time," Jackson says. "I'm not doing that shit again. What was wrong with me?"
While Lafitte was built on excess, Reverence is noticeably lean. Jackson says it cost a fraction less than $500,000 to open. A bedazzled skull and handful of tropical plants are about the extent of "décor," and the industrial, open kitchen makes it clear that the experience is all about the food.
Though the menu is firmly rooted in the Michelin-geared tradition, Jackson and his staff pull ingredients and techniques from around the world; though for now, the clear theme of the meal is rooted in the chef's California experience. (As if there was any doubt, the restaurant's soundtrack includes songs by Red Hot Chili Peppers, No Doubt, and Sublime.) Snacks include pickled cucumbers, as well as gougeres filled with tofu and a tangy jam made of fermented blueberries. A ceviche of scallop sits in thin, subtle corn "leche."
Uni, from Peru, arrives under a blanket of soft white rice that's cooked with shiso butter. A final savory course is a nod to San Francisco Zuni Cafe, and chef Judy Rodgers's revered roast chicken: a boneless chicken breast, roasted with skin on, served with frisée, cubes of toasted sourdough, and a dressing made with the chicken's fat. For dessert: homey peach crostata — which Jackson says is inspired by Chez Panisse — that's cheffed up with a sweet-savory caramel of miso and honey and crème fraîche that gets unexpected nuttiness from the addition of tahini.
Jackson, who is 56 now, ends the meal in a way that feels atypical: by asking his guests what could have been better. What dishes can be improved? What were the night's biggest missteps?
"I've realized there's enough people in this city to fill every restaurant in the city once over a night. People have a choice," Jackson says. "I know it's going to take time for people to learn to trust me, but I've been doing this over 36 years now professionally. I kind of know what I'm doing a little bit. Just give me the opportunity, that's all I'm saying."