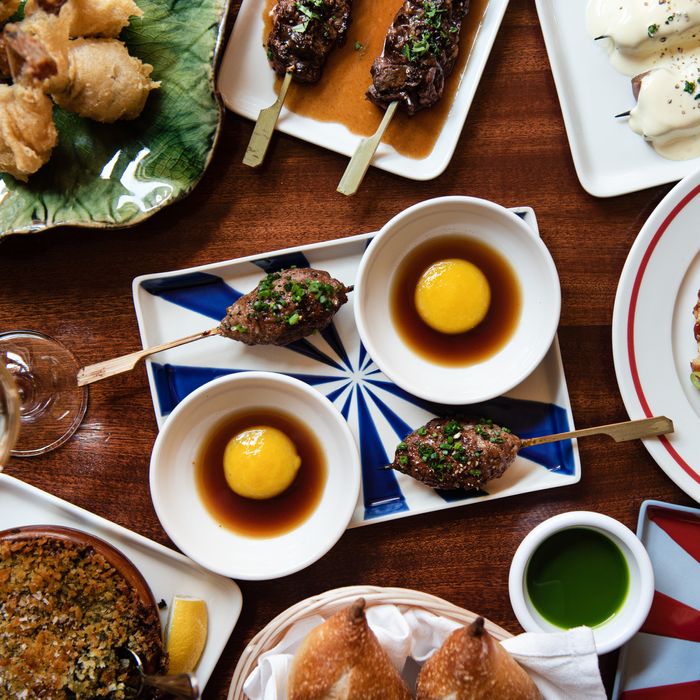 Skewers and small plates at Maison Yaki.
Photo: Liz Clayman
After managing, by some miracle, to manufacture a first critical success, talented young chefs like Greg Baxtrom, whose hit restaurant Olmsted is still drawing crowds out in Prospect Heights, tend to be faced with a variety of perilous follow-up options. There's the prudent, non-expansionist "tend your garden" option (à la Gabrielle Hamilton at Prune), which will keep your regulars in the neighborhood happy but may not result in a financial windfall anytime soon. There's the fast-casual scheme (upon which many a dream of culinary fortune has been shipwrecked) and the franchise-deal-in-Vegas (or Manhattan) option (ditto). There's the shoot-for-the-stars "World's 50 Best Restaurants" alternative (also risky), or the more deliberate ­neighborhood-empire-building strategy pioneered by various chefs and restaurateurs (David Chang, Danny Meyer, Jody Williams and Rita Sodi) over the years in their different corners of the city.
Or you can do what Baxtrom does with his eagerly awaited follow-up, Maison Yaki, and cherry-pick elements of these different timeworn options to create an antic mash-up genre all your own. The bar-restaurant, which opened a couple of months ago in a narrow space across from Olmsted, is being billed for local regulars as a kind of Japanese-style gastropub, albeit one with a French-accented menu with its own ready-made fast-casual logo on top (a chicken wearing a beret, for the record). The wait staff are dressed in striped black-and-white outfits like servers at some random tourist restaurant on the Côte d'Azur. The specialty of the house is that old Japanese fast-casual standby yakitori, grilled on bamboo sticks, and nothing on the napkin-size fold-up menu (which is neatly affixed to a pair of red plastic chopsticks) costs over ten bucks.
With a bar at each end of the room and rows of slightly cramped ­counter-style tables in between, Maison Yaki looks like it's been designed for quick turnover and with a maximum kind of happy-hour expediency in mind, but look closer at the menu and you will see all kinds of elevated, "50 Best"–list touches hiding in plain sight. There are dense Japanese-style sandos constructed with large croquettes made from a mix of beef tongue and brisket to enjoy before the yakitori skewers arrive, and little pots of grainy, fat-streaked duck rillettes topped with an eggy housemade sabayon touched with wasabi. Seven dollars buys a stack of tender frogs' legs seized in a delicate tempura batter, and if butter-soaked escargot is your particular thing, you'll find them at this neighborhood izakaya served with plenty of shiso and garlic and baked in drifts of panko bread crumbs.
All of these fusion creations are mini-size, or at least mid-mini-size, and intended, as in a classic izakaya, to be consumed with a steady stream of modestly priced beers, wines, and batched $9 house cocktails (try the sake Negroni or the Vesper martini for maximum dizzying effect). Like the drinks, the food is designed to be ordered again and again, which is what I did with the superb croquette sando (squeezed between toasted moons of brioche) and the frogs' legs, which are lighter and far more tender than most local examples of this classic dish. The pommes dauphine have a similarly ingenious, user-friendly quality (they're served, like haute cuisine tater tots, in a twirling paper cone), as does the salmon tartare, the elements of which (capers, onions, chopped eggs, and crème fraîche among them) are meant to be mixed in a little white bowl and scooped up with housemade crackers.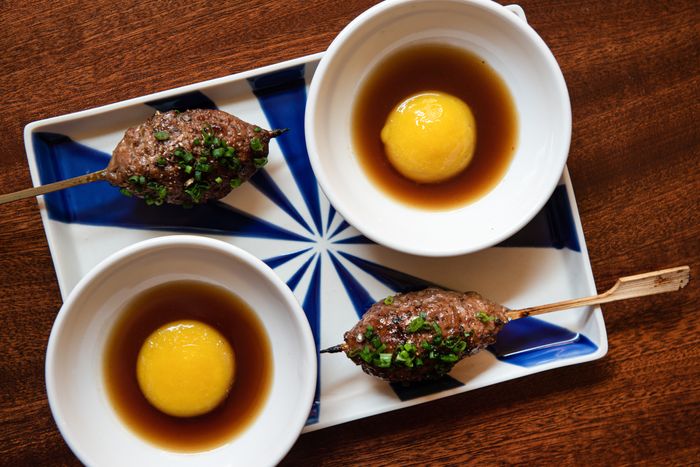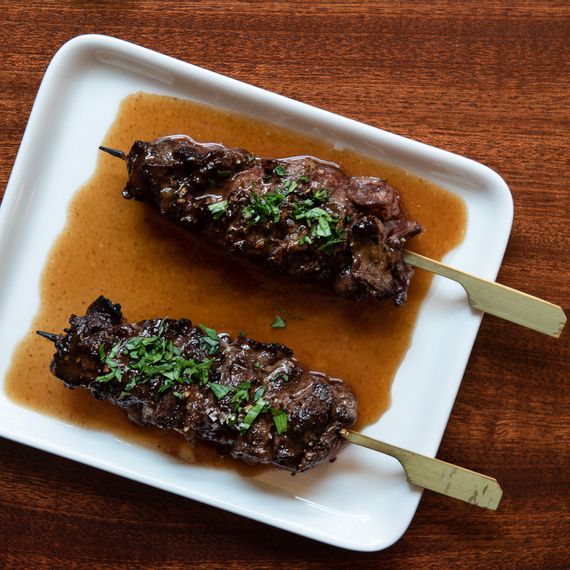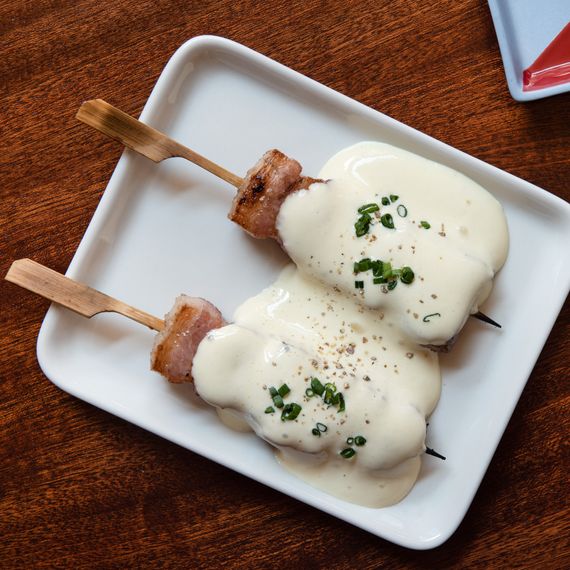 I counted 12 varieties of yakitori on my little fold-up bar menu at Maison Yaki, not including the "skewer of the day," which on one of the nights I dropped by consisted of little nuggets of grilled chicken tenderloin set in a pool of Julia Child–era sauce Robert. That's a brown sauce, in case you didn't know, made with white wine, plenty of stock (pork here), and a touch of mustard. It's just one of a veritable rainbow of old-fashioned, even archaic recipes torn from the Child (and Antonin Carême) canon that Baxtrom and his cooks pair, depending on their mood and what's at the market, with tenderized chunks of pork belly (Dijonnaise), rib eye (Bordelaise), or lobster, which is mashed into a single elongated meatball, the way chicken is often served at standard yakitori shops, poured with a rich, coral-colored version of sauce américaine, and stuck with a bamboo skewer.
Unlike many yakitori shops I remember patronizing in Tokyo, there's only one skewer per serving at this entertaining bar-restaurant, which means the cost of dinner (and drinks) can add up quickly. The cloying richness of the endless succession of butter- and cream-mounted sauces can begin to add up too, so for rationing purposes, I recommend the lobster and the lamb, and make sure you get a taste of the signature house duck à l'orange, which is another elongated meatball skewer. It's served with what appears to be a raw egg yolk but turns out to be a sphere of orange purée floating in a bowl of duck jus mixed with sweetened soy sauce. When choosing among Franco-­Japanese fusion desserts, it's usually wise to skew as French as you possibly can, which in this case means stiff, sugar-topped profiteroles stuffed with scoops of ginger ice cream, instead of vanilla, and poured with a green, slightly radioactive-looking sauce flavored with matcha.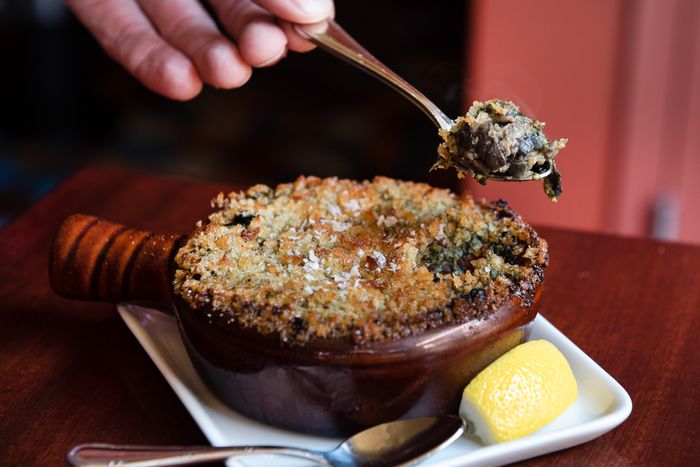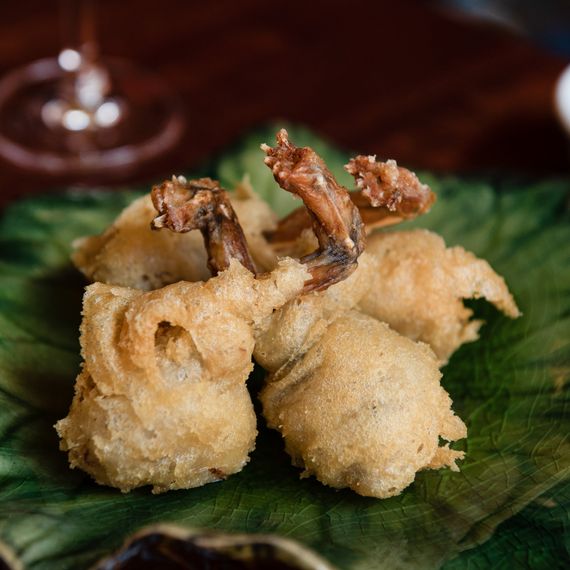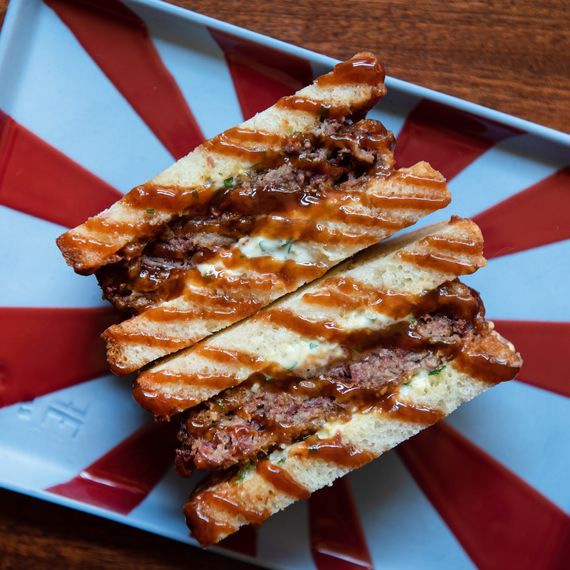 Maison Yaki | 82 (out of 100)*| Good
626 Vanderbilt Ave., at Prospect Pl., Prospect Heights; 718-552-2609; maisonyaki.com
Open: Dinner, Wednesday to Sunday.
Prices: $4 to $9.
Ideal Meal: Escargot or frogs' legs; beef-tongue sando; salmon tartare; an assortment of skewers including duck à l'orange, lobster, lamb, chicken wing, pork belly, and spring leeks; profiteroles with ginger and matcha.
Note: The bar serves only batched cocktails, but you can get a slightly more diverse selection of moderately priced wines (try the excellent Séléné Beaujolais by the biodynamic vintner Sylvère Trichard) to go with your skewers.
Scratchpad: Concept, technique and execution, and overall inventiveness add up to a very decent 82.
*The rating scale of 0 to 100 reflects our editors' appraisals of all the tangible and intangible factors that make a restaurant or bar great — or terrible — regardless of price. See The Thousand Best for 999 more great places to eat and drink.
*This article appears in the August 19, 2019, issue of New York Magazine. Subscribe Now!