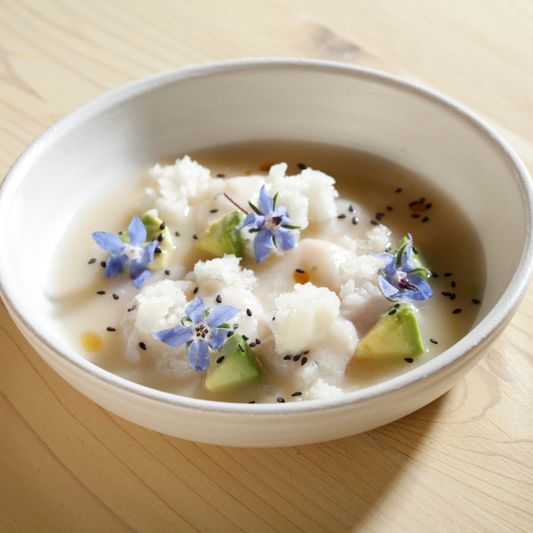 Scallop ceviche with cherimoya granita, avocado, and sesame.
Photo: Melissa Hom
Last January, just as Llama Inn chef Erik Ramirez and his business partner, Juan Correa, were preparing to unveil their 60-seat Greenwich Village restaurant, Llama-San, a small kitchen fire broke out in the duct of a wood-burning grill they had inherited from the space's previous occupant, Tertulia. Gas-service and other delays set them back for months, but they have finally scheduled an opening date, and plan to start serving dinner on Thursday, September 5.
The original grill is gone, but Ramirez expects to replace it with a Japanese konro grill, a binchotan-charcoal-burning model that has become popular among chefs of various cuisines. The first-generation Peruvian-American Ramirez will use it to showcase an aspect of Peruvian gastronomy that's seldom exported elsewhere: Nikkei, the culinary consequence of Japanese immigration. What began as a displaced community's attempt to cook its traditional foods with the ingredients at hand evolved into something new and distinctly Peruvian, and at Llama-San, Ramirez honors the cultural confluence with a purposely vague, 21st-century-style ingredient-list menu that largely leaves cooking technique and presentation a surprise. (A dish called "chicken thigh, aji amarillo, walnuts, alfonso olive, nori," for instance, materializes as a maki roll of sorts.)
Since its previous Iberian incarnation, the space has grown lighter and whiter, its walls now hung with Peruvian art. (An aside for urban historians: During Prohibition the second floor was home to the Red Head, the first speakeasy opened by two cousins who went on to launch the 21 Club.) Nowadays, the bar is front and center, and will dispense Japanese craft beer, wines from coastal regions around the world, and cocktails that integrate Japanese and Latin-American flavors as inventively as the food. Here's a look at some of those dishes and drinks.
359 Sixth Ave., nr. Washington Pl.; 646-490-4422