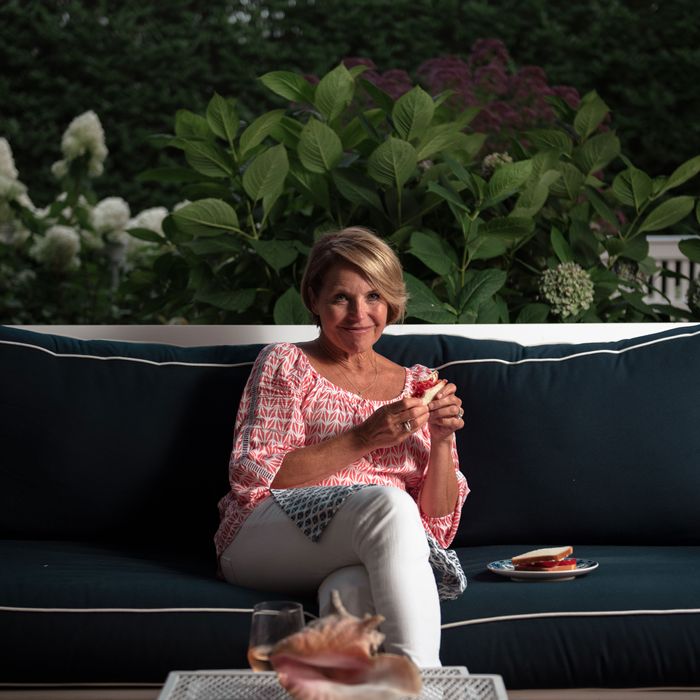 Katie Couric, at home with a tomato sandwich.
Photo: Scott Heins
Katie Couric is, of course, a television-news icon, and these days she's likely reaching you with her newsletter, Wake-Up Call With Katie Couric, which she launched through her eponymous media company. It's one of several projects the former Today Show host is working on: this fall she'll relaunch her podcast, she's announced a memoir, and has been producing docuseries. Oh, and she's always on the hunt for good cookies. "I really like chocolate-chip cookies," she says, "but a good one is hard to find." This week, Couric ate her fair share of chocolate-chip cookies in the Hamptons, including one she deems the best she's ever had. Couric also made sure to squeeze in as much summer as she could, seeking out multiple tomato sandwiches, lobster rolls, and Palomas — her cocktail of the summer. Read all about it in this week's Grub Street Diet.
Thursday, August 22
My husband brought me iced coffee from Goldberg's, the bagel place close to our house out east. I've gotten to know most of the people who work there, and I love going. I think, especially out here, it's become ritualistic for me to go to Goldberg's regularly. It's a real scene in the summer, but lately John's been getting up before I do, and he picks me up a large iced hazelnut with half-and-half and a Splenda. I'm trying not to use Splenda … but I'm letting myself have it in my iced coffee until the end of summer. I used to not use half-and-half, but you're allowed it on the Keto diet. I'm no longer doing Keto but I fell in love with half-and-half and am having a hard time kicking that habit, too.
Around 11 a.m. I ate some sliced tomatoes that came from my garden and put Maldon salt and pepper on them. Bobby Flay once brought me Maldon salt when I had a party and I've never looked back. It makes everything taste better, but you can't really cook with it. It's flaky and delicious.
Parade magazine was doing a shoot at the house for a health survey it's publishing in October and their editors had Citarella send over lunch for the crew. I don't eat sandwiches that often, but they had one with grilled vegetables on a whole-grain something, and I ate it while Dana, my hairdresser, did my roots and cut my hair off. It was very tasty. (The sandwich, not my hair.) I also ate a piece of broccoli and a couple of carrots. They'd been slightly cooked … maybe put in boiling water for a few seconds … what's that called … blanched? I thought I should eat some. So I did.
Around 5 p.m., these little Russian tea cake–type cookies were staring at me from the island in my kitchen. I really didn't want to eat one, but they kept looking at me and calling my name, so I ate two. I have a terrible sweet tooth and cookies are my downfall. They were flat and small, not the big round ones a lot of people make at Christmas.
For dinner, I had a tomato sandwich and a glass of rosé. The sandwich was on Pepperidge Farm white bread. I graduated from white bread when I was in my teens, but a good tomato sandwich must be on white bread. The tomatoes were from the garden. I used Hellmann's mayo, which is the best mayo, and I love mayo. I don't get along with people who prefer Miracle Whip. Someone on Instagram suggested I try Duke's mayonnaise, which is made in Richmond, Virginia, my home state, but I don't think I've seen it in New York. Also, I'd feel unfaithful to Hellmann's, which is such the mayonnaise of my youth.
I tried the "exploding chicken" (inspired by Camp Fernwood, but an original recipe) my younger daughter was testing for her camp friends who were coming to see her for the weekend. She put butter that had been mixed with garlic, parsley, chives, salt, and pepper in the middle of the chicken and then breaded it and fried it in oil. I volunteered to be her taster. It didn't really explode, but it was damn good.
Friday, August 23
We went to Mary's Marvelous in town for coffee. John got an egg sandwich and I got one of their frittata things that are made in a muffin cup (I think). We drove to Southampton because we needed to get a new car for reasons I won't get into here. Let's just say it involved a relatively new driver who I'm very close to. It was supposed to be heated (the frittata) but it was kind of cold so I waited to get home and nuked it. I then added Sriracha, which I eat on just about everything.
For lunch I had two ears of corn from Balsam Farms. That's it. I put it in boiling salted water for three minutes. I don't do the grill thing — I'm pretty basic about corn. We stopped by one of my favorite farm stands on the way home from Southampton.
We went to two parties. One for cocktails. A friend of ours, Liz Robbins, has this party every year. President and Hillary Clinton usually come. President Clinton looked very thin. He's vegan now. Hillary looked great. Relaxed and happy. We talked about her three grandchildren. We didn't talk much about politics. Well, a little. I'll leave it at that.
I had a vodka-soda with lots of lime. And a small little tea sandwich that was peanut butter and jelly. The older I get, the more I like peanut butter, sometimes with jelly. Trying to capture my lost youth apparently.
Then we went to another party at the beautiful home of some friends of ours right on the water. It was a fun, eclectic group with a number of bold-faced names, as they say. There was a delicious buffet. Eggplant parmesan, chicken piccata, and lots of fresh salads. For desert they served olive-oil cake and olive-oil gelato with some kind of honey-and-orange-rind situation on the side. It was really tasty even though I didn't think olive-oil gelato would be very appealing. I didn't know what I was eating until I had scarfed it down. I'm reassessing olive-oil gelato.
My friend Amy has invested in a tequila company called 21 Seeds that was started by two sisters and their best friend. It's tequila infused with different flavors like cucumber and jalapeños and it's made in a distillery in Mexico that is owned and operated by women. It's kind of the female version of Casamigos. It was really, really good, even just straight up for sipping. I'm going to get some. Palomas made with tequila, grapefruit juice, lime juice, and seltzer have been my go-to summer drink.
Saturday, August 24
We went to Jack's in Amagansett and I got an iced Mad Max (coffee with a shot of espresso) with oat milk. I'd never had oat milk and a friend of mine was raving about it so I tried it. I can't tell yet if I like it. I kind of missed my half-and-half.
I took a bite of John's morning-glory muffin. When we got home, I scrambled some eggs with cherry tomatoes and jalapeño pepper from the garden with a little manchego cheese. My daughter was whipping up a feast for her camp friends. Banana pancakes, scrambled eggs, fruit salad. It was fun watching her, she was really into it.
For lunch, I had a beautiful heirloom tomato I had bought at the farm stand and so I thought, why not? I will make another tomato sandwich. At this rate, I am definitely NOT going to get prostate cancer. I thought I might switch it up and make a cucumber sandwich on Monday but it seemed someone had absconded with the cucumbers from the garden. I had a few (okay, well, half the bag of) white-cheddar Cheetos my daughter had bought. I forgot how good Cheetos were. I don't think I've had a Cheeto since I was 11.
I went to the beach with my friend Martha, who gave me a chocolate-chip cookie from Iacono Farms, where they sell fresh eggs and chickens. I think it was the best chocolate-chip cookie I've ever eaten. And I'm an expert.
For dinner we went to our friend Andrew and Daniel's lobster feast. They do it every summer and it's so fun. They set up a table right on the beach. This year it was super windy and hard to talk and hear, but it was still a really good time and the food was delicious. Lobster, seared tuna with wasabi, corn salad, potato salad, lots of alcohol. I brought a plate of desserts and picked at it with Lorraine Bracco, her daughter, and her daughter's husband. They were really nice and interesting. They're staying at Lorraine's, but live in Paris, so it was interesting talking about Macron and French politics while we ate berry pie and picked at the homemade ice-cream sandwiches, made with chocolate-chip cookies. Oy.
Sunday, August 25
I woke up thinking, Wow, I really need to stop eating so much. John had bought me iced coffee and a whole-wheat currant scone from Mary's Marvelous. We took a walk on the beach and I was hungry, so when we got back I hate half of the scone and a piece of Crenshaw melon (which I guess is just a big cantaloupe?) which I think I let ripen maybe one day too many. It was still really tasty, and I put lime juice and a little salt on it. My mom used to salt cantaloupe and watermelon, which I think can really bring out the flavor. Maybe it's a Southern thing? When I do that, I always think of my mom. I really miss her.
I'm very sentimental. Super, super sentimental, you know? I was so lucky to come from such a wonderful family, and so I think I have a lot of really happy memories that I think get reignited by food. Sitting on our porch and eating sliced tomatoes and corn on the cob. I dunno, I think, also, I have such happy summer memories in particular.
For lunch we went to LUNCH, which is on the way to Montauk. It's been around since 1951. It's where a lot of scenes from The Affair were shot and it's become even more famous. It was a cloudy day so it was packed. The nice man who runs the place let us sit at the bar, where we got lobster rolls. I hadn't had one all summer. I've been trying to squeeze out every last bit of my favorite season since Labor Day is just around the corner. I unintentionally wore a striped shirt that matched the restaurant's sign and décor. I also had a nice glass of Chardonnay. I don't normally drink during the day and it made me sleepy.
Geoffrey Zakarian collaborated with Hamptons magazine to make a book of recipes featuring well-known Hamptonites like Gwyneth Paltrow and Martha Stewart and he had a dinner at Topping Rose to celebrate. John and I had our wedding reception there five years ago so it was fun to go back. They set up a beautiful dinner for about 40 people in a barn where we had had an impromptu dance party after our reception. On this night, they served seafood towers with clams, oysters, mussels, and shrimp and tenderloin and lobster with some kind of corn dish and grilled vegetables and chocolate cake with toasted marshmallow frosting. I mainly ate the frosting. There were three different kinds of rosé served. I sat next to an interesting couple. Their names were Katie and John, too.
Monday, August 26
We drove back to the city because I had two events. Our media company has partnered with Rally, a digital health company, to create content about health and wellness. They are a sponsor of my newsletter, Wake-Up Call, which I launched this past spring. The company has also been a big supporter of Stand Up to Cancer, an organization I co-founded ten years ago. Rally had a lunch for journalists at an event space that they had tricked out with a juice bar, a meditation corner, and a cool circular treadmill that literally looked and felt like a hamster wheel. (I took off my heels and tried it). Dan Barber of Blue Hill put together a delicious lunch of tomatoes with horseradish vinaigrette and this really great drink that was the color of tang but it had ginger and peppers in it. He also served Blue Hill Farm chicken. The chickens were raised in the same space the tomatoes were grown, so it was a very symbiotic meal. I really like Dan. He also served this interesting drink with the chicken that was made with Amaranth, preserved cherry, rose, and smoke spices. It was really unique.
While guests ate their stone-fruit trifle, I talked to them about a survey Rally did about people's attitudes about preventive health and having a primary-care physician. A third of all people don't have a PCP and see a doctor only when they're sick. It also showed that a big percentage (40 percent to be exact) of people slack off when it comes to healthy eating and exercise in the summer months but see fall as a time to restart their healthy habits. I felt better about myself after reading this. Then I ate my trifle.
I co-hosted a USTA Foundation dinner with Alec Baldwin at the U.S. Open. The foundation does incredible things by providing kids who may not have access to tennis programs with an opportunity to learn to play and the discipline and structure that comes with the program, but they also incorporate academics as well. I've been a supporter for a number of years — it's just a really cool organization to be a part of even though I'm not a good tennis player. It was started by Arthur Ashe, Charles Pasarel, and this man named Sheriden Syder.
Alec is always fun, and they raised a lot of money. I made Alec auction off lunch with us, which is always risky, especially if no one bids. It went for a nice chunk of change. I was still full from lunch, so my dinner was a vodka-soda. After the Open, where we watched Serena and Maria Sharapova and Roger Federer and a new young tennis player from India named Sumit Nagal, we drove back to East Hampton and got home around 1 a.m. I was pretty hungry, so I ate rice cakes with peanut butter and went to bed.