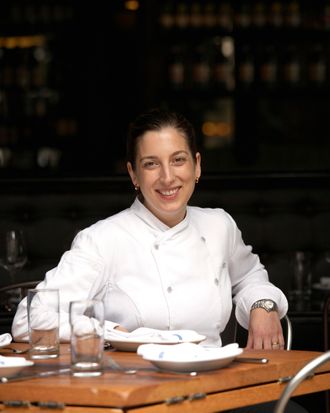 Karen DeMasco.
Photo: Courtesy of Karen DeMasco.
Karen DeMasco is one of the greats of the New York food world, the sort of pastry chef who commands her own fanatical following. Her career is a road map through the past three decades of the city's higher-end food scene: She worked at Chanterelle and at Gramercy Tavern under the influential Claudia Fleming before joining up with Tom Colicchio to open Craft, Craftbar, and 'wichcraft, and with Andrew Carmellini and Robert DeNiro at Locanda Verde before going on a four-year hiatus. In 2009, she also won a James Beard Award and published a cookbook.
When DeMasco returned to New York kitchens at Hearth in 2016, the news was greeted with glee — New York's Underground Gourmet said it was "a little like a retired Michael Jordan" making his comeback — and she spent a couple years there before taking on a gig as the director of kitchen operations at Ovenly. Now DeMasco is joining Jean-Georges Vongerichten's ABC Kitchen, ABC Cocina, and abcV as the executive pastry chef.
"I wanted to try out the bakery thing and I really just missed restaurants, I really missed the Greenmarket, and ice cream," DeMasco says. When she found out Vongerichten was looking for someone, she reached out. "The whole vegan thing with abcV, I'm so excited about that. It's such a learning experience for me. The desserts are so different for me and it's outside my comfort zone, so I can keep learning."
With this trio of ingredient-driven restaurants, the pastry chef has found a great home for her style. Over the years DeMasco's been known for desserts like toffee-steamed pudding with rum-raisin ice cream, honey budino and sweet-corn budino with cornmeal shortbread, and sticky buns with Italian hazelnuts. At Hearth she went simple, in keeping with the restaurant's orientation (think maple panna cotta and toffee-date cake), and at the ABC restaurants her desserts will be both familiar and new to fans.
At ABC Cocina, her contributions to the menu include a peach crisp with ginger ice cream as well as a très summer corn flan with market berries, blueberry sorbet, and corn nuts. A peach tarte Tatin with lemon-verbena ice cream and raspberries is going on the menu at ABC Kitchen, and the vegans won't be left out. For abcV, she's got a vegan chocolate mousse with coconut cream, blackberries, and cacao-nib almond streusel. Still, there's much more to come.
"I've literally been here a week," DeMasco says, claiming she's still finding her footing. "There are a couple keepers on each menu," she adds, pointing to ABC Kitchen's caramel popcorn sundae ("I'm not messing around with that") and ABC Cocina's churros. "But other than that I'm going to turn it over during the next month."
It all sounds, well, really good, and even in a year with a bit of a bakery boom, the news stands out. For good reason: New York's Adam Platt wrote in 2005 that DeMasco's desserts were "impeccable" and "the best in town," and in a 2009 review of Locanda Verde he called her "the original dessert goddess at Craft." Her desserts were so beloved, in fact, that the food-nerd utopia Serious Eats ran a whole Karen DeMasco Week back in 2011. In other words: Don't sleep on this sugar.
This post has been updated with additional information from Karen DeMasco.