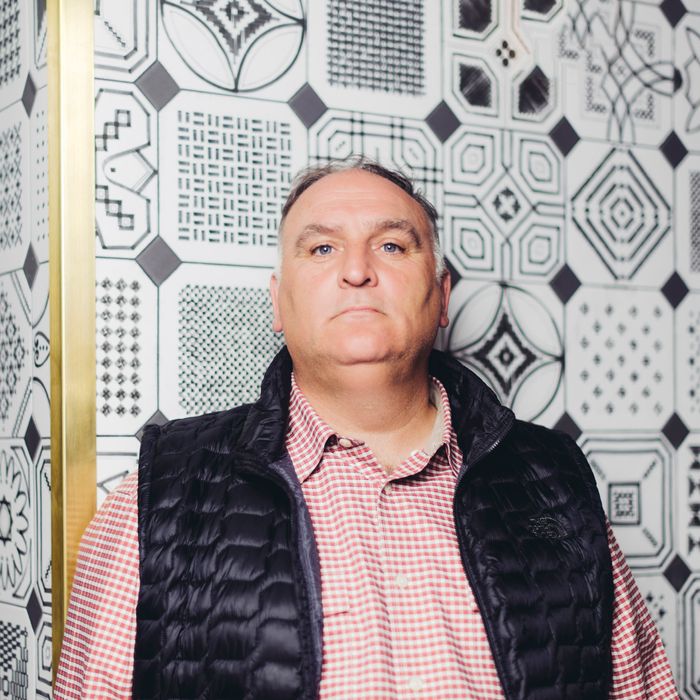 José Andrés
Photo: M. Cooper
Chef José Andrés, one of the most influential people of 2018, has landed in hot water following a lawsuit from an employee of his critically acclaimed Hudson Yards venture, Mercado Little Spain.
According to the Washington Post, earlier this week, a bartender filed a class-action lawsuit accusing Andrés and Hudson Hall LLC (part of Hudson Yards) of violating federal and state wage laws by underpaying her and possibly other employees. The bartender, Tina Braunstein, alleges that she was not paid proper overtime wages, or the $15 an hour that goes to employees who work for more than ten hours in a day. She also alleges that she was forced to share tips with non-service employees, and is "seeking unpaid wages, liquidated damages, attorneys' fees, and 'other legal and equitable relief as this court deems just and proper.'" The lawsuit was filed in the Southern District of New York.
Andrés took to his favorite platform, Twitter, to address the controversy, saying the underpaid wages were a result of "a glitch in how we paid some wages in NYC — some underpaid, more overpaid." In a statement to the Post, Andrés's ThinkFoodGroup said it is working to repay the underpaid employees and will give them a bonus paycheck in an equal amount for any hardships endured while they were underpaid. Overpaid employees will not be penalized.
But Braunstein's lawyer, D. Maimon Kirschenbaum, alleges that ThinkFoodGroup's "glitch" is merely a bit of corporate maneuvering to avoid paying the heavy fines that come with payroll violations, which includes a $250 fine per day of the violation per employee. The fine maxes out at $5,000 per employee. According to Kirschenbaum, as many as 40 employees of Mercado Little Spain might have been affected, meaning the company could face about $200,000 in fines.
The Post also points out that this is hardly the first lawsuit Braunstein has filed in her professional career: In 2006, she sued chef Dan Barber and Blue Hill at Stone Barns for harassment, discrimination, and retaliation. (Blue Hill settled the case in 2010 for an undisclosed amount.) She was also a plaintiff in a now-dismissed case against the late Telepan on the Upper West Side and is currently involved in a lawsuit, also alleging discrimination and retaliation, against the Plaza Hotel.