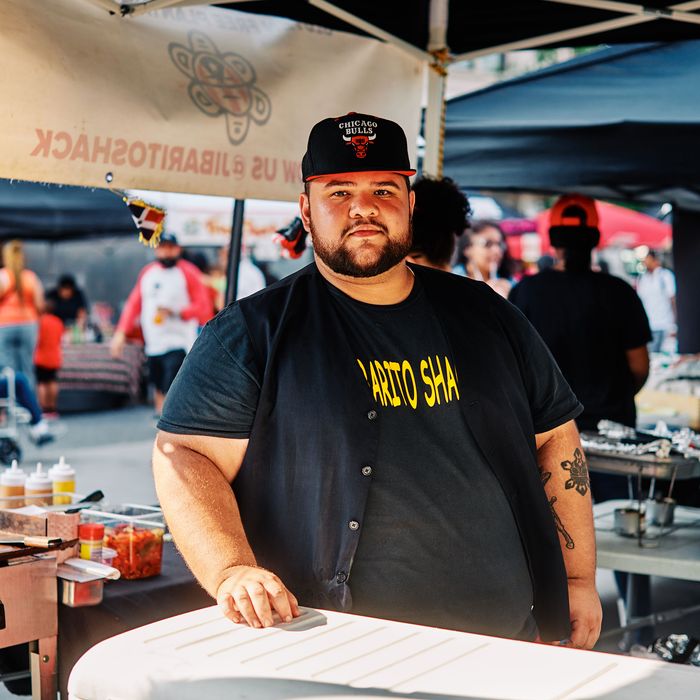 Photo: Christian Rodriguez
Messing with a chopped cheese in New York is usually gentrifying business. The uptown combination of griddled ground beef, onions, and American cheese is a bodega specialty, a staple across Harlem and the Bronx, and, as the sandwich's many fans will tell you, something that doesn't need upgrading. Still, people try. Whole Foods infamously sold an $8 version out of a literal Christopher Columbus cart — smdh — emblazoned with the year "1492" on the side.
The chef Angel Medina also sells a chopped cheese for $8 at his stall, the Jibarito Shack, at the Bronx Night Market, but his sandwich knows its roots. Medina — also known as Big Sexy, Sandwich Papi, and the Dog-Walking Chef — sets his beef on a hissing griddle before adding homemade sofrito, peppers, caramelized onions, and, classically, American cheese. Instead of a pressed hero roll, he sandwiches all those melted insides between pressed plantains to make a chopped-cheese jibarito.
To make the tostones, the plantains are peeled, soaked in vinegar and water to relieve starch and sap. ("Plantains are filthy," Medina says.) Then they're drained, flattened on a tortilla press, fried, and flattened again. It takes Medina — who, per his nickname, does run a dog-walking business on the side — at least four hours each week, "just making those little buns." He used to turn them into perfect circles with a cookie cutter but decided that treatment was too inauthentic. Instead, he embraced the natural chaos of a plantain, leaving the tostones' meandering ridges. "You ask why I charge $8+ for my chopped cheese?" Medina recently wrote on his Instagram account. "Because my shyt is artisan, roasted peppers, caramelized onion, buttermilk coleslaw, and vine ripe tomatoes."
Medina, who is half–Puerto Rican and half-Dominican, ad libs on traditional Latin and Caribbean cooking, but with twists that come from a deep appreciation for the cuisine and culture. What's refreshing about Medina's food is that there are no gimmicks, only very obvious hustle and realness, and he is willing to extend the love to anyone who visits his booth at Fordham Plaza.
Medina didn't come to cooking through culinary school or apprenticeships inside the haughty kitchens of Old Europe. He's a self-taught chef, and he got his start at a high-rise in Downtown Brooklyn, where he worked as a doorman for ten years. That pocket of Brooklyn was a culture shock for Medina, who grew up mostly around black and Latinx communities. "Lotta my co-workers were from Albania and Montenegro," he says. "A lot of tenants were from India, from China. I'm from the Bronx."
In the Bronx, Medina grew up around a rich food culture — he shouts out his grandmother's sancocho, a meat stew that he says is "basically a big pot of whatever you throw in there" — but while he was working, he was still learning to cook, mostly out of necessity. "I was making, like, 800 bucks a week," he says. He used the money "to buy better ingredients and to, like, learn how to cook."
Inside the building, word got out. Other staff were impressed with the Tupperwares Medina brought for lunch and talked him up to the residents. One tenant asked Medina to cook for him one-on-one and loved the food so much he sent an email blast to everyone in the 323-unit building. "So everybody started to see that I cook," Medina recalls. On weeknights, residents would call him at the front desk. "I was just like, You know you can't use the intercom to, like, ask me recipes?" Happy to help, though, he would tell them, "Just come downstairs."
Eventually the building's residents encouraged Medina to take his side hustle full-time. He'd already reached out to Smorgasburg three times before, each time to no avail. He was discouraged: "I had just given up." But he nevertheless submitted a vendor application to the Queens Night Market for the Jibarito Shack and got approved. To celebrate, he got a drink with friends. "And then," he says, "I was like, I actually have to do this now."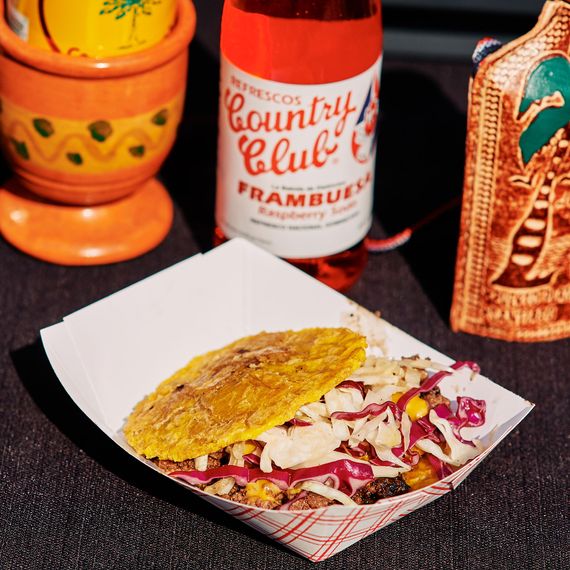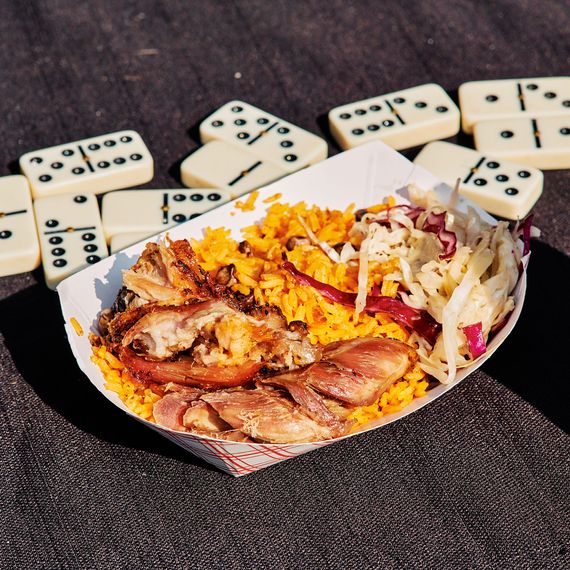 Medina had no idea how to set up a stall, so he reached out for advice, and the community of night-market vendors quickly helped out. The other vendors even referred their customers to the Jibarito Shack, which Medina runs with his sister Carol, when the booth was still fledgling. "It was awesome, man — we had our first sellout there. We had our first day we lost money there, too." It was at the Queens Night Market that he first broke equipment, too; today, he has to tie his grill to his table, because he lost the appendage that keeps it standing on its own. It's a quick fix, something Medina could easily replace, but it's a memory, and so it stays. "It's part of the booth now," Medina explains. "Our janky grill. I don't want it fixed. I love it the way it is."
For as much as Medina loves the Queens Night Market, he's made the decision not to go back. Instead, he's passionate about building a presence in the Bronx. It's "a way bigger grind" to switch from an established market to a newer one — the Bronx Night Market only became a weekly event in July — but that's the business of pop-ups. And after all, the Bronx is home. "It's literally my DNA," Medina says.
The Jibarito Shack's rotating menu clearly draws from Medina's Puerto Rican and Dominican influences. An even better seller than the chopped cheese is the "el Domi" jibarito: pernil, pickled red onions, and queso frito, a sturdy halloumi-like Dominican cheese. Sides include arroz, and mangu bites, which Medina makes from a blend of sweet and green plantains before frying them in vats of hot oil.
On Instagram, @jibaritoshack might be a business account, but Medina addresses his 853 followers with the thoughtful extempore reserved for friends: "Now I done wild research online, and haven't seen anyone doing this," he writes in a caption for his Big Sexy Mofongo Burger, a Cheddar-stuffed chimi burger that's then stuffed inside garlicky mashed plantains. "So don't be stealing my shyt."
For Medina, the notion of better isn't about shirking tradition. Rather, it's making little tweaks, and he's committed to "staying true to the history" of his cuisine. He wants to honor Latin cooking, and he doesn't want to alienate his own community or make food in a way that feels like it's not for them. "You don't have to pander to someone else's palate," he says. "You need to serve people what you want to eat."
Even so, tweaking tradition presents its own problems: "When you tweak something, Latin people go nuts." Medina tells me a story about making pasteles — the meat-masa-and-plantain tamales, wrapped snug in a banana leaf and boiled until the insides are soft and earthy — with his mother, his neighborhood's reigning pasteles queen. Instead of the traditional pork or chicken, Medina proposed new ideas: "Why not put in ground beef? And Philly cheesesteak?" His mother was unenthused. "She was like, 'No, you're never gonna do that with my pasteles. You wanna do that? Don't even do that in this house.'"
But Medina's mom has come around. "She's one of my biggest supporters," he says. "I can't do what I do without her." That isn't just a figurative nod to her encouragement either. Medina's mother also quite literally makes the nutty, sofrito-and-Sazon-infused rice served at the booth, Mami's Arroz Con Gandules. "She taught me how to make it," Medina says. But he knows a thing or two about the particular magic of mothers and mother cultures; there are some recipes you can't improve. "I wouldn't even wanna duplicate it," Medina confesses. "There's 40 years of experience in that pot."