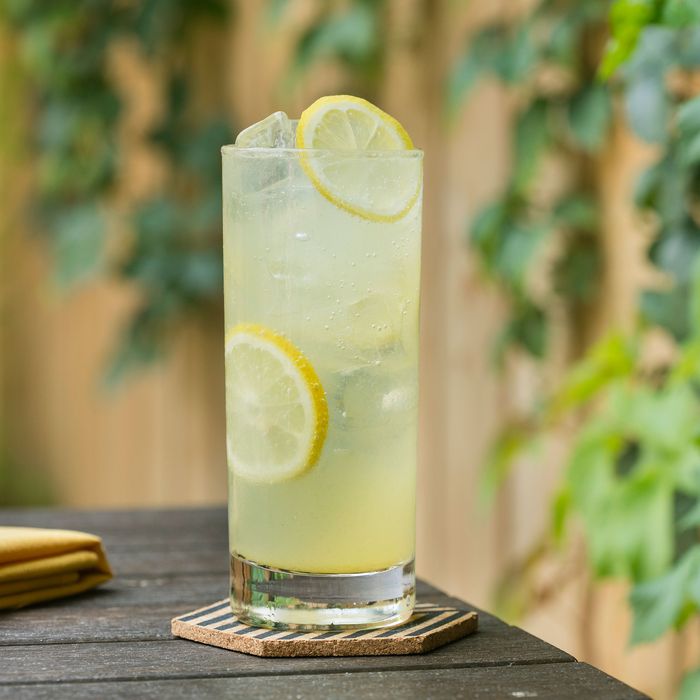 The dry-hopped lemonade at Crown Heights' The Ryerson.
Photo: Melissa Hom
Kids selling lemonade is cute, but adults definitely have the market cornered on lemonades that go above and beyond. (Sorry!) Its simplicity makes lemonade almost canvaslike, capable of being twisted and turned into any number of creative expressions. Try it with syrup made with beer hops or swirled with celery juice or mixed with hot-pink dragon-fruit powder. All of the above are new and available, over ice, in New York City right now. Below, the lemonades (and limeades!) that'll carry you through these last humid weeks of summer.
Dry-hopped lemonade
Where: The Ryerson
How Much: $7
At this new Crown Heights spot from former Jean-Georges chef Sean Underwood, they've given a nod to the ever-delicious shandy, minus the alcohol content. Bar director Andrew Mitchell adds hop syrup made with citra hops (noted for its, you guessed it, citrusy flavor) and club soda for an effervescent and herby beverages that's just sweet enough to sip all afternoon long.
La Ventura lemonade
Where: La Ventura
How Much: $8 ($11 with alcohol)
What makes the lemonade at this beach-inspired West Village spot special is not so much the ingredients as the customizability. Guests have the option of topping their made-to-order lemonade with either spicy Q Ginger Beer or San Pellegrino. Feel free to stop there, but for a few dollars more, guests can take their lemonade in a more grownup direction with a shot of vodka or gin (or several for those who order by the pitcher).
Salty celery lemonade
Where: The Jones
How Much: $9
Regardless of where you stand on the issue of whether celery is good or not, there's no ignoring this salty take on lemonade. At Gabriel Stulman's new spot The Jones, bar director Nick Grenier has crafted a no-ABV lemonade and seltzer concoction made with a few drops of salt tincture (essentially salt water), fresh celery juice, and garnished with a crunchy celery stalk. In other words, it's a perfect drink to sip alongside the restaurant's gourmet filet o' fish.
Lemonade
Where: Wayla
How Much: $6
The lemonade at this LES Thai spot doesn't stray too far off the beaten path, but makes just enough changes to merit a place on this list. Instead of mint, the Wayla team garnishes their lemonade with Thai basil and employs cane sugar instead of refined white sugar for a deeper, more molasseslike sweetness. It's the kind of lemonade you can drink several glasses of — hopefully on Wayla's truly gorgeous backyard patio.
Dragon-fruit lemonade
Where: FieldTrip
How Much: $3 - $4
The magenta-hued dragon-fruit lemonade at chef J.J. Johnson's fast-casual rice restaurant in Harlem is like the ultimate version of the pink lemonade you drank as a kid. The citrus base is made daily and then mixed with powdered dragon fruit for a hint of added sweetness and a nice, clean flavor, like you might find in a perfectly ripe Red Delicious apple. Plus, it's the perfect companion to the restaurant's spicy shrimp bowl with sticky rice and green-curry sauce.
Lemon and passionfruit energy juice
Where: Porteñas
How Much: $8
Don't let the name confuse you: This is lemonade. To create this drink, the team at this Williamsburg yerba mate cafe mixes fresh passionfruit pods with lemon juice for double the tartness, plus passionfruit's berrylike taste, and then adds bitter yerba mate concentrate, making it the perfect lemonade for folks who love a good pucker.
Dog's Day limeade
Where: Red Hook Tavern
How Much: $9
We had to give a nod (or two) to the limeade: lemonade's less popular, but nonetheless wonderful cousin. Look no further than this Red Hook hotspot for a particularly inspired take featuring orange-blossom water and oleo-saccharum (a.k.a. citrus-sugar) for a bit of floral sweetness that cuts through the acidity of the lime juice. The addition of soda water make it all the more drinkable.
Cherry five-spice limeade
Where: The Turk's Inn
How Much: $6 ($11 with alcohol)
It only makes sense that the people behind a Bushwick restaurant modeled on a quirky, 80-year-old Wisconsin supper club would also serve up their own take on the classic cherry-lime rickey — cherry juice, lime juice, sugar, and gin. For their very 2019 take, the Turk's Inn team laces limeade with Chinese five-spice simple syrup, locally sourced cherry juice, and soda water. It's spicy, sweet, tart and all things to all people like the spot that inspired it.