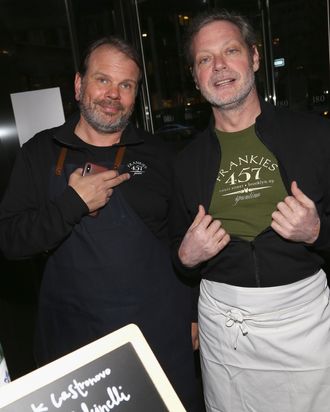 It's pizza time!
Photo: Sylvain Gaboury/Patrick McMullan via Getty Image
This is what you might call a pizza supergroup. Frank Castronovo and Frank Falcinelli, a.k.a. the Franks, have recruited Tartine's Chad Robertson, one of America's preeminent bakers, and Pizzeria Bianco's Chris Bianco, who runs what has been called the country's best pizzeria, to help with their Brooklyn slice shop. Called F & F Pizzeria, the New York Times reports that the pizzeria is set to open this September.
This is a change from the Franks' original mozzarella-blanketed vision. The shop was initially going to be opened with Long Island pizza guy Umberto Corteo, of the famous Umberto's, but that deal fell through. So while the Franks lost the New York bonafides of partnering with the place where the grandma slice was reportedly invented, they've rebounded with a deal flashier than the Houston Astros trading for Zack Greinke.
As Castronovo tells the Times, "we're not pizzaiolos." For his part, Robertson says that he and Bianco just "want to be in the best band with the people we like the most." Robertson will lend his style of well-hydrated sourdough dough, with grain that's milled every other week and naturally leavened.
The partnership is not, the Times reports, financial. Castronovo calls it "a reciprocal relationship" wherein Bianco and Robertson will share "their intellectual property" and the Franks will "help them out whenever we can," because they're all buds. Along with the new talent, the location has changed. The shop will no longer open in Cobble Hill, but in a building between the original Frankie's and Frank's Wine Bar. It doesn't sound like it will be a place to linger.