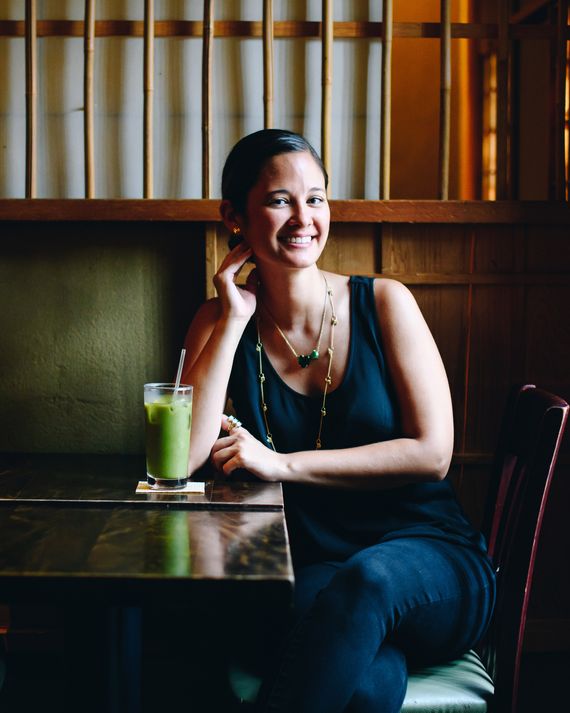 Cupps at Cha-An in the East Village.
Photo: Nina Westervelt
Unlike many high-profile chefs today, Suzanne Cupps doesn't have any canned stories about food or eating revelations from her childhood. Her mom grew up on a central Pennsylvania farm, but Cupps doesn't talk about perfectly ripe heirloom tomatoes that taught her about the transformative power of seasonal produce. No grandma toiling away at handmade noodles at night. No story about talking her way into a dishwashing job at the family restaurant. "I didn't like a lot of food in general," she says of her childhood in Aiken, South Carolina. "I ate what I was supposed to." So it might be surprising that Cupps has, over the past 14 years, quietly become one of the most respected chefs in New York.
"I knew she was special the first time she stepped foot in my kitchen," says Anita Lo, who previously owned Annisa, where Cupps worked for five years. "In one trail" — the restaurant term for what is, essentially, a daylong job interview working in the kitchen — "she proved to be focused, dexterous, and fast-learning, and I hired her on the spot." That is, Lo says, something she "never" does. "I wasn't wrong, obviously."
Cupps has spent the past four years as the guiding force at Danny Meyer's restaurant Untitled, first as chef de cuisine, and next as the company's only, at the time, female executive chef. (Cupps, for her part, doesn't see much need for any kind of qualification: "I want to be supportive, but I also don't want to just be known as a 'female' chef,'" she says. "I want to be invited because I'm a good chef.") Now Cupps will be leaving the restaurant, and, she admits, when the transition was first announced, she didn't know what she'd do next. Then an unexpected offer came, from Dig, the casual salads-and-bowls chain formerly known as Dig Inn where you, and certainly your co-workers, may get lunch two or three times a week. The company was planning a new restaurant — not another Dig location — at 232 Bleecker, which is also its name. Instead, the new restaurant would be a neighborhood spot with an emphasis on wine. Katie Bell — who has worked front of the house at Per Se, Blue Hill, and Untitled — and former Food & Wine editor Dana Cowin were both involved in the project, too. "For Suzy," Cowin says, "she'll have the opportunity to open a restaurant, rather than take the reins from another chef, with tremendous support."
Cupps sees it as another chance to grow, "because I'm not done as a chef."
So how did someone who grew up "hating" cooking turn into a chef, anyway? "I'd do anything to get out of it," Cupps says of cooking as a kid. "Like, any other chore would be fine — mowing the lawn, I did that a lot." It's not that food wasn't important to her family — Cupps's mom cooked almost every day, and there were often Filipino dishes like chicken adobo and vegetable stir-fries. It just wasn't her thing. After college, at Clemson, Cupps made the decision to move to New York, which took her family by surprise. "It was kind of like, 'You've never mentioned New York ever. You have no job. You have no money. 9/11 just happened. What are you doing?'" she says. But "when I get something in my head, it's hard to get it out."
Restaurants weren't the plan. She took a sales job, cold-calling people at a place so unpleasant that sometimes people just wouldn't come back after lunch. A temp agency placed her in the HR department at the Waldorf-Astoria, and a co-owner persuaded her to try a baking class at the Institute of Culinary Education. "I didn't even know cooking school existed," Cupps says. "My family was like, 'Now you want to cook? You never wanted to cook a day in your life, and now you're going to go to school and pay all this money to do something you that you never liked?'"
And the answer was: Yes. As part of the program, her externship — basically a restaurant internship — took place at Meyer's Gramercy Tavern. Even then, though, she wasn't exactly a restaurant-world super-fan. "I started having experiences where I liked food, but I didn't know who Daniel Boulud was," she says. "I had no idea what Gramercy was. I didn't know who Danny Meyer was." While some chefs will say that Anthony Bourdain's work made them fall in love with restaurants, or that they dreamed of becoming the next Food Network star, Cupps just liked the work. "I wasn't becoming a cook because I wanted to be a famous chef," she concedes. "I just wanted a good job that I thought was engaging."
She returned for a full-time job at Gramercy Tavern in 2011. Eventually, she worked her way up to sous-chef and got put through what Gramercy chef Michael Anthony calls "the soup program," making a different soup each week for a year and a half, presenting them to other cooks and sous-chefs, always adjusting and tweaking. That's when Cupps started to develop her style. Tracy Malechek-Ezekiel, a chef who worked alongside Cupps for five years, says, "You kind of got to see the Japanese subtlety she cooks with. All of the dishes and soups had a style and subtlety and grace to them."
Cupps, meanwhile, is diplomatic about the whole thing. "The people that pushed were excellent at what they did," she says.
When Cupps's colleagues describe her, a profile starts to emerge of someone who is gracious, talented, and highly respected. "She definitely is somebody that I would love to work with again," says former Gramercy sous-chef Saman Javid. The restaurant's former chef de cuisine Howard Kalachnikoff says that when Cupps was promoted to sous, "it was really clear to see she was a natural."
"When I saw her forming these integral relationships with other people on the Gramercy Tavern team," Anthony says, "that was the moment I knew that she was the person to open a new restaurant with," which is how she ended up at Untitled, the restaurant where Cupps began to make a name for herself, eventually taking over the top kitchen spot from Anthony. "It's been a couple years since I've set foot in that restaurant professionally," he says. "I go to say hi, but I don't work there anymore."
Anthony describes her as a chef who's built her team by being decent and friendly. There are no tattoos of obscure heirloom radishes or cuts of pork on her arm, and she exudes a calm, interested focus. Colleagues describe her cooking style as "light-handed," defined by a delicate approach to seasonality, with lots of vegetables. "I love her quiet, Zen style of cooking," Lo says. A self-described introvert, Cupps spends her days off hitting the gym, maybe walking around the city, and eating a lot of Japanese food. (She goes to Cha-An monthly, for dishes like unagi-don.)
For a brief moment, she was something like the city's most under-the-radar free agent, but then a friend came calling — and she was enticed by the promise of fire. Dig's founder and CEO Adam Eskin says the centerpiece of 232 Bleecker — which is scheduled to open later this year — will be a six-foot, wood-burning hearth. But, Eskin emphasizes, this is Cupps's restaurant: "It's, I think, really going to do big things on the menu side, in a not-so-fussy way."
Untitled has been Cupps's restaurant, too, but 232 should give her a different kind of stage and freedom, one where she is the true star. It seems likely that New Yorkers will hear more about her, even if she won't be the one to do much of the talking. Instead, Cupps prefers to speak through her cooking.