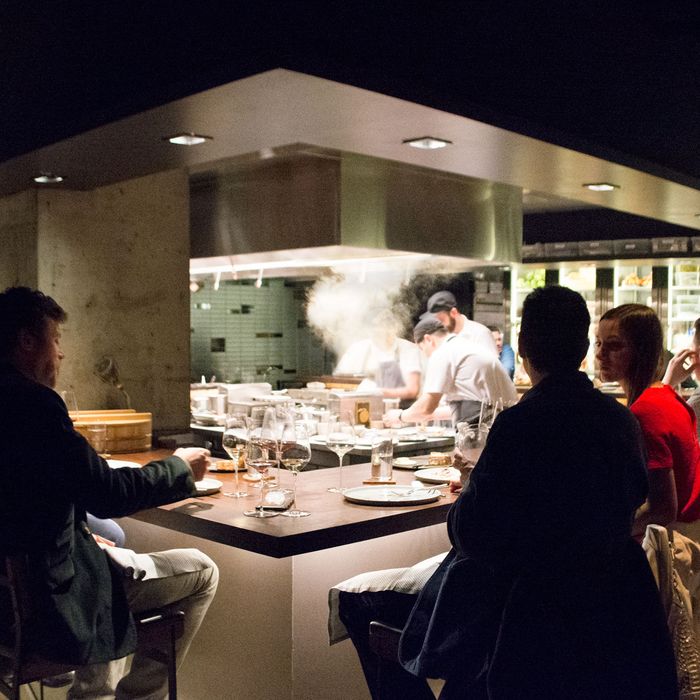 Diners at Momofuku Ko.
Photo: Tirzah Brott/New York Magazine
Last Thursday, a number of chefs, including David Chang, publicly distanced themselves from billionaire investor Stephen Ross following reports that he would hold a multi-million dollar fundraiser for President Donald Trump the next day. (Ross is an investor in Chang's Momofuku empire, Christina Tosi's Milk Bar, and the massive Hudson Yards development, which includes restaurants from Chang, José Andrés, Thomas Keller, and restaurateur Stephen Starr.)
Ross's lunch party as well as another Hamptons affair raised $12 million for Trump's reelection effort. But Chang also put together his own fundraiser — for charities currently fighting the Trump administration. On Friday, the chef donated profits from all his restaurants to City Harvest, Planned Parenthood, RAICES, Everytown for Gun Safety, and Sierra Club. That covers impoverished New Yorkers, women's rights, abortion rights, immigration rights, gun legislation, and the environment.
Diners who visited Momofuku restaurants on Friday found a message on their menus reading, "Momofuku is donating all of its profits today to organizations including Planned Parenthood, RAICES, Everytown and Sierra Club." According to a report from the L.A. Times, the original Momofuku Noodle Bar will continue these fundraising efforts throughout the month of August and donate some of the funds to City Harvest.
A Momofuku representative declined to comment on whether the move was related to the Stephen Ross controversy, but Chang made his opposition to Ross and Trump fairly clear last week when he spent six minutes telling listeners of his podcast how much he "fucking hates Trump." That's what we call a context clue.