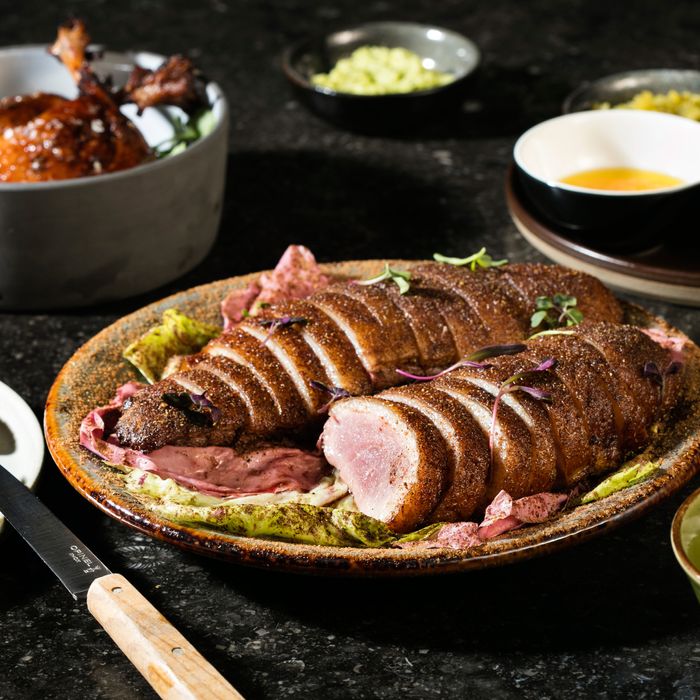 A duck feast, at Ferris.
Photo: Melissa Hom
While we were all settling in for the night, chef Greg Proechel shared the news via Instagram that his time at NoMad restaurant Ferris, which operates inside the Made Hotel, has come to an end.
An alum of critically-acclaimed restaurants Blanca and the late, great bistro Le Turtle, Proechel was given carte blanche to create a restaurant in his own image. The result was a farm-to-table restaurant with Asian leanings, opened in October 2017, that quickly became a critical darling for dishes like Ibérico pork katsu sandos and an over-the-top aged duck on the crown dish served with banchan and seven-day-aged duck legs.
Our own restaurant critic Adam Platt awarded Ferris "two hearty stars for the drinks and the best of the satisfying, inventive cooking" while the Times' Pete Wells described the NoMad spot as a "modest restaurant that overdelivers, cares about little details and has a personal, handmade sensibility." The restaurant also earned a Michelin Plate for "quality food."
In his farewell post, Proechel says that while he appreciated "the opportunity to build out a kitchen and design a style of food that I am passionate about," he's leaving Ferris to focus full time on building out his own hospitality group, which if hashtags are to be believed has been dubbed Pulpo Hospitality. ("Pulpo" is Spanish for octopus.)
"I am very proud of what we were able to accomplish at Ferris, and I sincerely appreciate all of the support I received for my work," Proechel wrote, adding, "What drives me in this industry is the people that I work with, the ability to impact them and most importantly their ability to influence me and my work. I know this next step will allow me to continue to foster this culture and mindset though the broader reach of projects I plan to execute within my hospitality group. I am very excited to share more about these projects in the near future." The NYC restaurant scene will surely be waiting with bated breath.