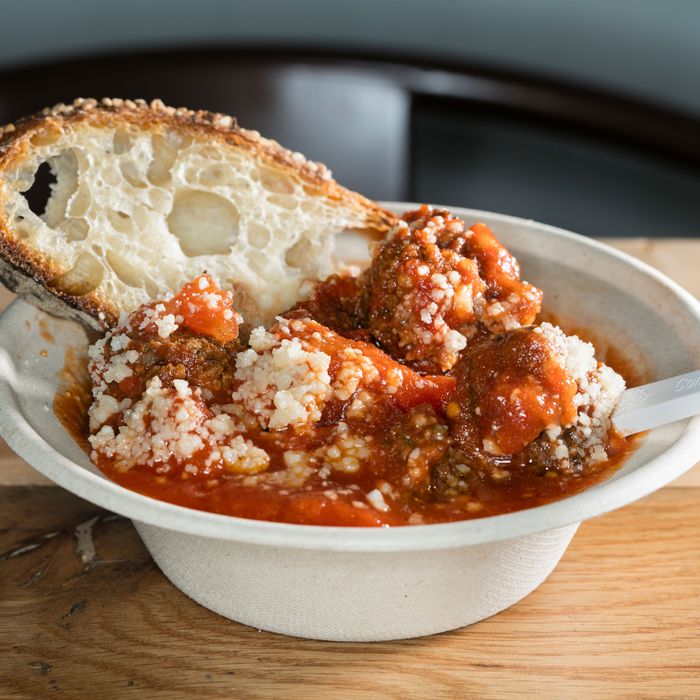 Meatball time.
Photo: Melissa Hom
Rick Easton is a master of carbs. His short-lived Pittsburgh bakery Bread and Salt immediately vaulted him to the national stage, with one critic calling the loaves "life-affirming." Then, in 2016, Easton closed the bakery and relocated to New York with plans to reopen here. After a few years of working around town — if you've had Superiority Burger's fantastic focaccia, you can thank Easton — he reopened Bread & Salt in June across the Hudson in Jersey City. Given Easton's prowess as a baker, then, it may seem strange to suggest — strongly — that the shop's $12 meatballs are the most revelatory dish, but it makes sense when Easton says his secret isn't an obscure meat-to-fat ratio or the grass-fed beef he gets from Pennsylvania. It's the bread.
"You've got to use way more bread then you think, and not bread crumbs — actual bread," the baker explains. "What makes a great meatball, in my opinion, is that the meatball is so delicate it almost isn't going to hold its structure."
True to his tastes, Easton's meatballs — seasoned with salt and "sometimes some pepper," parsley, and sharp-and-savory Pecorino Fulviare, set in a sauce made with Gustarosso tomatoes, and topped with a dusting of Parmigiano Reggiano — are softer and lighter in texture than you'd first expect. But they hold their texture thanks to the "more old-fashioned way" they're cooked.
"I like frying the meatballs hard, and then we go right in the sauce," Easton says. "I'm not a believer in a straight poach on a meatball in the sauce, and I don't think you can get the same quality when it's baked." And there's no wiggle room: "I don't even like shallow frying."
The resulting meatballs are tender and juicy on the inside, ones that are, yes, barely keeping it together. Easton's technique doesn't rely on any tricks, he says. This is just the way meatballs have been made in Southern Italian homes and restaurants "for a really long time." His old-fashioned approach extends to the rest of his food, too, like the long fermentation that gives his bread its depth of flavor and tang. Before opening in Jersey, Easton briefly worked at the Bushwick pizzeria Ops, where co-owner Mike Fadem says they'd get orders for topping combinations that irked Easton. "Rick is really funny," Fadem says. "He'll want to do things exactly as they do them in Italy. People would order pizza with certain toppings" — like, say, adding mushrooms and anchovies to a margherita pie — "and he'd get frustrated and be like, 'Why are they doing that?'"
So Easton's meatballs are simply what meatballs should be, a Platonic ideal of tomato-drenched protein, arriving with two pieces of bread for sopping or, should you want to take the risk, turning them into a DIY sandwich. On the subject of meatball subs, Easton says he wants to like them, but "every time I eat one, I regret it. It's such a gut pound." His white whale might be a version that doesn't weigh you down for the rest of the day: "I have an imaginary meatball sub where I'm like, I know how I could do this where it would be a lovely experience. But I'm somewhat afraid to go down that path." So for now, it's straight meatballs, like those you might find in the motherland.
"I remember having meatballs in Naples for the first time," Easton recalls, "and kind of having a holy-shit moment. Where you're like, Oh man, this is a meatball." That's the approach he has taken at his own restaurant. "I actually grew up much more with the tradition of baseball-size meatballs, and I was like, nah," Easton says. "Come on, have a little bit of self-respect — let them be a little smaller, a little elegant."
Bread & Salt, 435 Palisade Ave., nr. Griffith St., Jersey City; 201-792-2618.