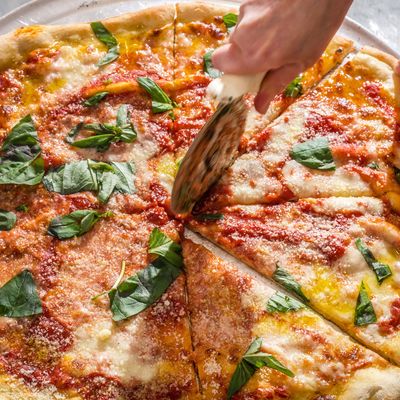 The famous Di Fara pie.
Photo: Noah Fecks
Bill de Blasio — corndog enthusiast, New York City mayor, and guy no one wants to be president — weighed in on the Di Fara situation, after news broke that Dominic DeMarco's iconic pizzeria has apparently been seized for unpaid taxes. Taking to Twitter, de Blasio promised he would do "anything" to resolve the issue, raising the question of whether the mayor will pony up the significant money owed by Di Fara. Or maybe even stop frolicking around Iowa to focus his attention on this issue?
The news was first reported by ABC7NY assignment editor Morena Basteiro, and the New York Daily News has published a report with photos of New York State Department of Taxation and Finance agents outside the Midwood institution. A spokesman for the Taxation Department tells the paper that the pizzeria's owners owe $167,507 in state taxes dating back to 2014, explaining that the seizure is a "last resort." The shutdown reportedly happened about noon yesterday, when pizza guy Dino Rella called DeMarco's daughter and heir apparent Margaret Mieles to inform her the authorities had arrived.
Fans of Di Fara may have noticed that its famous DeMarco has taken more of a veteran pinch-hitter kind of role lately, and the Daily News reports he's handed the sacred dough and sauce over to his daughter, Margaret Mieles. She tells the paper "my parents have nothing" and that "they are claiming in 2017 we didn't pay corporate taxes." She believes the people at the Taxation Department, she explains to the News, think the Di Fara family will "start a new corporation" to get out of paying the taxes. Mieles says they have expanded hours to Monday in order to pay the debt off, and believes once they get in touch with the right people, everything will work out. Here's hoping so.