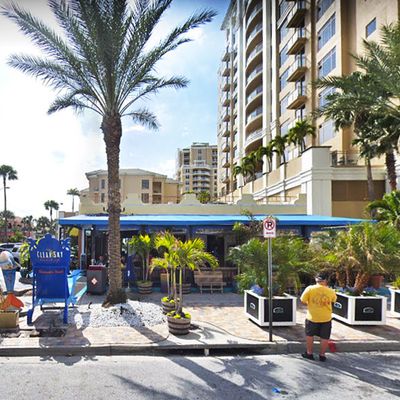 Clear Sky Beachside Cafe, home of the revenge tip.
Photo: Google
A Buffalo woman in Florida — yes, it's somehow legal for that to happen — had what can only be described as a major breakthrough in revenge theory. Following a fight with her boyfriend, Serina Wolfe realized a deviously altruistic way of getting back at him: by using his credit card to tip a hurting waitress a headline-generating $5,000 on a $60 bill.
The revenge tip was doled out at Clear Sky Beachside Cafe in Clearwater Beach, and it came across as an act of kindness. The waitress in question was dealing with the loss of her dog, whom she had recently put down, according to the corporate group behind the restaurant. Alas, this was not the case. Wolfe's boyfriend told police they had gotten into a fight about whether she could use his card to buy a flight to New York, and he thinks that she was inebriated or "trying to get back at him."
Things went south from here. After initially reporting the purchase as fraud, Wolfe admitted to police she was behind the revenge tip and gave them the credit card. The $5,000 had already been paid out by the restaurant when the fraud was reported, anyway, and Wolfe has been charged with grand theft. Unfortunately for Wolfe, as the saying goes, the best laid plans of mice and drunk people mad about not getting their way often go awry.