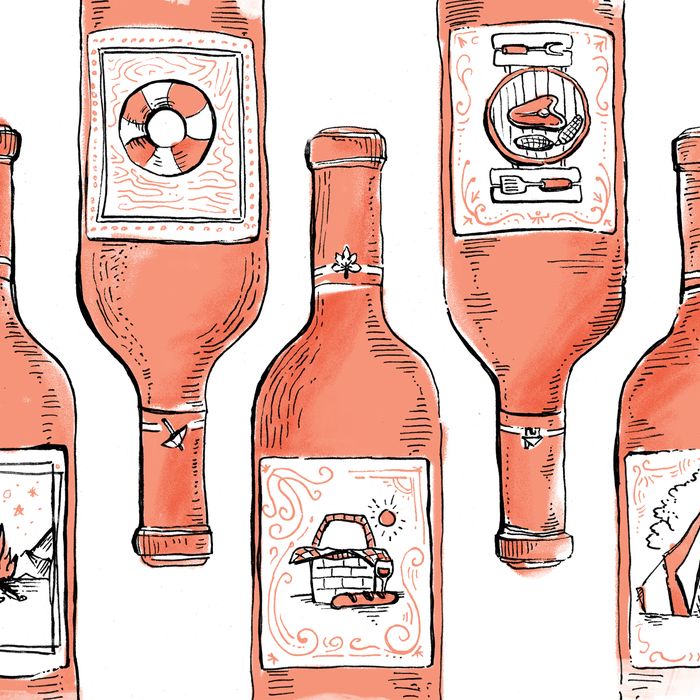 Illustration: Russell Shaw
When we talk about wine pairing, it's usually a match made with food — a Syrah with steak, Grüner Veltliner with vegetables, and Merlot with chicken — but in the summer, we tend to think in terms of activities. The wine we drink while lounging poolside (you know it's rosé) doesn't necessarily feel right on a breezy beach night. To improve our summer drinking game, we turned to Stephanie Danler, creator of the show Sweetbitter and author of the best-selling novel with the same title. Before she became a writer, Danler honed her wine-pairing skills in New York's high-end restaurant industry, and this summer, she's co-opening a wine store, Desierto Alto, in Joshua Tree, California. To celebrate Sweetbitter's second season, which premieres July 14 at 9 p.m. on STARZ, Danler chose the perfect wine for five summery activities below. It's our cheat sheet to better choices — at least when it comes to wine.
Picnic in the Park: Sparkling Wine
For a versatile food wine that's low in alcohol, I love a pet nat, short for petillant naturel, which means "naturally sparkling." Usually from France or Italy and made from red or white grapes, it's effervescent, bright, and ideal for day sipping.
Backyard Barbecue: Pinot Noir
Chilled, fruit-driven red wines for one and all! Yes, put your lighter-bodied reds on ice, and that includes pinot noir. I'm usually looking for a pinot that's peppery and round, with some tart acidity. It's still the wine everyone is guaranteed to love.
Pool Day: Rosé
Day-drinking in summer means rosé. I can get down with something cheap and cheerful, but a slight upgrade is usually well worth it. Try the herb-scented, strawberry-colored rosés from Loire Valley regions like Chinon and Anjou.
Clambake: Spanish White Wine
Where there's seafood, there's bound to be white wine. Instead of a sauvignon blanc, try a Spanish white wine. There are salty albariños and floral whites from Penedès, but Basque Country's Txakolina (chah-kuh-leena) is slightly sparkling with tons of citrus notes.
Bonfire on the Beach: Rioja
The beach usually cools down a bit at night, so you might want a red wine with a bit more substance if you find yourself fireside. I love a smoky, leathery Rioja made from medium-bodied, ripe-cherry-scented tempranillo grapes.
This is paid content produced for an advertiser by New York Stories. The editorial staff of Grub Street did not play a role in its creation.