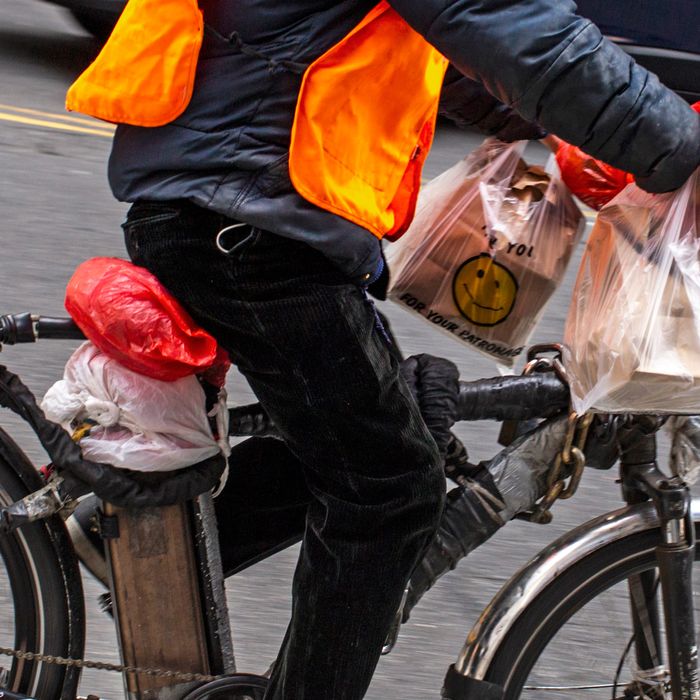 A delivery person in New York.
Photo: VIEW press/Corbis via Getty Images
On Sunday, the New York Times published an article diving into the harried experiences of online delivery workers in the city. For the piece, reporter Andy Newman joined the ranks of bicyclists who zip around the city to bring New Yorkers their breakfast burritos and rotisserie chickens. The article detailed how these gig-economy workers are compensated, and reignited a controversy over a particularly, let's say bad, DoorDash policy of keeping tips. This isn't the first time DoorDash, for one, has been criticized over the policy, but the backlash was big enough to elicit a new response from the company on Tuesday. Here's what you need to know.
Alright, what's this I hear about tip skimming?
DoorDash has been the subject of some collective ire, after a Times report resurfaced the fact that the company has been keeping tips that are, duh, meant for delivery people. That is, if the tips are made by card. The worker is guaranteed $7 per delivery, and the tech company's overlords collectively agreed that "tips are customers way of helping to pay for that."
So they'd subtract the tip amount from the $7?
If you tip $3 on an order of 15 carne asada burritos then, first of all, tip better, you cheapo. But, yes. DoorDash pays the worker a total of $7, not $10, effectively keeping the tip for itself. (Except when people tipped extraordinary amounts.) If a customer does not tip, DoorDash still pays the $7. Journalist Louise Matsakis, as the Times noted, said "this deceptive model should be illegal."
Why isn't it? And should I always tip in cash anyway?
Good question! It isn't. As for number two, if you order delivery, then yes. But on Tuesday, DoorDash CEO Tony Xu took to Twitter to announce that, this time, the company would change its model to ensure delivery people get their tips. In the past, the company had been resistant to change the policy despite criticism. He promised "specific details in the coming days."
So that's good news, right?
Maybe? DoorDash delivery people, the Times notes, took to Reddit to express concerns that the company will lower the rate for deliveries. DoorDash did not offer the paper comment on whether it would change its policy on payouts to workers.
Hold on. Do all of these apps do this?
No. Amazon's Flex and Instacart have also been criticized for using tips to pay the minimum fee, while DoorDash, Postmates, GrubHub, and Uber Eats have all been sued for wage theft. (Here's a guide from LifeHacker on how delivery apps handle tips.)
Wait, why do I have to tip?
Uh, because it's literally how these people earn their money? You're doing the least possible in the history of humanity in order to eat: You don't even have to interact with anyone until your doorbell rings. One Postmates delivery person, Krista Gray, who Grub followed back in February, said then that only 27 percent of people tip on her orders. She was paid $4 for three deliveries, only one of which included a tip, for a grand total of $16.62 for an hour and a half of work. These people don't get paid during downtime, or time when they're waiting for your food. One deliveryman showed the Times screenshots documenting a 23-minute wait at a restaurant for a delivery that earned him … 83 cents.
Why are these companies allowed to keep tips, which are explicitly for the delivery person?
Well, you see, the forces of the gig economy have been undermining and eroding the workplace protections hard-won by the labor movement over the course of decades. More specifically, delivery workers for DoorDash and others apps aren't employees of those companies. They are independent contractors, who lack the protections of actual employees and — in this case — do not have a minimum wage. Not that the delivery landscape was a worker's paradise before. Some of these app-delivery people come from restaurants; one, Mengba Lee, told the Times he'd "never go back to delivery for restaurants."
Is anyone doing anything about this?
In California, the State Senate is looking at a bill that would reclassify gig-economy workers as employees. Uber does not want to see this happen. Uber drivers have reported sleeping in parking lots to make a living, and one New York delivery driver says he committed suicide to show how services like Uber have devastated people in his industry. The Times reported that on Tuesday, New York City councilman Brad Lander said he is working on a living wage requirement for delivery workers, while conceding that figuring this out "is complicated."
Are there better delivery apps?
Eh. Maria Figueroa of the Cornell University Worker Institute tells the Times that these individuals are "the most vulnerable workers in digital labor." Even the CEO of Postmates recently admitted that gig workers have it tough. The Times reporter who went undercover as a food-delivery person says he still earned more on orders than for Uber Eats or Postmates, the latter of which no longer guarantees a minimum fee of $4 an order. Roughly three out of four delivery people work for multiple apps in order to make enough money, according to Niels Van Doorn, an assistant professor at the University of Amsterdam who studied New York's app-delivery workers.
I hear delivering food is risky. What's so risky about a burrito wrapped in foil?
Have you biked in the city? It can be frightening and risky; at least 17 bicyclists have died in New York so far this year. Now imagine swerving through the undulations of Manhattan traffic while glimpsing at a mounted cell phone and making calculated decisions about which deliveries to accept, which will determine how much money you can make because of game-style bonuses. Making it more fun, you have to make a decision about PostMates within seconds, or maybe take the UberEats order even though you don't know where it'll bring you!
Okay, but what if I want to tip a tech company valued at $7.1 billion?
I don't know, dude, try Venmo or something.