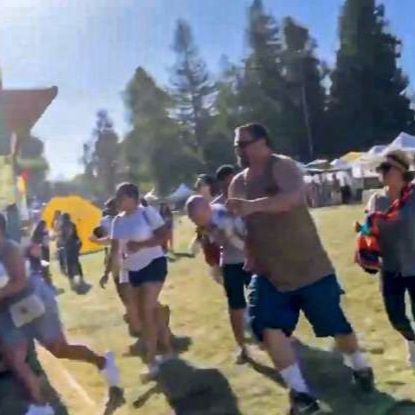 Late on Sunday afternoon, a gunman opened fire at the Gilroy Garlic Festival in California, about 30 minutes south of San Jose. According to the Washington Post three people have been killed – including a 6-year-old boy – and at least 15 are injured. The gunman, Santino William Legan, was fatally shot by police at the scene. Below is everything we know about the shooting.
The Attack
Authorities reported three people had been killed in the attack at Gilroy's Christmas Hill Park. Authorities said another 15 people were injured by gunshot wounds.
A hat vendor at the festival, Michael Paz, told the San Francisco Chroniclethat he was about 80 feet away from the shooter, describing him as a man in his 30s carrying an assault-style rifle.
"He came ready to shoot because he was wearing a protective vest," said Paz, who added that he saw police officers open fire on the gunman.
Another witness, Julissa Contreras, told NBC that she saw a white man in his 30s firing a gun that was "able to shoot three to four shots a second." She added: "It was just rapid firing. I could see him shooting in just every direction. He wasn't aiming at anyone specifically. It was just left to right, right to left."
A video from a bystander revealed a chaotic scene.
Police officers engaged the gunman within minutes and killed him. He was identified on Monday morning as 19-year-old Santino William Legan, according to CBS News.
The Investigation
The initial calls to 911 came in at 5:41 p.m. local time. Law-enforcement officials on the scene recovered a firearm and rifle ammunition, per CNN. Around 11:30 p.m., Gilroy police determined Christmas Hill Park was still an active crime scene. FBI agents also responded to the scene.
Police are searching for a possible second suspect, but have not said whether that person also fired on the crowd or assisted the shooter. "We believe based on witness statements that there was a second individual involved in some way," Gilroy Police Chief Scot Smithee said. "We just don't know in what way."
Smithee said he has "no idea" what Legan's motive was. It appears he cut through a wire fence at a creek on the edge of the festival grounds to bypass security.
The Victims
Alberto Romero told NBC Bay Area that his 6-year-old son, Steven, was killed in the attack. He said he was shot in the back while playing in an an inflatable bounce house. The boy's mother and grandmother were also shot and injured.
"I lost my son," Romero said. "There's nothing I really can do besides try to be with him until I can put him in his resting spot."
He added: "My son had his whole life to live and he was only 6."
The Response
Gilroy, a town known for its garlic-growing, has been hosting the festival since 1979. A Gilroy-area garlic producer wrote on Facebook that the shooting has "shattered" the community: "Our community has worked for over 41 years to bring together our hometown of Gilroy. And in a series of selfish acts, the unspeakable has shattered what we've always known to be a safe and united cultural experience."
California governor Gavin Newsom called the scene "nothing short of horrific," while Senator Kamala Harris said she was "keeping those injured by such senseless violence in my thoughts."
President Trump tweeted out a warning late on Sunday night.
The Gilroy shooting is the first mass shooting in California since April, when a gunman killed one and injured three in a synagogue in Poway, north of San Diego. It marks the most casualties in a shooting in the state since the Thousand Oaks shooting in November 2018, in which 12 victims and the shooter were killed.
This post has been updated throughout.