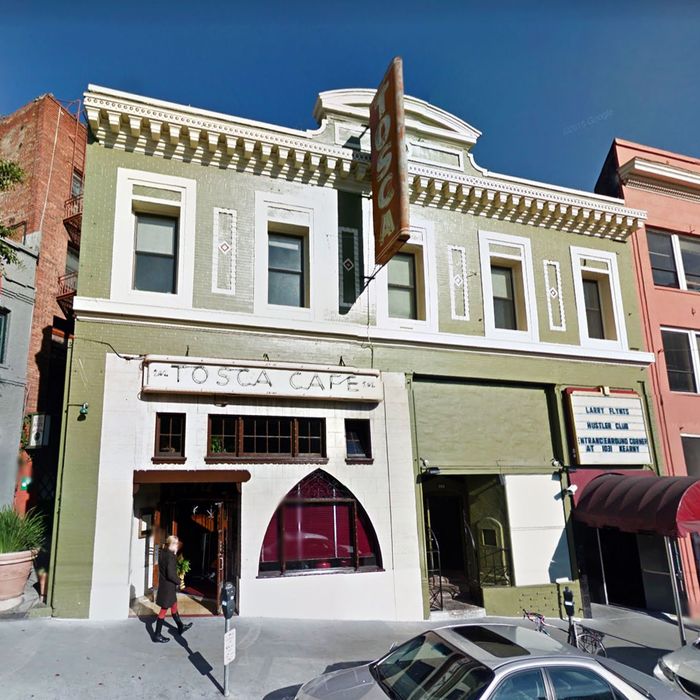 Tosca Cafe.
Photo: Google
April Bloomfield suddenly shuttered San Francisco's 100-year-old Tosca Cafe on Saturday, informing diners that very night. (The bar will remain open for the time being.) However, the restaurant is not gone for good. In a statement provided to Eater SF, Bloomfield says she will "transfer this iconic restaurant to new management" but declined to go into specifics.
The closing came without warning but wasn't entirely unexpected: Bloomfield closed the Los Angeles restaurant the Hearth and the Hound in the same fashion back in January, and the following month, she also closed the John Dory Oyster Bar. Vendors tell Eater SF that Tosca is months behind on payments, and management told vendors in emails (seen by the website) that it was experiencing "financial struggles." Last May, Tosca's chef and manager both left after trying and failing to purchase the restaurant from Bloomfield and Ken Friedman.
Bloomfield now only has one restaurant, the Breslin, following the fracturing of the restaurant group she ran with Friedman. That split happened in June 2018, half a year after allegations of sexual harassment against Friedman began surfacing. He held on to the now-closed White Gold and the Spotted Pig, the West Village establishment where the two made their names in the business and which was one of the defining restaurants of the aughts. The Spotted Pig is also where much of Friedman's alleged harassment took place.
The closing of Tosca is much more significant than that of the Hearth and the Hound. It is a vestige of San Francisco's bohemian history. Bon Appétit called it "the world's best last dive bar" in an oral history from 2013, the year it was sold to Bloomfield and Friedman. The two actually saved Tosca from an inglorious end — the year before they bought it, the restaurant's landlord had issued an eviction notice for over $100,000 in back rent.
In the Bon Appétit oral history, Kid Rock recalled spending "many a night in the back talking politics with Sean [Penn] and life with Lars [Ulrich]"; Ed Harris remarked, "I don't recall Dennis Quaid ever singing at Tosca's while I was there"; and the story of Sean Penn reportedly shooting a hole in a wall was recounted. (His gun was confiscated, so the story goes.) After Friedman and Bloomfield's takeover, New York Times critic Pete Wells crossed the country to review the restaurant and praised the food as "what you want to eat today." Here's hoping it has been put in good hands.
This post has been updated with new information about the restaurant's future.