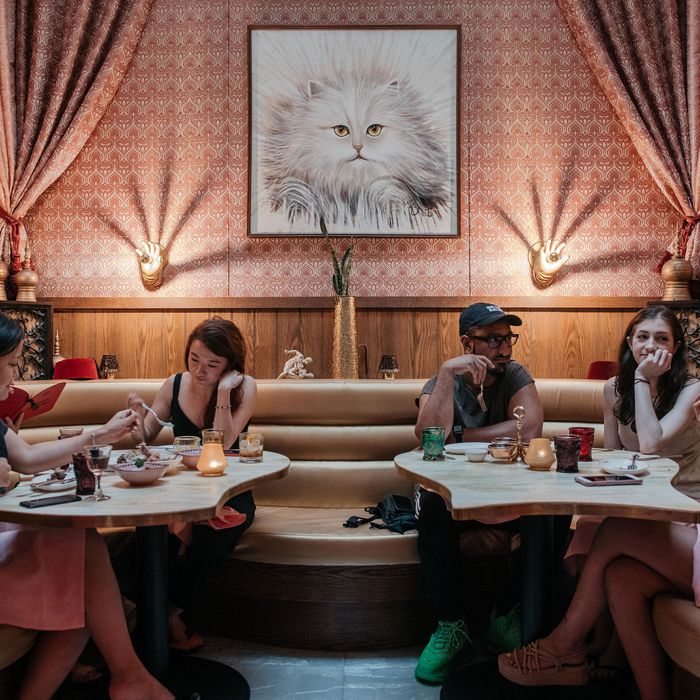 Wisco-Brooklyn chic.
Photo: Scott Heins
It's hard to figure what people ignorant of the backstory behind the Turk's Inn will think when they enter the new Bushwick restaurant. The riot of color; the bar shaped like a ship's prow, gigantic tassels hanging over each red vinyl stool; the wall of commemorative U.S. state plates; the wall of commemorative presidential plates; the commemorative Chuck-and-Di wedding plates. And then there's the overall design, which is — what? — some meeting point between lush mid-century American cocktail lounge and early Hollywood's kitsch vision of the "exotic" Middle East, a land of pashas and fezzes and incense.
Conveniently, however, the backstory is printed on the menu. Once you read it, the jigsaw puzzle all starts to fall into place. Turk's Inn is a fairly faithful re-creation of a supper club that existed in the north woods of Wisconsin for 80 years before shuttering in 2014. It was founded by an Armenian immigrant from Istanbul named George Gogian. He called himself "the Turk" and was willing to go along with this assumed tongue-in-cheek identity as long as it enticed locals to patronize the fantasia of Persian exotica he whipped up in the tiny hamlet of Hayward. The gambit worked. The crowds came along with the occasional celebrity, including JFK, whose photo hangs on one wall. (If you want to learn more, an old radio interview with Gogian runs on loop in the bathroom.)
Many were heartbroken when the Gogians died out and the restaurant was put up for sale. But none so much as Varun Kataria and Tyler Erickson, Minneapolis natives who went to Turk's Inn as kids. When the estate was auctioned off, they bought as much as they could: the original stools, which retain their original lumps; the bar, which was designed by a protégé of Frank Lloyd Wright; all the pictures and bric-a-brac that adorned the walls, including numerous old Jim Beam decanters; even the original neon sign, which now shines enigmatically over Starr Street.
Much of the advance press about the Turk's Inn has been about how Varun and Erickson have finally given New York an actual, honest-to-goodness supper club. This is both true and not true. For the uninitiated, the Wisconsin-style supper club is a difficult dining concept to fathom. They're not just restaurants; they're tradition made material. You go expecting not only a meal but a full evening of soup-to-nuts diversion, beginning with a long predinner stay at the bar and ending with ice-cream drinks that resemble dessert more than cocktails. In between stretch hours spent among friends and family (the more the better) in a living-room atmosphere, with large plates of the most traditional array of surf-and-turf classics (prime rib, fish fry, chops, baked chicken, lobster). Trends, either in food or décor, hold no sway here. Supper clubs are comforting dioramas of the tried and true. They never surprise, but they also rarely fail.
Most supper clubs are rural affairs, with acres of trees outside and woodsy décor inside. But the genre has been around long enough to have produced a few eccentric specimens. There's the Gobbler Supper Club in Johnson Creek, for example, which looks like a purple spaceship landed during the Summer of Love by intergalactic hippies.
The Turk's Inn is of this subclass. It was a supper club, no doubt. But it was unlike any other supper club. It is perhaps more accurate to think of it as in league with the tiki palaces of its era, which trucked in faux Polynesian culture the way Turk's did in sham Ottoman Empire chic. This is to say, curious New Yorkers should not go to the new Turk's thinking, "Ah, so this is a Wisconsin supper club." Rather, they should think that this is what the Turk's Inn, specifically, was like.
Sort of. Certain things will be familiar to any supper-club habitué. The menu features a relish tray and bread basket, two mainstays of supper-club culture. However, each costs $7, something unheard-of in the freebie-loving dairy state. There's a brandy old-fashioned, naturally. This one's slightly mixologized, using birch syrup and served over crushed ice. But they smartly use Christian Brothers brandy, and the drink tastes pretty close to the Wisco ideal. The bar's also handy with a martini and Gibson, while also throwing in some creative craft-cocktail-era creations. (Blue cocktail, check; turmeric cocktail, check.)
The food, by Alberto Carballo, is very good. Among the dishes I tried — hanger steak with a paprika rub; moules à la Turk with adjika and crème fraîche; jeweled rice pilaf; and the pillowy, super-Wisconsiny "cheese cloud" dip, made of feta, Parmesan and heavy cream — there wasn't a disappointment. The entrée prices, from $16 to $28, are on par with midwestern figures, and the street food at the Döner Kebab takeaway counter next door is also excellent.
But it wasn't supper-club food. Oh, there was a shrimp cocktail and a pork chop on the bill, but mainly Carballo is furnishing contemporary cuisine to satisfy modern Brooklyn palates.
That's a good thing, because here's the deal with Wisconsin supper clubs. They will never succeed, as they are, in cities like New York. (People have tried; remember Michael White's short-lived the Butterfly, named after the Beloit supper club where he cut his teeth?) Supper clubs are miragelike destinations, often located in the middle of nowhere. Cram one into a crowded city block, surrounded by other dining options, and the whole enterprise loses its retreatlike specialness. Moreover, the simply prepared, stick-to-your-ribs food typical of the places isn't going to fly with today's fickle food-loving Instagrammers.
Varun and Tyler were smart to keep the 1934 shell but fill it with a 2019 menu. They're also smart to surround the restaurant with side ventures — including a rooftop bar and music venue called the Sultan's Room, and the kebab stand — because the economics of the traditional supper club no longer work, a reality to which many recently closed clubs across Wisconsin can attest.
In these ways, the Turk's Inn 2.0 may very well end up being a going concern, as opposed to a sentimental folly by two first-time restaurateurs. I hope that's the case. The magic they've captured in a bottle here is remarkable, and also heartwarming. A supper club, maybe not. But you'll definitely learn something about the supper-club aesthetic here. At the very least, the Turk's Inn succeeds in terms of complete, enclosed, glad-hearted escapism. And that's always what the best supper clubs have done.
Robert Simonson is a Wisconsin native who has spent many nights in the state's numerous supper clubs.