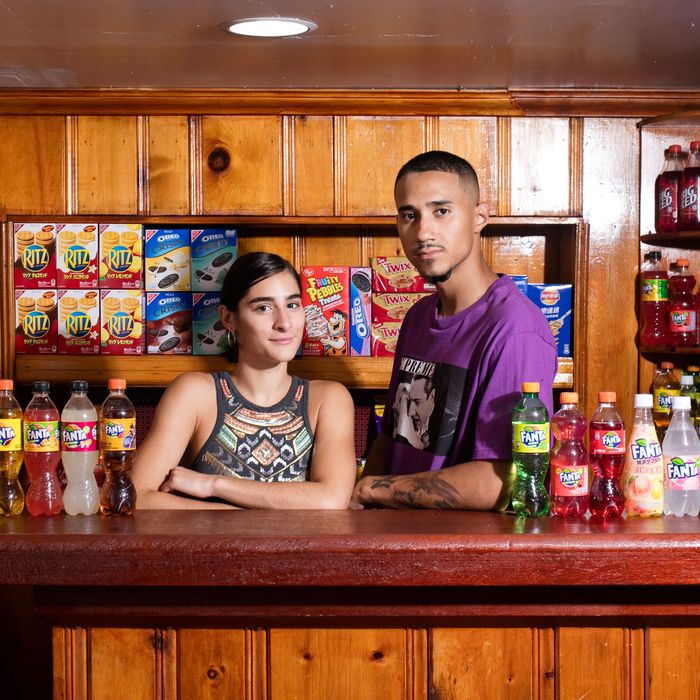 Snack merchants.
Photo: Melissa Hom
American exceptionalism is a lie, and you need no further proof than the undeniable, depressing truth that snacks from other countries are better. Lays? They season them with masala in India. We get stuck with weird Oreo flavors like cherry cola, while South Korea gets tiramisu-flavored Oreo thins, not to mention honey-chile Doritos. Even the sodas are better, like Japan's double-peach Fanta and Eastern Europe's elderberry-accented Shokata.
This global snack quality gap is the premise behind the Super Snack Store, which takes toothsome hard-to-find-in-the-States snacks and adds an air of exclusivity — snack drops that are like the hypebeast version of a bodega run. Those willing to spend can even get a "VIP experience." Created by the young Elizabeth, New Jersey, couple Dario Torres and Taylor Trachtenberg, the store is, for now, exclusive to Instagram. New products are posted while the regularly changing menu is maintained as a Story Highlight, and orders are placed by DMing the account. Grub spoke with Torres and Trachtenberg about their chip and cookie obsessions, the virtues of Japanese sodas, and what they're trying to build.
How did you get started?
Torres: It was so easy: just make an Instagram. Five minutes. So we went for it, and we found ways to get the snacks and kind of just started posting. It got kind of crazy after that. A friend told a friend and everyone found out through the grapevine.
Can you explain how it works?
Trachtenberg: So, basically, we have a menu and people will DM us their orders. We'll figure out where they're located, if we're able to deliver to them or have to ship. We will give them what snacks we like, what the favorites are right now. They can pick it up, too.
Torres: And we offer a VIP experience where we'll fill the trunk, take our time, and come to you — but if you're spending a certain amount of money. It's not like we're just driving around with the snacks all day and maybe losing a couple things. We want everything through Instagram, and we do try to keep that exclusiveness to pop-ups.
Trachtenberg: We've done the VIP experience since the beginning. Some people just want that and we like it, too. We're hanging out. Like bottle service.
Torres: Something's always gotta be exclusive. It's already exclusive, now double-exclusive it or triple-exclusive it — fly us out. Rappers or something. We have people that hit us up. Okay, you got a blue check, who are you?
Did you ever think of setting this up in any other way?
Trachtenberg: Well, after. But this was our initial idea.
Torres: It's just so cool that I can go to your house and open a trunk of snacks. I thought about putting it in somebody's store but I feel like that doesn't give us the excitement of enjoying the actual interactions. If I put it in a barbershop, it's like, "Oh, hey, buy a soda" and that's it.
Trachtenberg: Everybody has questions. "What does it taste like? Where is this from?" We like to respond right away because when people message you they're still on.
Torres: A lot of people give us ideas, too. They kind of get funky with it, like, "People put this in milk and it was a great cereal." We want to know how your people feel about things, what we should try next. I like being firsthand and knowing what's going on.
So what's new on the menu?
Torres: We just got a bunch of Fanta from South America. Milky Way wafer sticks from the U.K. I love wafers. What else? Chips?
Trachtenberg: The Cheetos flavor shots. It's the Ice Age version.
Torres: Nah, the guy from Japan told me they don't have those flavors from a long time ago. I was like, "Ice Age? That shit is fucking old." They have them, it's just not Ice Age.
Trachtenberg: We've got half-and-half Oreos.
Torres: Peach-grape, orange-mango. I mean, I'd eat it. That sounds good to me. People get freaked out because it's like, "Oh, that's two fruits." But I love snacks like that.
You've done pop-ups; would you open an actual store?
Torres: We're definitely looking into that. Or maybe even a snackmobile. There's always snacks in there, and you can walk up and have an experience that's like, wow. We do want to open up a website, but to do a subscription box. Then merch. We want to do hoodies, jackets, bags. Maybe people are mad into sweets and that's not their thing but they like our logo and buy our shirts.
Are you into fashion?
Torres: I like Supreme, Off White, stuff like that. Stuff like that is really exclusive. You could kind of compare it to snacks that you have to go to another country to get.
You found a pretty big audience pretty quickly. How'd that happen?
Torres: Are you familiar with New York Nico?
Not really.
Torres: We did a video with him during the pop-up at Panini Shoppe. He does mom-and-pop drops — that's what he calls them. I think Instagram is super-super-powerful.
There's so much availability because of the internet, it creates this different appeal to things that are more limited.
Trachtenberg: Yeah, definitely. With our snacks being from all over the world, you're tasting something you can't get unless you go to that place. It's a different type of experience.
So why snacks?
Trachtenberg: Why not?
Torres: You know what, I'm so into snacks. I just did my research and I couldn't believe what I saw. I never knew there were so many Fantas in Japan that we don't have here. We have three. Literally three flavors, and there's 30 in another country. I wanted to bring that experience to us. I knew New York City was going to eat that all up, so here we are just kind of executing the plan.
There are obstacles, man. Maybe we'll get something one time and never see it again. So I try to keep stuff in stock.
Where do you find this stuff?
Torres: At first we didn't know anyone, so it was expensive; we were paying $250 for shipping. The bigger we got, the more people saw, and a guy reached out to say, "I can get you wholesale." He just hooked me up and started taking care of me from there.
Trachtenberg: They put what they need on top of it.
How do you pick out what to sell?
Trachtenberg: Mostly from our taste.
Torres: I don't think I have bad taste. I'm not too picky.
Trachtenberg: I feel like, if anything, he's more picky than me.
Torres: I'm not necessarily picky, but, you know, I like good stuff. And we just go by that, and everyone loves it. We don't really get complaints. Nobody is like, "This is disgusting." I want to get the Coca-Cola or the Fanta where it's like, "Wow, we don't have that" rather than something like, for example, those Ramune drinks you can get in Chinatown.
There are these steak-taco Cup Noodles from Japan. It's serious stuff, man. I don't know what they're doing out there, but they're doing it right and I'm going to bring it here, bro.
What's your taste?
Torres: I'm an Oreo guy, I'm a Cheetos guy. Doritos.
Trachtenberg: The Cheetos, yeah.
Torres: I'm into this junk food. It's something I've always liked. When it's something from Korea we've never seen, it's like, "Wow, why not pay $20 for a bag of chips?" People want that experience. People come back and they're getting the same thing and some more. I'm always updating the menu because I can't keep up.
What have people really liked?
Trachtenberg: The Cheetos spicy chicken. Those are different.
Torres: Those are the most popular. Those sold out in the first week we had them.
People like their chicken chips.
Trachtenberg: I can't knock those. Those are my favorite chips. Literally, when a shipment came in, I had to take two.
Are there any things that are less popular?
Torres: I guess the Oreo Mint. I love mint. I'm a mint guy.
Trachtenberg: It's like mint and chocolate-chip ice cream. It has a creamier, heavier taste.
Torres: The other ones are maybe the Ritz lemon. I'm a lemon guy and I love 'em. All the Ritz. People freak out because they're like, "Ritz with lemon? Ew." They're amazing. They're factory-made Ritz. It's not like someone just stuck some lemon in them. They're just perfect, not too salty.
What about the sodas?
Torres: The soda, man, wow. We're talking about $30 sodas. I know someone in Japan who goes to vending machines to get them.
Trachtenberg: It's like hunting.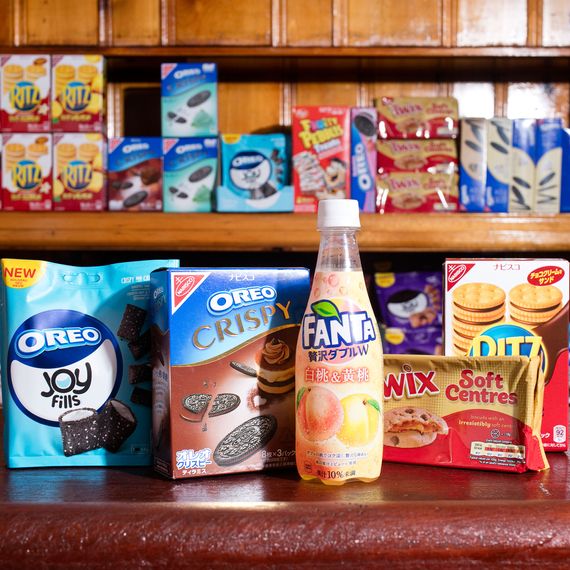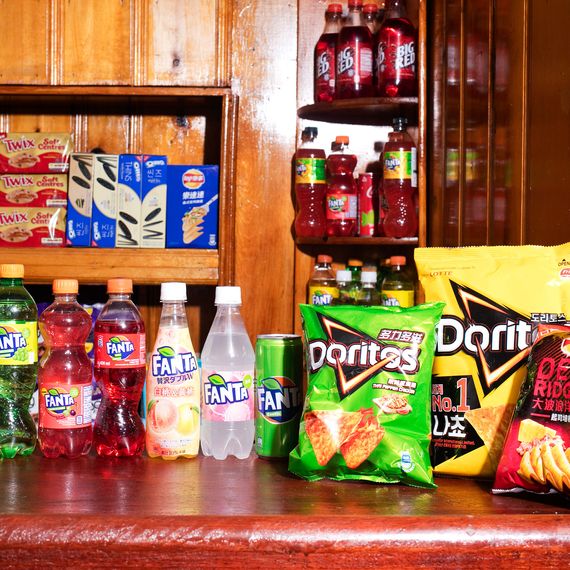 People are so into weird sodas, but a lot of them aren't very good.
Trachtenberg: I don't think the drinks we've had have been like that. They all sell out.
Torres: They all pop. They're all very good, very natural flavors from Japan. Japan is known for their white peach, it's a high-quality peach, and they grow peaches, and they make Fanta with it. We don't have that, we have artificial fucking flavors here.
A lot of people your age are like, "Yeah, get the fuck out of here." But our generation is different. They want to post it on Instagram and do all this shit. They don't give a fuck. Maybe somebody buys it just to enjoy it. Maybe somebody buys it just to flex.
Trachtenberg: Think about influencers; they're called that for a reason. You want to pop on Instagram, you want somebody to look at it, you want somebody to react.
Do you want to be a snack influencer?
Trachtenberg: I would say so.
Torres: We want to be a snack everything.
So Japan is your place for soda. What other countries make particular things well?
Torres: It's Japan.
Trachtenberg: Yeah, I think Japan is definitely on top.
Torres: I want to go to Japan, because I have a few friends who've gone and posted on Instagram. I would never be able to get these things. Cup Noodle chips — how do you feel about that? I think that's pretty cool.
You get things like those gross Lays Cappuccino chips.
Torres: Exactly!
Trachtenberg: Yes! Here they taste weird.
Torres: We're never going to get that flavor that we want. In America it's basic, keep it regular. They'll come out with a couple cool things, like Oreo Double Stuf. Out there it's just insane. We got Tiramisu Oreos from Korea —
I would eat those.
Torres: Oh, they're amazing.
Trachtenberg: Just random stuff. We had these Pringles for SuperCup's 30th anniversary.
Torres: A lot of people just like see the plate with noodles and fork and chicken and are like "ehh" and don't know how to feel. That's probably why they don't make stuff like that here. Everything is just Pringles barbecue sauce. These ones are good — the flavor, come on! Lo mein noodle chips? That'd probably be good.
Who do your customers tend to be?
Torres: We're getting that New York audience like crazy. L.A., crazy. Do you know L. A. Reid? We just shipped out a bunch of snacks to his daughter.
Trachtenberg: She bought some when she was in New York last and loved it; she's been consistent since then. Whatever, but it's cool.
Torres: Upscale Vandal came to the pop-up and spent $150.
Trachtenberg: He says he collects sodas, that's his thing. People are just like, "I want to fill up my apartment, I'm decorating, I need a whole bunch of stuff."
There are a lot of these brands from the '90s—
Torres: People hit us up for Dunk-a-roos all the time.
Trachtenberg: I don't think they make them anymore, so finding them is not going to happen.
What else do they reach out to you about?
Torres: People think we're an exotic thing where we have everything. They'll be like, "Do you have this from El Salvador?" And I'm like, "Whoa, it's cool that they're asking."
Trachtenberg: It's definitely opened our eyes to other places, too.
Places you never thought to look?
Torres: Definitely. We have some new Fantas from Bolivia, Peru, Russia. A bunch of sodas from everywhere. I literally didn't know about these flavors. Now we got Asia, South America, Europe, and a little bit of the U.S. We've got snacks from literally all around the world. That's what the goal was.
So what's your bigger goal?
Trachtenberg: We want to make it a brand, to expand where it could be a full-time thing.
Torres: Right now we still have to pay the bills. I work in the city. I'm in a pretty good position, I'm in the union, so I have benefits. Why let that go? But if I know that this is going to take care of me for life one day, that'd be awesome.
What's next?
Torres: We're going to start vlogging.
Trachtenberg: Vlog-our-journey kind of thing. I watch YouTubers all day.
Torres: I just feel like people are more on Instagram, but why not be more open to things? I want to concentrate on Instagram. I'm on the road to 100,000 followers, not to 100,000 subscribers.
Trachtenberg: YouTube pays, though.
Torres: It's just harder and longer.
Trachtenberg: That's true.
Torres: No one is chillin' on YouTube. Everyone's on Instagram, scrollin' through, lookin' at pictures, like, "Oh, shit, there's some snacks."
This interview has been edited and condensed for clarity.
The original Ice Age debuted in 2002. The most recent sequel, Ice Age: Collision Course, came out in 2016. In that film, according to Wikipedia, "Scrat's pursuit of his elusive acorn catapults him outside of Earth aboard a UFO."
During the Great Recession, U.S. food culture underwent what the media called "a food truck revolution," in which many accomplished chefs decided to cook food out of thriftier mobile operations. A snackmobile could tap into nostalgia for those days.
There are eight main flavors of Fanta in America and a handful of other more limited flavors, some of which are only available in Coca-Cola Freestyle machines.
Grub would eat these. Nissin released Mexican Tacos instant ramen, which has some pork flavor, in response to Japanese restaurants' making carne asada instant ramen.
Grub is speaking for ourselves.
Grub can also confirm that these are, in fact, good.
It is true that this country could always use more peach sodas.
Dunk-a-roos stopped being produced in America in 2012 but continued to be in Canada (rude) until 2018, when the dream of the '90s was proven to be not, in fact, alive.