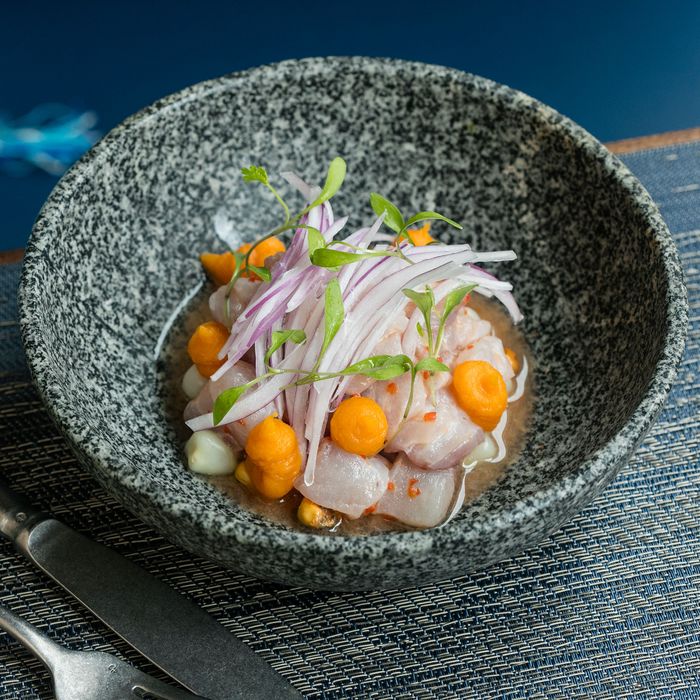 Mission Ceviche has opened a brick-and-mortar just in time for summer.
Photo: Melissa Hom
Every month in New York, there are a bewildering number of new dishes to eat, drinks to imbibe, and food-themed events to attend. Often, the hardest part is just figuring out what's really worth your limited time. So Grub Street kicks off each month with a curated selection of dishes, drinks, and events that should absolutely be on your agenda. Make your plans now.
1. Stop for ceviche before going to Central Park.
The Upper East Side has a new spot for raw fish in Mission Ceviche, the market vendor that now has its first brick-and-mortar location (1400 Second Ave., nr. 72nd St.). While chef José Luis Chavez's spot specializes in its namesake dish, he dives deeper into Peruvian cuisine. Along with several kinds of ceviche, including the nikkei (tuna, watermelon, ponzu, ginger, and rice crackers; $15) and a vegetarian shiitake-mushroom version (cucumber, artichoke, and fruit "caviar"; $16), there are anticuchos including heart and shrimp, and two entrées to share: the chicken dish called aji de gallina ($24) and a seafood rice ($38). There are also cocktails, including a classic Pisco Sour and a Maracuya Sour with pisco, lime juice, passion fruit, and egg white.
2. Eat Mexican-style rotisserie chicken at the Fly and go to a Fourth of July party at Achilles Heel.
The owners of Mexico City's New York–style spot Cicatriz are in town, bringing a dose of Mexican cooking to a few restaurants run by old friends. Chef-owner Scarlett Lindeman, who made pasta and bartended at places like Roman's, and her brother and co-owner Jake have been serving al pastor sausages at the Meathook and pouring mezcal at Claro. Tonight, they'll pop by the "chicken bar" the Fly to serve Mexican-style rotisserie chicken. If you're still figuring out what to do for July 4, you'll find them celebrating the holiday at Achilles Heel. Whichever event you go to, you'll eat well.
3. Have a goat samosa and potato pancakes at Bombay Bread Bar.
Bombay Bread Bar has a new executive chef and some new dishes. Chef de cuisine Jai Lakhwani will move into the head-honcho role as Floyd Cardoz, who will stay on as owner, assumes a new role at the Estiatorio Milos group. Lakhwani has worked for Cardoz going back to the Tabla days, his first job (as an extern) after culinary school, as well as at North End Grill, and as the chef de cuisine of BBB for the past year. The menu's bones won't change, but the Sint Maarten–raised Lakhwani is adding some of his own touches that reflect his Indian-Caribbean heritage, as in the goat jerk curry samosa with pigeon peas. The Kerala fried chicken will be replaced with an Indian fried chicken dredged in a coconut curry and served with a waffle made from chickpea-flour-based dhokla, and Cardoz's egg kejriwal will be replaced with aloo tikki, an Indian potato-cake snack.
4. Drop by Dominique Ansel for dessertified "pretzels" and diner coffee.
To celebrate his 15th year in New York, Dominique Ansel is turning his Soho bakery's pastry case into a tribute to the city. From July 4 through Labor Day, the nine whimsical desserts masquerade as iconic New York foods and drinks. There's the "Bodega Coffee Tiramisu," a classic blue coffee cup layered with dark-chocolate mousse, mascarpone ganache, and an espresso and amaretto-soaked almond biscuit. The "Everything Bagel & Schmear" is a honey-graham-cracker meringue filled with cheese mousse and sour-cherry jam and finished with an "everything seasoning" of sesame, poppy seeds, and toasted coconut. Of course, the "New York slice" gets an homage of a thinly veiled strawberry tart with fromage-blanc mousse, sliced strawberries, strawberry-basil jam, and a crust of vanilla sablé. There's no chicken and rice, but there is a "Pretzel," made from pretzel bavaroise, peanut-butter feuilletine, and soft caramel; and a "haute dog" with a bun of coconut-soaked ladyfingers with toasted coconut, a raspberry-crémeux sausage, and a "mustard" of passion-fruit curd. Other desserts commemorate NYC-specific experiences, like the apple-gelée based "Bite of the Big Apple" and the "Stroll in the Park Chocolate Hazelnut Acorn," full of hazelnut mousse, dacquoise, and feuilletine, all paired with blackberry crème de cassis. Finally, there are two éclairs — the "Yellow Taxi Salted Caramel Éclair" and the "Spring Street Chocolate Éclair" — that look, well, like éclairs. But even these feature classic New York imagery along the ganache. —Bindu Bansinath 
5. Get a shrimp burger for brunch at Wayan on Saturday …
Add the Indonesian-ish Wayan to your brunch agenda. On both Saturday and Sunday, Cedric and Ochi Vongerichten's restaurant will serve dishes like chicken wings with eggs ballado, the classic salad gado gado mashed up with avocado toast, and nasi goreng with kecap-manis-glazed bacon. There are also, take note, a pair of burgers: one made with shrimp and topped with green chile, Gruyère, and Thai basil, the other chicken with sambal-oelek sauce and calamansi pickles.
6. … Then get a pork burger for brunch on Sunday.
Speaking of burgers, the West Village's popular pasta destination L'Artusi will now be a place to get your weekend burger, too. A collaboration with Murray's Cheese, the nontraditional (and, at $24, pricey) burger is made with a pork patty, Brooklyn Cured's bresaola, Gouda, pimentón aïoli, and pepper mostarda. It's still served on a Martin's potato roll, though. And in proper trophy-burger fashion, only 20 will be sold on Sundays only. In other important sandwich news, Bushwick general store Foster Sundry has added a rather good gyro ("Spiro's Gyro") to its menu. Served on Hot Bread Kitchen's fantastically flaky, buttery msemen, a Moroccan flatbread, it's made with beef, mint hummus, fresh herbs, red and white sauce, pickles, and peppery arugula and bitter radicchio.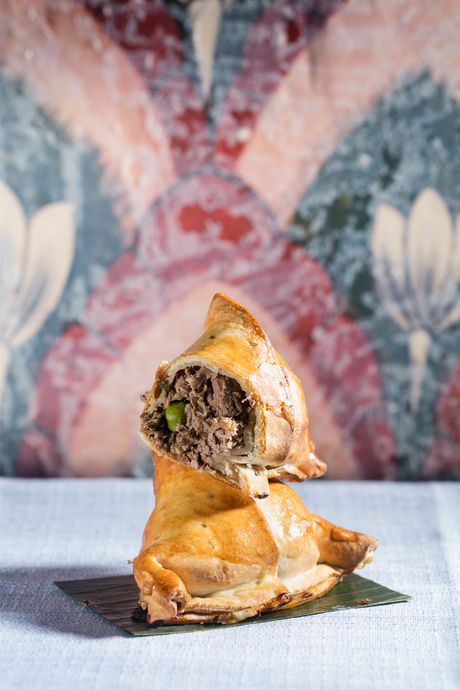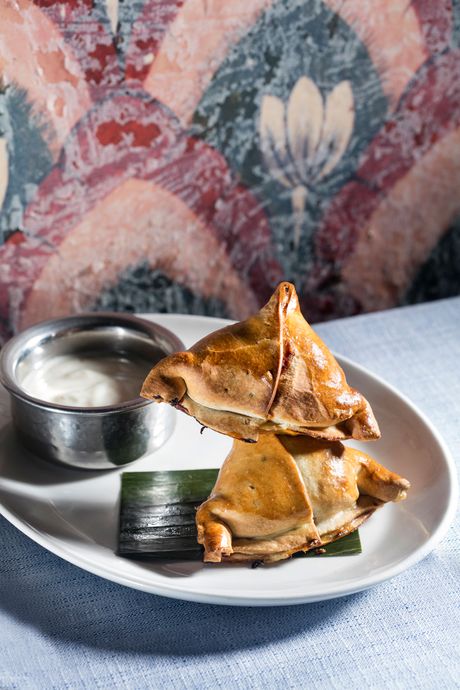 7. Snack on banana bread and vegan doughnuts in Chelsea.
Carroll Gardens' East One is one of the better places in New York to eat breakfast, lunch, and dinner at in one day. On Saturday, it expanded with a 1,700-square-foot restaurant in Chelsea. There are new coffees plus beer and wine, and executive chef Will Ono, who spent time at such world-class establishments as Noma and Mugaritz, keeps it simple but smart with his menu: bowls like a chocolate chia pot with coconut pudding, grilled spelt-flour banana bread topped with whipped espresso butter, a duck bánh mì, and pastries including lemon polenta loaf cake, vegan baked doughnuts, and an apricot-Madeira loaf. For now, this location is open from 7 a.m. to 7 p.m. Eventually, it'll stay open until 11 p.m.
8. Head to Long Island City for Greek-style hot dogs.
Not going to the Hamptons or upstate? Want to try those new sausages from J&E Small Goods? You're in luck. Every Saturday from July 6 to August 31, Mina's, the new restaurant opening in MoMA PS1 this fall, will serve J&E's hot dogs on toasted sesame buns, complete with appropriate condiments like cucumber salad and tzatziki, along with a few other dishes like braised chickpeas, and natural wines, batched cocktails, and beer.
9. Get some Middle Eastern ice cream for Fort Greene Park.
It's frozen-sweets season, so the Republic of Booza is bringing its stretchy Middle Eastern ice cream to another part of Brooklyn. The company is popping up for the summer (at 45 Willoughby Avenue) just a couple blocks from Fort Greene Park, a perfect place to hang out and eat ice cream. Even better is that booza doesn't melt as fast as American ice cream. The best part, though, are flavors like candied cream, sour-cherry mahlab, and salted Oreo.
10. Ring in the summer with an all-pork feast.
Celebrating this summer? Starting today, the Nomad will offer a four-course menu called "the year of the pig" (at a cool $120 per person) that's available only during the summer in the dining room and Elephant Bar. There are snacks like pork belly and avocado wraps; carbs in the form of spaghetti with guanciale, chile, and Parmesan; a porcelet loin with peaches, peppers, and charred corn; and a pork-free dessert of blueberry buckle with an oat crumble and lemon-ricotta ice cream. It's not whole hog, but it's a lot of hog.
11. Learn how to make fresh tofu in Williamsburg.
Can't get enough tofu in your life? Want to wake up to it every day? Head to the Museum of Food and Drink on July 25, when from 7 to 9 p.m. the author Hiroko Shimbo will talk about the food's history and give a demonstration on preparing fresh tofu. (Tickets are $25.) You'll learn how to use the coagulant nigari and get tips on how to make a tofu dressing for all your salad needs.