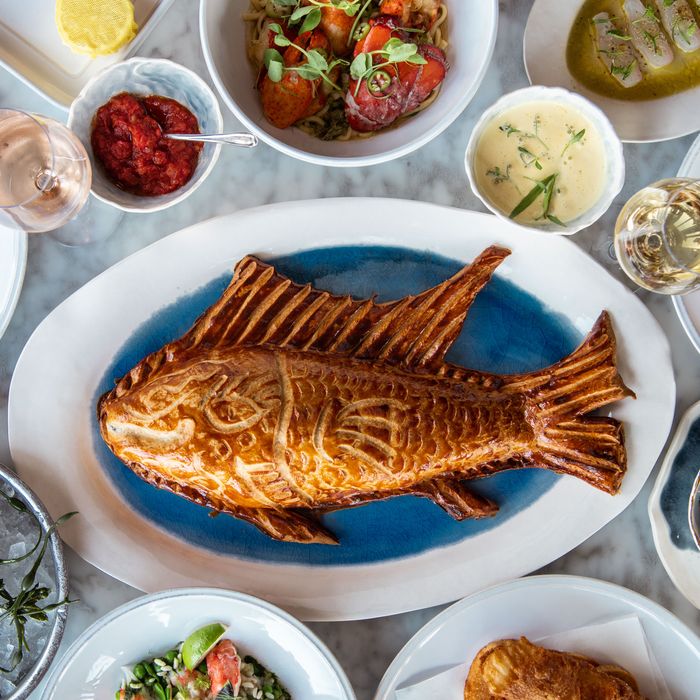 The raw, the cooked, and the en croûte at the Fulton.
Photo: Scott Heins
Sure, there are a few things that might cause a bilious skeptic to raise an eyebrow (or two), and maybe even emit a sad, resigned sigh, when planning a first visit to Jean-­Georges Vongerichten's ambitious new downtown seafood restaurant, the Fulton. Like many large-scale projects around Manhattan these days, the 200-plus-seat restaurant is situated in a new real-estate development, in this case at the end of the refurbished Pier 17 down by the old South Street Seaport. There will be a food hall in this boxy, somewhat antiseptic mall-like structure one day, along with other enticements (yes, Mr. Chang will be opening a restaurant too), but right now the entrance is a little hard to locate (it's obscured by various construction projects, not to mention that rumbling Mad Max flyway known as the FDR Drive), and when you arrive for dinner, you might find yourself wandering up and down escalators, like I did, through crowds of dazed-looking thrill seekers and tourists, before you sit down to eat.
As anyone who's followed his long and storied career knows, Jean-Georges has a knack for taking tired old formulas (French cooking, Asian fusion, farm to table, etc.) and imbuing them with his particular elevated sensibility and style, and this new exercise in mall branding turns out to be a little different from all the others. The large, double-floor space has been fitted out with aqua-green banquettes and buoy-shaped lights, among other nautical touches, and it occupies a prime spot at the front of the pier. There's an alfresco area where you can contemplate a variety of eclectic raw-bar treats and crudi as sea breezes waft around, and from the well-situated tables in- and outside of the restaurant, you can gaze at the full span of the Brooklyn and Manhattan bridges, as well as south, toward the harbor, where the ferries and sailboats are cutting to and fro.
"I almost feel like I'm on vacation," someone said during one of my visits, as we looked south down the harbor and then up again at the great bridges turning pink in the evening sun. Indeed, for a front-row view of the Fourth of July fireworks, the restaurant was charging a hotel-level $375 per seat (which included food and drink). Being a Jean-Georges franchise, the Fulton's menu is filled with discreetly exotic touches from around the globe. Our places were set with chopsticks, and during the early, crudo portion of dinner, we sampled deep-sea red prawns from Spain, served with their whiskery heads on and an elegant Asian-style dipping sauce made from fermented soybeans; long, chewy razor clams from Maine spritzed with lime juice and chile; and delicious little nickels of delicately sliced scallops, laid out on their silvery, moon-shaped shells with a garnish of torn shiso leaf and jalapeño.
"This is the only Manhattan clam chowder I've ever eaten that didn't taste like the inside of a rusty tomato can," one local chowder aficionado said after experiencing the excellent house chowder at the Fulton, which the kitchen constructs with littlenecks and choppings of celery, carrots, and potatoes, all cooked down in a tomato broth brightened with Thai chile pepper. That other tired old local warhorse Long Island fluke crudo is enlivened with Sichuan buds, fresh mint, and a habanero vinaigrette, among other things. The warm, gently pulverized octopus tentacle is an almost perfect iteration of this great Mediterranean dish, and if you call for a helping of bouchot mussels, you'll find that they come with a small mound of black Chinese rice on the side, which you're instructed to stir into the rich, lemongrass-infused broth once a modest number of shells have been cleared from the bowl.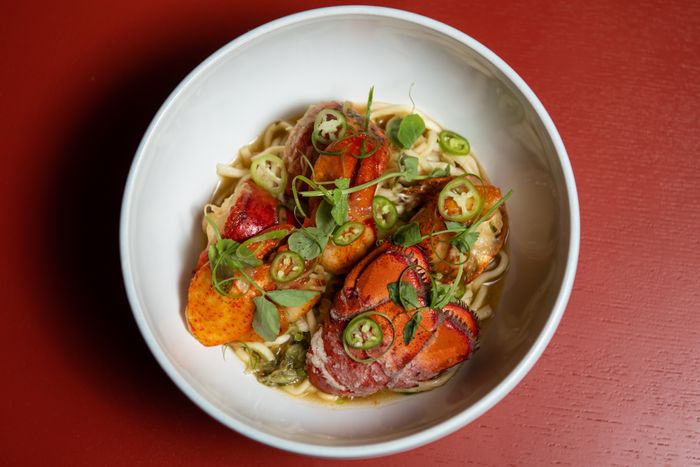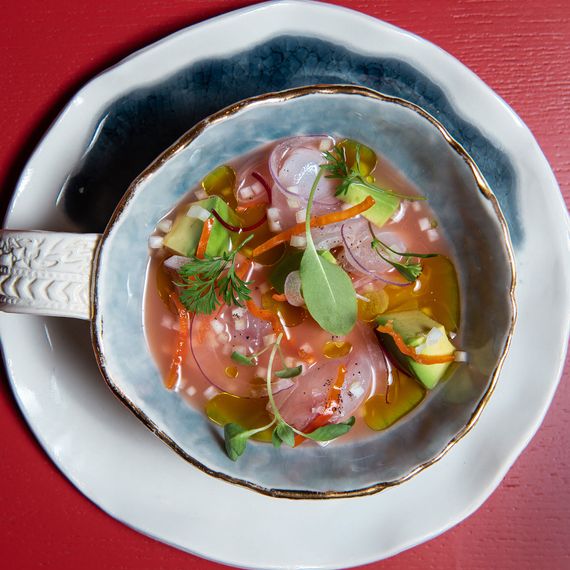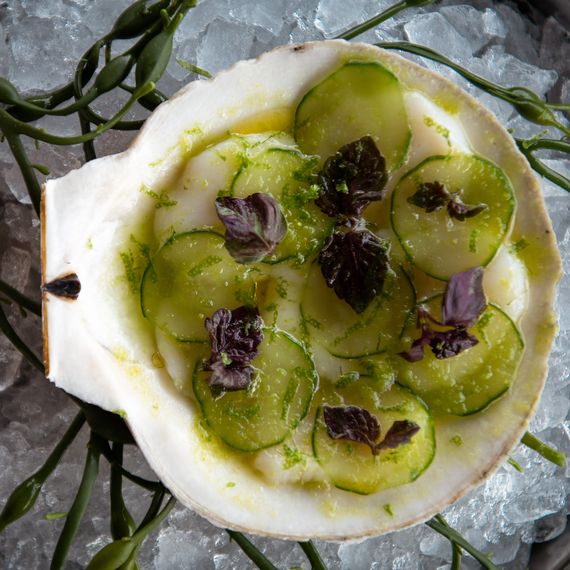 A few of the entrées at this elaborate seafood shack turned out to be more of a mixed bag, however. The aïoli-laden fish stew tasted less like the exotic bouillabaisse-­style creation it was supposed to resemble than a randomly well-stocked local chowder, and a decoratively plated helping of monkfish medallions (served over spinach with strings of crispy potatoes) was overwhelmed by the tart, salty taste of citrus on the evening I ordered it. Lobster enthusiasts should get the lobster-rich, Cantonese-style longevity noodles instead of the salty, slightly dried-out, much more pricey lobster with spring peas, although you can't go wrong with the gourmet version of fish and chips, and if you happen to have $120 or so handy, the whole black sea bass en croûte (expertly carved tableside and served with the béarnaiselike, tomato-tinged Choron sauce) is a thing of beauty.
If you're one of those people, like me, who can count on one hand the number of decent seafood restaurants that have opened around the city in the past decade or so, you'll be pleased to know that you can get a pair of first-rate crispy fish tacos at lunch, along with an invention that Jean-Georges and his talented young executive chef, Noah Poses, call a shrimp burger, garnished with cucumbers, Sriracha mayo, and more shiso. For seafood purists, there's also a "simply cooked" section of the menu filled with grilled specialties (lobster, halibut T-bones, the aforementioned spot prawns) available for lunch and dinner, and if you're looking for the ideal dessert to enjoy as the westerly light fades over the Brooklyn waterfront and the running lights blink on in the boats out in the harbor, it would be the cherry Pavlova, which is dressed in the Jean-Georges style with a scoop of pistachio ice cream and a spoonful or two of Champagne sabayon.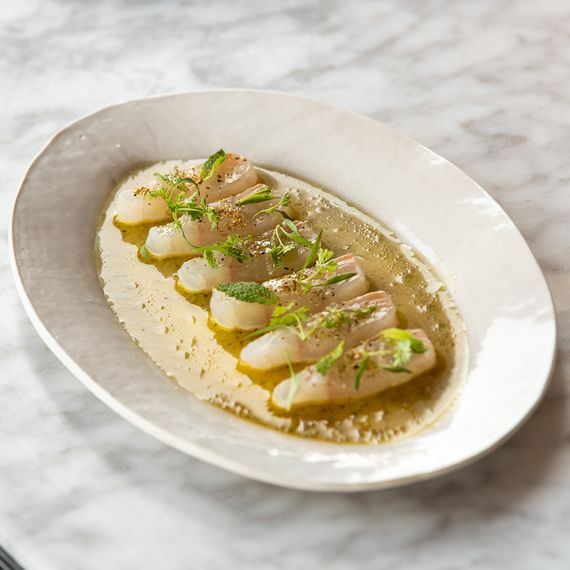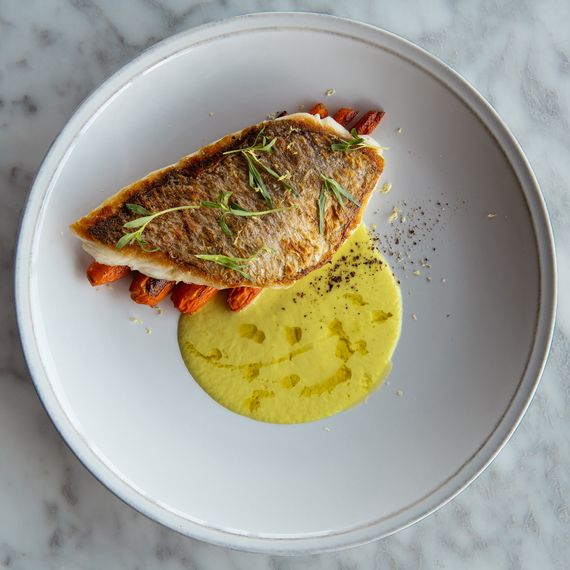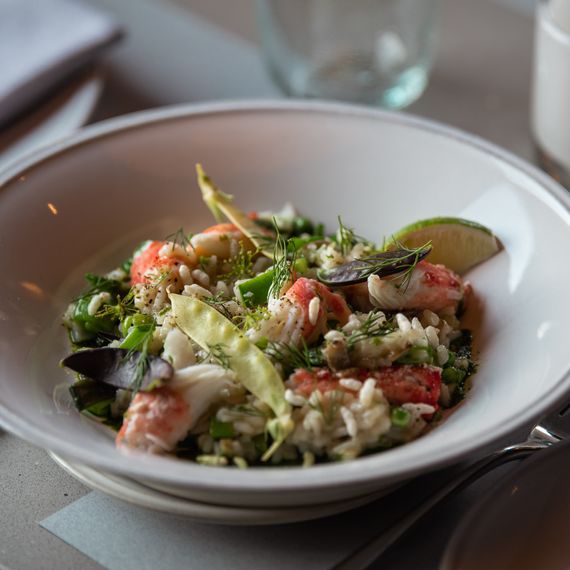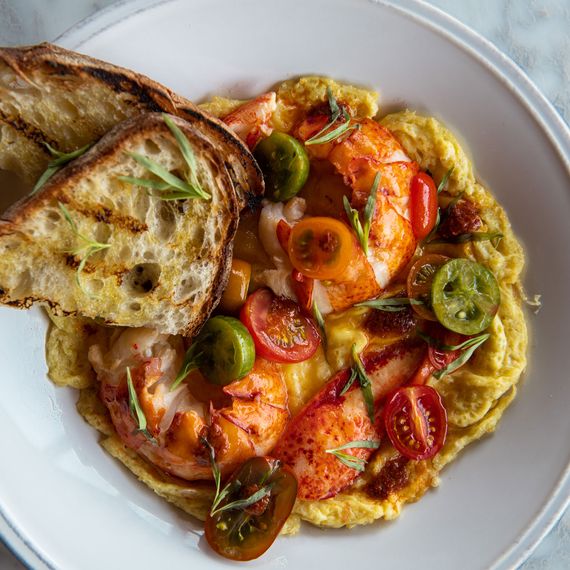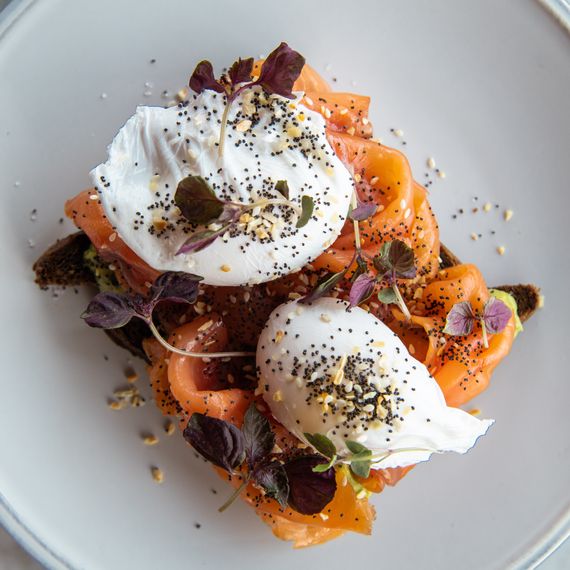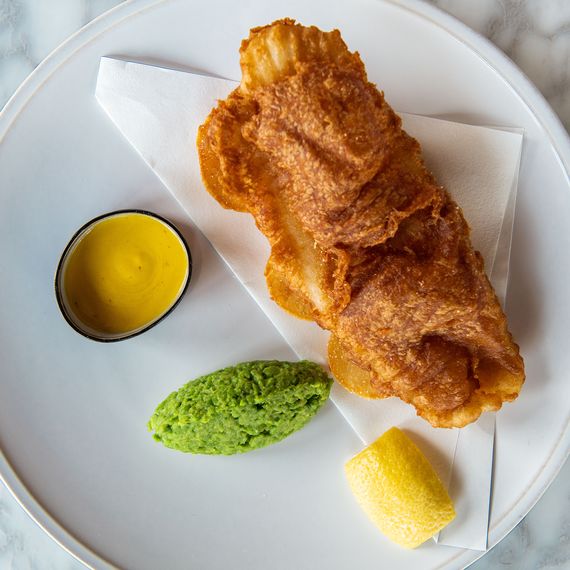 The Fulton | 88 (out of 100)*| Impressive
89 South St., Pier 17; 212-838-1200; thefulton.nyc
Open: Dinner daily; lunch Monday to Friday; Sunday brunch.
Prices: Appetizers, $15 to $19; entrées, $22 to $48.
Ideal Meal: Razor clams, scallops, head-on red prawns, fluke and/or octopus with mozzarella, longevity noodles, sea bass en croûte, cherry Pavlova.
Note: The wine list is stocked with a number of predictably well-chosen whites from Burgundy, Bordeaux, and the U.S., but if you're in the mood for a refreshing fusion summer cocktail, the shiso gin-and-tonic is the one to try.
Scratchpad: A multistar setting plus multistar food all adds up to an impressive 88 in the Thousand Best ranking system.
*The rating scale of 0 to 100 reflects our editors' appraisals of all the tangible and intangible factors that make a restaurant or bar great — or terrible — regardless of price. See The Thousand Best for 999 more great places to eat and drink.