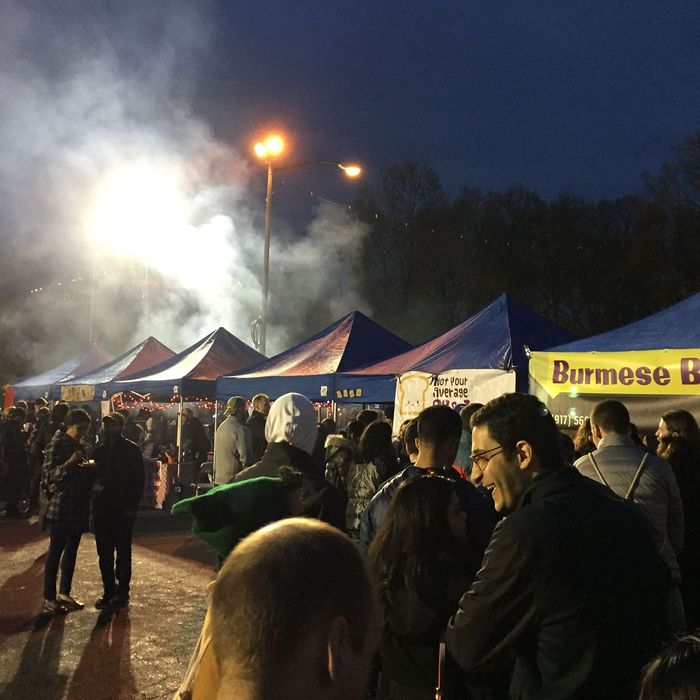 The Queens Night Market.
Photo: AP/Shutterstock/AP/Shutterstock
The Queens Night Market is one of the best ways to spend a Saturday night during a New York summer. It has something of the charm of a state fair — in part because of the sequestered location in Flushing Meadows Corona Park — but one where you can sample everything from vinegary Argentinian choripan to Burmese chicken curry palata, all for $6 or under. Even during this past scorcher of a weekend, it was packed with families, young couples, and friends, and at least one guy who had already spent the day, so he casually told friends, eating around Flushing. So Grub is happy to learn that New Yorkers will be getting more of this particular action. On July 29, the Market's founder, John Wang, will bring it into the daytime — and Manhattan — with the Outpost by Queens Night Market at Rockefeller Center.
Open Monday through Thursday from noon to 8 p.m., it'll be located at the South Plaza at Rockefeller Center. In a statement provided by Wang, he says that they're bringing over "some of our hallmark vendors" to Manhattan, including Burmese Bites, purveyor of the aforementioned curry chicken palata; Treat Yourself Jerk Chicken, no explanation necessary; Hong Kong Street Food, makers of soy-sauce noodles; and La'Maoli, which serves Antiguan salt-fish balls and island subs. The hope is for the Outpost to be extended through fall and summer, but Wang is currently calling it a trial run.