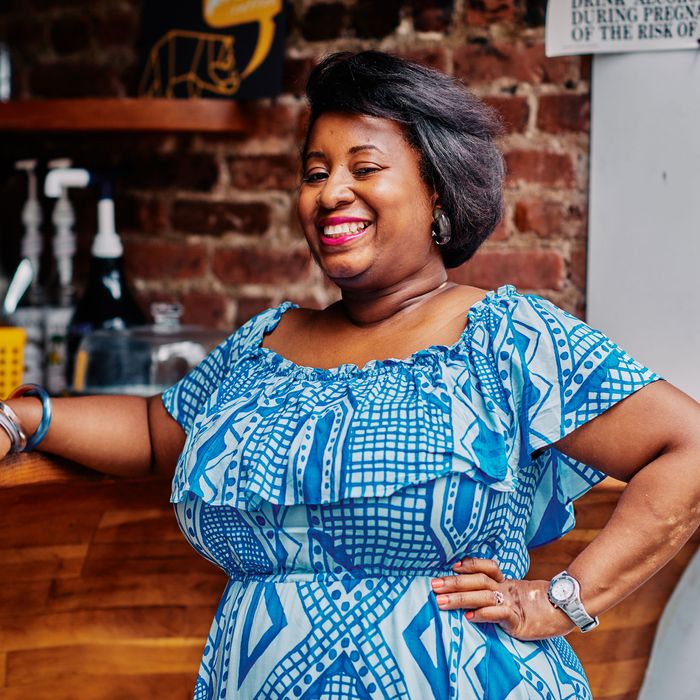 Taylor at Dale View Biscuits & Beer in Prospect-Lefferts Gardens.
Photo: Christian Rodriguez
Last week, Nicole Taylor connected with Monique Greenwood, the owner of Akwaaba Bed & Breakfast Inns, and a former editor-in-chief of Essence, a magazine that Taylor, now a 41-year-old food writer, grew up idolizing.
The plan was to talk about Taylor's new role as the executive food editor of Thrillist. "She was like, 'You're ready. You'll do great. You'll step right into it,'" Taylor says. "She told me, 'I can feel your passion. You're ready,' and it was very encouraging and surreal to be able to talk to someone who, as a young adult or teenager, I looked up to."
Over the last decade, Taylor has hopscotched through the food world, first by giving culinary tours in Bed-Stuy, then by hosting the Hot Grease podcast in the early days of the Heritage Radio Network. In 2015, Countryman Press published her debut cookbook, The Up South Cookbook, an ode to her childhood in Georgia; and Taylor racked up bylines at the New York Times, Saveur, Food & Wine, and more. She's also played a role in the organization's efforts to diversify its awards; worked for the Brownsville Culinary Community Center, and is a member of the advisory board for Julia Turshen's Equity at the Table.
"I've always had this mentality of hustle, of being an entrepreneur, being a self-starter," Taylor says. "But I think I wanted to be in a place where there were other people that supported me, supported my ideas, and there were resources to be able to get things off the ground and take them to a larger place and a bigger platform."
Taylor says that realization dawned her last year while working on the cookbook for TBS's show The Last O.G., a project that came with food stylists, photographers, and all the slew of other resources she's never had before. "That was the moment when I realized that I never fully had the proper tools to be able to get shit done," Taylor says. So, when Thrillist's executive editor Bison Messink reached out in April to ask if she was interested in, or knew of anyone who might be interested in, leading the site's food coverage, she threw her own hat into the ring.
On July 22, Taylor will begin her work, becoming one of the first black women to lead an editorial food department with a reach in the tens of millions. It's a big moment not just for her, but for many of the people of color who've taken issue with the distinct lack of diversity in the upper echelons of food media. Taylor has long been outspoken about the issue, and now she's finally in a position to do something to change the status quo.
"I know that I'm exciting fit for them, because I'm such an outsider and yet a person who's proven that they can do the work and be consistent," Taylor says. "I think that in the current climate of food, people are having to step back and say, 'Wait. We need to be making sure that we are bringing in people of color to be interviewed and, on top of that, how is their experience?' Sure, they haven't gone to culinary school. Sure, they haven't had four summers interning at some food-media company, but what other experiences are equal or surpass to qualify them?"
That idea feeds into Taylor's fundamental goal for Thrillist: not to change it wholesale, but to work with writers who aren't well-represented in the industry: "I want to look for opportunities to bring in fresh, new voices, to bring in a new audience, to bring in people who are like, 'Oh, I haven't looked at them in a while, but let me come back.'"
Many members of the food-media world agree that Taylor already embodies the beginning of the very sea change she wants to create. She's received messages of congratulations from the likes of Esquire food-and-drinks editor Jeff Gordinier and New York Times deputy food editor Emily Weinstein, as well as the incredibly passionate contingent of black food-media people who have also been working on the outskirts of the industry for years.
"With this position, I'm opening the door and I'm very conscious that I am opening a door for another person of color to be in a role like this at any company, anywhere, and I'll be used as an example," Taylor says. "I'm here to show and prove that I can take this vertical to a whole new level, and I can build and sustain a team that's dynamic and that will win more awards."
Taylor was never in a position of power to help the young writers of color who often reached out to her for guidance. Now she is. "I was just sitting down, the other day, writing my intentions," Taylor says, "and the big thing that kept coming up for me is, 'Open the door wider, open the door wider.'"