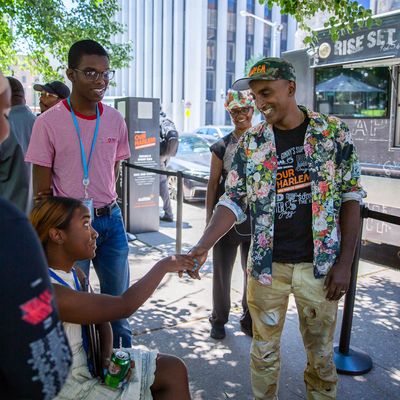 Photo: Courtesy of Audible
If there are two things award-winning chef and restaurateur Marcus Samuelsson of Red Rooster loves, it's food and Harlem. His new Audible Original, Our Harlem: Seven Days of Cooking, Music, and Soul at the Red Rooster, is a love letter to both. To celebrate its launch, Samuelsson drove a food truck around New York City and to Newark on June 26 and 27, serving dishes he makes with fellow Harlemites in the audiobook that's redefining the cookbook.
Sounding more like an incredibly well-produced podcast than a reading of written book, Our Harlem invites listeners on a music- and food-filled journey over the course of six hours. In it, Samuelsson cooks recipes with different guests from neighborhood institutions like Apollo Theater, La Marqueta, and Charles' Country Pan Fried Chicken while listening to gospel and jazz and talking about Harlem's vibrant past, present, and future. This means when Samuelsson makes Red Rooster's famous Mac & Greens, he and his guests don't just talk about how to cook it; they discuss the Great Migration from the South that brought soul food to Harlem.
At the food truck for Our Harlem, other recipes on the menu included Red Rooster's famous Fried Yardbird, Obama Short Ribs — the dish he served the former president when he visited Harlem for a fundraiser — and a grilled jerk pork chop, which Samuelsson says is the epitome of summer in the city. "Nothing can go wrong when you have a good jerk, a pork chop, and it's the middle of summer," the chef said. "Because it's grilling. It's outside, and it's a lot of fun. It's a real tribute to Harlem as a place."
While an audiobook may not seem like the most obvious format for something as visually driven as food, Samuelsson sees only possibilities in the medium. "It's a whole new way to engage with cooking. It brings the listener closer to sound, something you normally don't consider that much when cooking. Think about it: Searing is a sound, and when you fry chicken, it pops up — it's a different sound," he said. "This allows you to get closer to the experience, to cooking."
With Our Harlem, the chef hopes listeners will take away just how vibrant the neighborhood is. "We brought Harlem's special sauce into Red Rooster, and we're bringing that into this new Audible Original," said Samuelsson. "Urban America, places like Harlem, can be in any city, and each one is very unique. What makes a place like New York so special is its diversity, and in Our Harlem, you hear those voices."
Our Harlem is available now on Audible.
This is paid content produced for an advertiser by New York Stories. The editorial staff of Grub Street did not play a role in its creation.