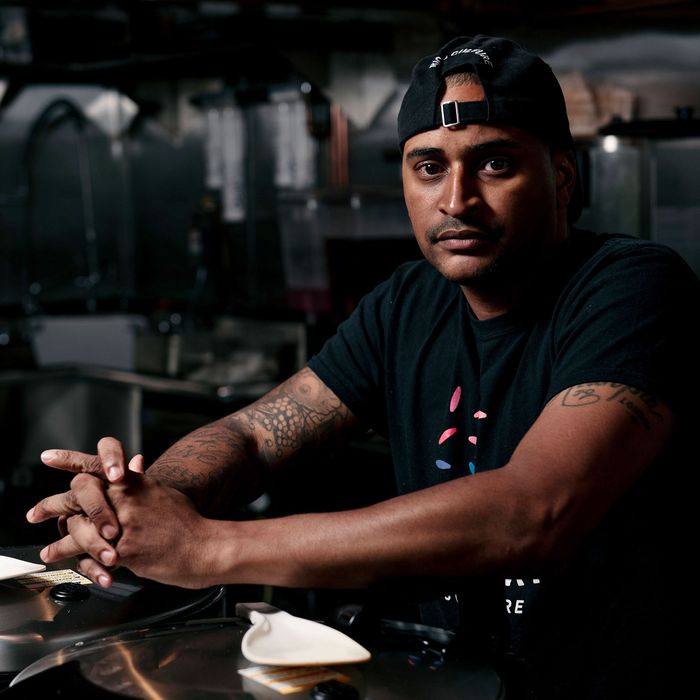 Customers will find Johnson behind the counter at FieldTrip most days.
Photo: Scott Heins
For J.J. Johnson, it all began in Harlem. It was in Harlem, at the Cecil, where he earned his stripes and proved that cuisine from the African diaspora could be elevated, and it's in Harlem that he started his family. "This community made me who I am," Johnson says. "If I'm going to do my first solo business, why wouldn't I go with the place, the community that built me up to become J.J.?"
Last week, Johnson returned the favor, opening FieldTrip, a new counter-service restaurant where nothing costs more than $12 and the menu revolves almost entirely around rice sourced directly from farmers. Carolina gold rice, Texas brown rice, aged basmati, China black rice, and sticky rice — all of it topped with global ingredients like edamame, turmeric yogurt, green curry sauce, piri piri sauce, black beans, and more. Each dish is a world of its own: The veggie bowl, for instance, exists at the intersection of Senegal and Surat, featuring jolloff and roasted broccoli with cucumber yogurt and nana's bread (a play on naan bread). The crispy chicken bowl is more quintessentially American, combining Carolina Gold rice, a heritage grain, with barbecue sauce and chicken breast. The restaurant's slogan: "Rice Is Culture."
"Everybody's culture is defined by the rice you eat," Johnson says. "It's what you feed your children. The first dish I fed my kids were rice grits from Anson Mills."
Johnson has had a string of high-profile successes in the past two years, including a well-received run at the Chefs Club in Soho, where a different chef leads the restaurant every few months. In February 2018, he and Alexander Smalls co-authored the cookbook Between Harlem and Heaven, which won a 2019 James Beard Award. But the undisputed highlight of 2018 for the 35-year-old chef was taking over the Henry, the in-house restaurant at the Life Hotel, which later earned one star from the New York Times.
But in one way or another, all the aforementioned ventures were done at the pleasure of someone else. A hotel operating company in the case of the Henry and Belgian-born multimillionaire Stephane De Baets at Chefs Club. FieldTrip represents Johnson's first truly solo venture. He owns it outright, and every aspect of the restaurant, from the "Rice Is Culture" neon sign in the window to hitting customers with a "See you next trip" on their way out, was chosen by him.
"This is 100 percent me," he says. "Every check you get, my signature is on it."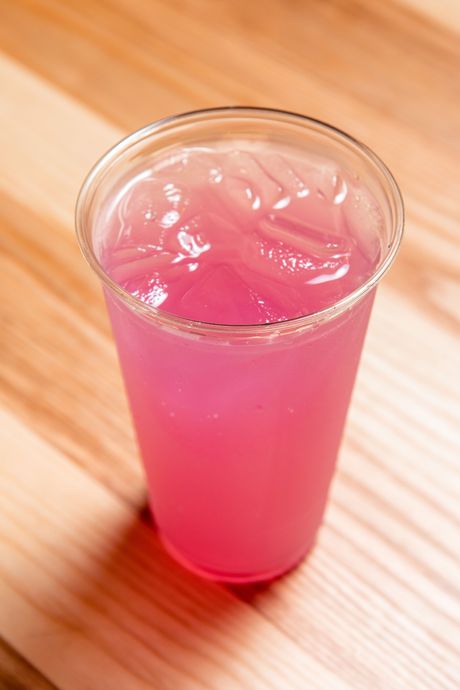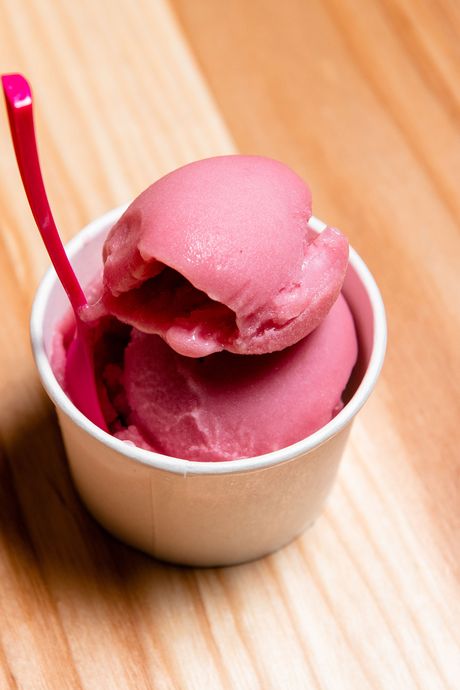 The offer to have a spot of his own came before Johnson had even solidified the concept. Shortly after he left the Cecil and Minton's in 2016, the chef was approached by the board of the co-op that FieldTrip sits beneath. It wanted to "support young talent in Harlem" and offered the space to Johnson below market rate.
Johnson was unsure about the offer, but a conversation with his father, a basketball coach, helped him make up his mind. "He said, 'The way you get recruited is how you will play,'" Johnson recalls. "And I thought, 'Why would I just go to any landlord? This landlord is actually trying to change this block.'" In July 2018, he signed the lease in hopes of bringing something completely different to an area that's home to iconic spots like Sylvia's, Melba's, and Red Rooster, but also Popeye's, McDonald's, and Chinese takeout restaurants.
"Some young girl came in today and she was like, 'Oh, it's $9.99,'" Johnson says. "I told her, 'McDonald's is $8.65 right now. And you still don't know where the beef comes from.'" The girl ended up buying a meal.
This dance, where Johnson has to convert some people and not others, has defined FieldTrip up to this point. Though he was able to raise funding in the six figures, and maintain majority shareholdership, he still struggled to lock down investors. Early on, he says, he had two major investors who'd committed to the idea, but when Johnson insisted that the restaurant would be based in Harlem, one of the investors pulled out.
"I thought we were going to lose the other main investor because he was coming onboard with the first guy," he says. "But he was like, 'No, we're good. We're good.' By that time, I was like, 'Fuck it. I'ma go ask everybody.' So it took me longer than I wanted to, but it feels more than right."
Johnson falls short of saying FieldTrip is the beginning of a chain in the image of Shake Shack or Sweetgreen, but he admits that when he pitched the idea, at weddings and over meals, he referred to the concept as "a global Chipotle." He also mentions being inspired by the Chick-fil-A model of opening new restaurants, where franchisees are often people who've worked their way up through the ranks. But for now, he's fully focused on where he is in this moment.
"I think it's a powerful statement for a black person to have a business in Harlem," Johnson says. "Because Harlem represents black excellence and that's what we're trying to show here."