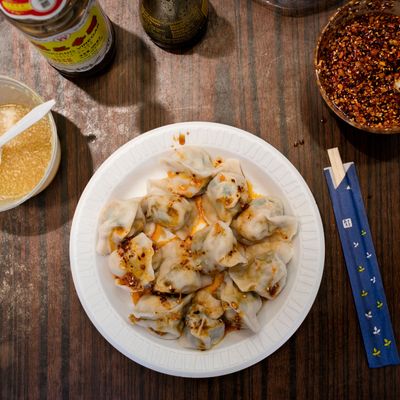 Lunch at Tianjin Dumpling House.
Photo: Melissa Hom
It's always felt, to me at least, that there is nowhere else in New York quite like the Golden Shopping Mall, a dingy, ramshackle treasure of a food mall that has been home to some of the city's most reliably delicious Chinese food for the last two decades. (The downstairs may be more accurately described as a labyrinth of noodles, dumplings, and mala tofu.) While vendors have come and gone, the soul of the place has never changed. It has served as a culinary lighthouse for those coming from outside the neighborhood, and more importantly has functioned as a cheap, blue-collar place for locals to eat in a rapidly developing, gentrifying Flushing.
Earlier this summer, when eating in Flushing with some friends (one of whom, of course, is moving to Los Angeles), I spotted signs at the basement-level Tianjin Dumpling House announcing it was "relocating" over the summer due to what were billed as "renovations" to the mall. A number of stalls had already closed, including Express Tea Shop (home of a great jianbing), and for the first time the basement was half-empty and, well, a little depressing. Now the time has come: The Golden Shopping Mall is closing for renovations. The timing of the closing was first reported by the food writer and occasional Grub contributor Joe DiStefano, who has been writing about and eating at the place since 2008. Following the news, the food writer and former New York Times contributor Dave Cook reported that the Mall would be renovated in two phases (one for each floor.)
The Mall's situation always felt precarious, like it was holding on by a single hand-pulled noodle — it was a surprise that it hadn't just vanished, given that New York is a place where old buildings on prime streets get demolished like unwanted plants pulled out of a garden. But even while shiny buildings went up and new restaurants opened (with backing from foreign investors) all around it, the Mall kept on.
DiStefano is the one who first brought the late Anthony Bourdain to the Mall, and the visit was subsequently featured on No Reservations. That segment put a spotlight on Xi'An Famous Foods, helping to catapult the place to fame as it became one of New York's most popular and successful food businesses of the last 20 years. Even as Xi'An expanded into a chain with shiny, streamlined locations and a commissary kitchen to produce its obsessed-about sauce, owner Jason Wang and his father David Shi kept the original location. That is, until a couple of years ago, when it vanished from the mall. According to DiStefano, Wang closed shop because the mall was on its way out.
Along with Xi'An Famous Foods, the Mall was the launching pad of Dumpling Galaxy, which grew out of Tianjin Dumpling House. Both of those places have, in their own ways, helped define New York's food scene in recent years. Think about the spate of Northern Chinese restaurants that followed Xi'An, and the way hand-ripped noodles and cumin lamb burgers entered the broader lexicon of New Yorkers outside the Chinese community. Meanwhile, Tianjin Dumpling House and Dumpling Galaxy's Helen You bring a restless creativity to dumpling making, serving up soup dumplings made from lamb and so, so much more.
This is also where Manhattan's popular and acclaimed Kung Fu Little Steamed Buns Ramen essentially originated. That restaurant's chef, Peter Song, got his start at the Lanzhou Handmade Noodle in the Mall. It's also been the home of Lao Wang Ji, where you'll find great Fujianese wontons, and Chengdu Heavenly Plenty, one of the mall's longtime mainstays and best places for Sichuan food in the neighborhood. There's no secret as to why the Mall has always felt so special, considering all this great food. It's never shifted its focus away from catering to the neighborhood population, even as it became known as a place to eat for tourists and food-obsessed New Yorkers who'd traveled by subway.
In an interview, DiStefano pointed to the flood of money that's poured into Flushing as a reason to not be optimistic about the Mall's future. And in New York, it's safe to assume the worst. It's not certain what will happen to some of the vendors, including Chengdu Heaven, as DiStefano said two of its operators are retiring. But Cook shared some hopeful signs that the Golden Mall may not be doomed.
According to Cook, the street-level stalls will remain open during the renovations of the basement, which he heard will last three to four months. The street level will then be closed for renovations, and another four floors will be built. In an email to Grub, Cook said he stopped by the Mall on Wednesday and spoke to Tianjin Dumpling House's You, who filled him on the developments. The remaining basement vendors are still doing business, Cook said, as are the vendors in the street-level floor of the Mall.
This post has been updated with additional information.