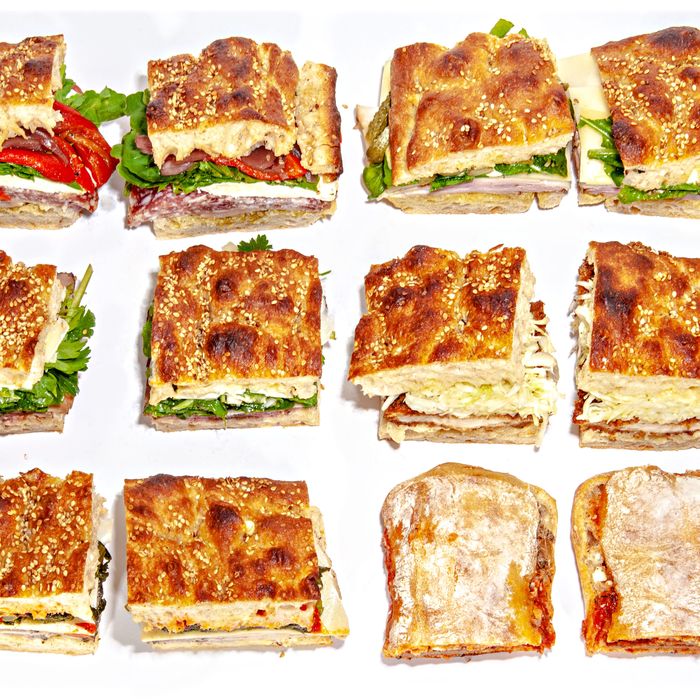 A sandwich party.
Photo: Jed Egan
There are few restaurants in New York that develop the cult following Saltie did. Opened in 2009 by chef Caroline Fidanza (the first chef at Andrew Tarlow's Diner), the late Rebecca Collerton, and baker Elizabeth Schula, it was tiny and idiosyncratic, in a city where creativity has been increasingly snuffed out by gentrification. The food was "unwaveringly excellent," as a superfan wrote for Grub in one of the eulogies. Unsurprisingly, ever since it was announced that Fidanza had rejoined Tarlow's restaurant group, the question on everyone's mind has been, "So you're bringing back the Saltie sandwiches, right?!?"
It was some of the most exciting carb news of the year when it came out that Fidanza was bringing sandwiches to Marlow & Daughters. Created with the butcher shop's general manager Michael Kale, these aren't Saltie sandwiches, even if they share some DNA. There's She Wolf focaccia (a fantastic, house-baked version of which was a hallmark of Saltie) that all but one of the Marlow sandwiches are served on. Fidanza had tried to resist the bread — "I didn't want them to be so similar" — but lost out in the democratic process.
"I think of them more as Italian deli sandwiches. That was sort of the inspiration," she says. "Which, in many ways, to me is a sort of idealized sandwich notion, one of the very perfected categories of sandwiches."
It's a view as widely accepted as "dogs are good" that sandwiches are one of the perfect categories of foods. They're ideally engineered: a neat little package of portable flavor, more economical and ideal for punchier flavors because there's not too much of anything, all delivered on an edible vessel. (There are bad sandwiches, for sure, but screwing them up takes some originality and elbow grease.)
Fidanza herself has perfected a style of making sandwiches. If you were to establish some rules for her school, you'd say there's always got to be mayonnaise, aioli, or a fatty spread; pickles are required; and you've got to have something green or herby. This is just how she makes sandwiches at Marlow & Daughters, Saltie, or anywhere else.
"In many ways, yeah, there are Saltie elements to the sandwiches and that just has to be with my being a one-trick pony who just puts mayonnaise and pickles on everything," she jokes. "And everybody seems to appreciate it."
The Marlow sandwiches are all about meat, which was rarely used at Saltie. They're also heavier. Saltie fans will certainly recognize the herb and caper salsa, a punchy condiment used for the shop's Captain's Daughter sandwich and now Marlow's roast beef with mayonnaise and parmigiano. It's as delightfully messy as Saltie's Spanish Armada sandwich was, and one of six sandwiches (all $14) served here. The basic menu likely won't change, except for the addition of a special and, likely, something vegetarian. "People also become loyalists to sandwiches," Fidanza says.
Three of the six are from the Italian-American tradition, including a Philadelphia-esque roast pork with broccoli rabe and provolone but also Calabrian chili and mayonnaise. Salami coppa and mortadella go into the Italian combo, which is maximalist with its greens, peppers, onions, tapenade, mozzarella, and oil and vinegar. It's also a ticking time bomb, because of the wet ingredients. Then there's the classic spicy meatball sandwich, the one that's not served on focaccia, and which gets a little oregano and pecorino.
Of the remaining sandwiches, one's a riff on the school-lunch favorite, the ham and cheese, with smoked ham, provolone, tonnato, cornichon, and greens. The last is a schnitzel, kept simple with cabbage slaw and, of course, mayonnaise. So, no, these sandwiches are not straight from Saltie. They won't cure the Scuttlebutt-sized hole in your heart or Fidanza's. "I do miss it, for sure," she says of the place. "I don't even necessarily know it would be the place it was if it were to reopen right now at this point in food culture."
But this isn't to call them a consolation prize: They're quality sandwiches, with a lot of the same Saltie charm, only reimagined for an Italian deli case.