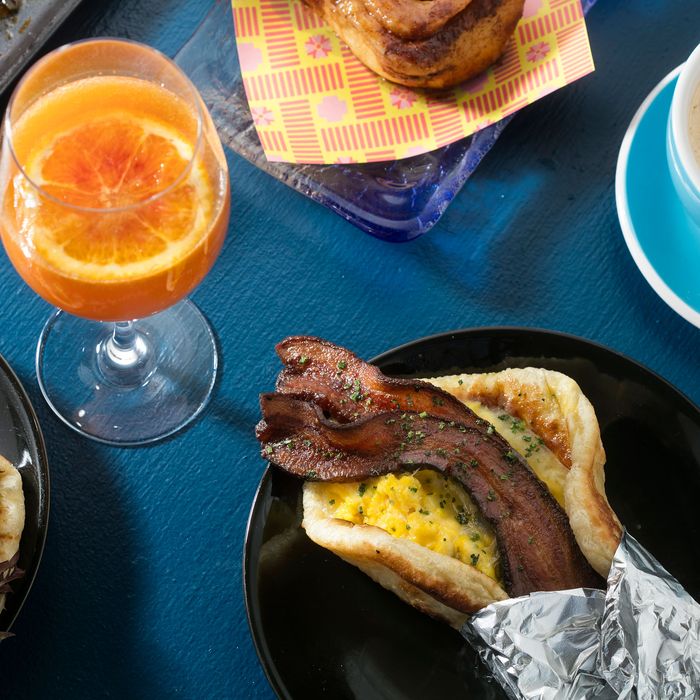 One part of the stellar spread at Madcap Café.
Photo: Melissa Hom/New York Magazine
A little more than a year after introducing the city to a mindblowingly wonderful take on the classic bacon, egg, and cheese, plus other delights, Carroll Gardens' Madcap Café has closed. The final day of service was on Sunday.
In a statement to Grub, chef-owner Heather Fuller says, "It has been a year of wonderful triumphs and craziness. But circumstances being what they are and the season and all that goes into running a nutso business like a restaurant has led me to decide we have done all we can and the well is dry."
Fuller earned her stripes in the kitchens of Per Se, Nix, and Momofuku Ko before striking out on her own with an all-day café on a bucolic stretch of Court Street. Right away, locals and our own Underground Gourmet were taken with Fuller's laid back, but secretly ambitious dishes, including, "veggie nachos," essentially snappy crudités drizzled with green goddess dressing and topped with pico de gallo; pork-and-chive dumplings on par with those in Chinatown; sticky cinnamon buns baked fresh each day; coconut-turmeric chicken sandwiches wrapped in pillowy flatbread, and all of it for under $14.
It's a sad state of affairs, but even Fuller hopes her regulars and other supports won't despair. The closure "doesn't mean we will fade out easily," Fuller tells Grub. "Who knows what the future holds?"