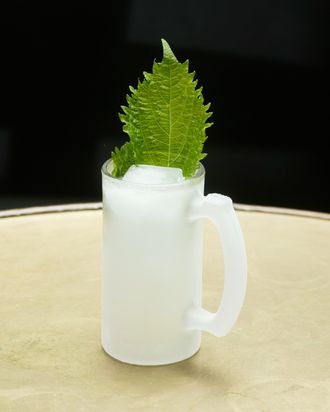 Katana Kitten's shiso gin and tonic.
Photo: Melissa Hom
While we were all sitting at home enjoying the modern miracle that is air-conditioning, the folks behind West Village bar Katana Kitten were scooping up a major bartending industry award.
This weekend, Katana Kitten won the Spirited Award for Best New American Bar almost one year after opening with Masahiro Urushido behind the bar and Cocktail Kingdom Hospitality's James Tune and Greg Boehm handling the rest, including mortadella katsu sandos and grilled cheese sandwiches with nori, sesame, and yuzu-kosho. The bar beat out Nashville's Pearl Diver, Major Food Group tiki bar The Polynesian, the Denver outpost of Death & Co., Existing Conditions (which shares an owner with Katana) and four other bars around the U.S., scoring the highest in the categories of creativity, décor, service, and execution of drinks.
New York bars also took home two other awards: Dante was named World's Best Bar for the second time since 2016 and Attaboy took home the Best American Cocktail Bar award.