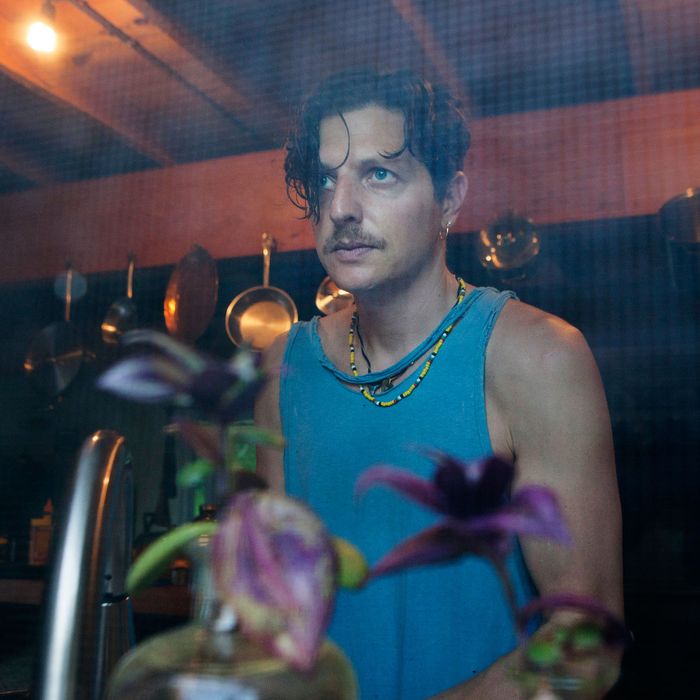 Ira Wolf Tuton in the kitchen at his house in Roscoe, New York.
Photo: Lauren Lancaster
Bassist Ira Wolf Tuton is catching his breath between legs of Yeasayer's tour for Erotic Reruns, the psych-pop band's fifth studio album, and one that's tidier in sound and bouncier in tone than their previous work. For Tuton, the break is a time to be at the table with his wife (and eat his kid's leftovers), and, having grown up in a family that prioritized eating together — "we'd sit down for dinner every single night" — it's time that he very much values. These days, Tuton splits his time off between Brooklyn, where he took advantage of his bread connection, and the town of Roscoe, where he visited his favorite bakery, grilled some chicken, and made a pit stop for baklava. Read all about it in this week's Grub Street Diet.
Thursday, July 18
In Brooklyn. I am a fan of Café Bustelo. That is my shit. And, you know, I will drink fancy cups of coffee, do not get me wrong, but I just love Café Bustelo in a French press with some maple syrup and some oat milk. I'm all about the savory-sweet. I want everything to be savory-sweet.
I make a big pot of that in the morning, and I usually drink that through the day, and then make a bunch of iced tea. I probably got into Bustelo in the time of being with my wife. I think she probably had some connection to it or fondness for it, or a brand loyalty, and then it's one of the many ways that she has changed me. Wonderful ways.
For breakfast, I finished my kid's oatmeal with berries and more maple syrup. We try and get as much organic stuff as possible. I know a lot of that isn't really the highest bar, but we are basically trying to keep as much Roundup out of our food as possible.
Around 11:30 a.m., my neighbor gave me half a loaf of his homemade sourdough. He broke me off some, cause he knows how much I love that good bread.
I'm very good friends with the neighbor. He is a great dude and he was very excited about the sourdough, and was explaining the process, which I didn't totally know, you know, is all about getting the yeast culture from the area. The area is delicious.
Anyway, I ate that with a soft-boiled egg, nutritional yeast, and butter. Drank the coffee with maple syrup and oat milk to go with it. I want everything to be like a soft-boiled egg with bread.
Had an afternoon snack of almonds and pecans.
Dinner was a burrito with dark chicken meat, with just olive oil, salt, pepper, black beans, shallots, leftover jasmine rice, avocado, and Sriracha. That was kind of like a quick leftover meal from stuff my kid was eating. For the chicken, if I'm in a hurry and I'm not around a grill, then I'll just drill the oven to 425 and coat it in olive oil or grape-seed oil. For white meat, 15 minutes. For dark meat, 25 minutes. It is done very fast, and as far as, you know, it's not the most elaborate, but if your chicken is good chicken, it's gonna be good.
Friday, July 19
Had my morning Bustelo at 7:30 a.m. Ate some of the kid's leftover oatmeal with berries and maple syrup, and yogurt with banana and granola.
I'm going to start making my own granola; I just had this conversation with my wife. Nothing too elaborate, but I feel like making my own granola will make my life simpler and more fulfilled. A lot of granola has a lot of filler, and then a lot of granola just has some weird sweet thing, so I'd rather customize than have to rely on, like, a cranberry-sweetened thing everyday.
Had some of the kid's leftover chickpea pasta with pesto. I just got back from tour, and I was in the kitchen, and we hadn't really gone shopping in a while, and we had the chickpea pasta. Usually that's more for him than for us. If we're eating pasta, it's usually more of a long pasta, although I like a fusilli.
A half-hour later, I had more of my neighbor's sourdough, toasted with nutritional yeast and Sriracha. I eat a lot of nutritional yeast. It kind of goes into that sweet and savory thing. Put nutritional yeast onto some toast with butter. You definitely won't be like, "Ew, gross." You'll understand how it tastes, which is kind of delicious. There's almost like a teeny little sweetness, but also it has some kind of like yeasty tang. I think it enhances butter.
A little later, I had an After Eight dark chocolate with sea salt. I was raised by people that grew up with 1950s packaged foods. A lot of that doesn't exist anymore, and a lot of that I've come to realize is maybe not what I necessarily want to continue to eat. But these, it's dark chocolate wrapped around a little skinny mint. It is like that scene from Ratatouille when I take a bite out of an After Eight. And Goldenberg's Peanut Chews. Those are my favorite. That's from my dad. If anybody would ever give a present to my dad, it would always have a packet of Goldenberg's Peanut Chews on top!
I also had a real dinner of chickpea-and–brown rice pasta mixed with pesto, chicken, and parmesan. My wife made that. We try to share cooking duties. For us, it's not about spending every night trying to figure out the most elaborate meal that we can have. It's about eating as much delicious and good food as we can, and then, you know, before I leave, I'm trying to cook a lot of stuff that can be frozen for them while I'm gone.
Saturday, July 20
We went up to Roscoe, where we have a house.
I had my coffee, and some of the kid's oatmeal. More granola, this time with yogurt, maple syrup, and figs.
Then I made a pitcher of iced gunpowder green tea and drank that all day. I got it from a store there called Pepacton Natural Foods. They have a bulk tea section and I kind of just open up the different things that they have and smell them, and figure out which ones seem the most pungent or whatever. My grandfather drank gunpowder tea, and so I grew up with that. I also really love Earl Grey. So, it depends. I love drinking iced tea. It's like the nectar of the gods, and there are limitless flavors.
Had a banana around 11 a.m., and then a late lunch. We bought garlic ciabatta from Brandenburg Bakery. If we're in Roscoe, that's our go-to spot for bread. I like getting fresh-baked bread, you know?
My wife made me a sandwich with turkey, Swiss, mayo, and this English mustard. If I'm doing some shit around the house, and my wife is inside, sometimes she'll make me a sandwich, which is pretty awesome.
At night, she made her homemade Caesar dressing for a kale salad. This is her thing. I love her Caesar dressing; it's the recipe from her mother and grandmother, who she grew up with. When I came home from tour, I really wanted to have the Caesar dressing. I made sure we had all of the ingredients so that she could make it. I can make it, but hers is better.
We had that with butterflied and pounded chicken that we grilled with salt, pepper, and a grape-seed oil rub.
Later, I had some after-dinner seeded sourdough from Brandenburg with my butter-and–nutritional yeast combination. And an almost-midnight snack: an After Eight.
Sunday, June 21
Coffee, kid's oatmeal with figs and maple syrup, and a banana.
I made a pitcher of mint iced tea at 10 a.m., and my wife made smoothies with banana, frozen cherries, blueberries, almond butter, spinach, and almond milk.
Had a turkey-and-Swiss sandwich on the garlic ciabatta again, this time with chips. Classic sandwich.
During the afternoon, I snacked on some watermelon, and around dinner time had half of a frozen Hershey's chocolate bar. I like that flavor in that texture, I guess? I like a really, really, really bitter dark chocolate, frozen, and you kind of get to shave off of the sides of the chocolate and the corners of it, as opposed to kind of the melt.
We were supposed to have a dinner party, but it got moved to Wednesday, so that party became a party of my wife and me. If I'm coming up here, I'm definitely brining some chicken, so that's what I did. (We were going to make jerk chicken.) I had brined it overnight, and  then we butterflied and grilled it with grape-seed oil again. We had that with a spinach salad with shallot, rice vinegar, and oil dressing, and these potatoes that we cook with vinegar.
They're super simple. You can do it with whatever potato you like. We had fingerlings that we cut in half. You boil them until they are just soft but not totally cooked. The most important part is that you boil them with water and a cup of white vinegar and when they get out of the pot, you throw them on a pan, you cover them in oil, salt and pepper, whatever else you want. You bake them at 350 degrees until they're cooked, and then you broil them for five minutes, and they're perfect. The vinegar flavor is just — I'm not sure what scientifically is happening, but it really creates a delicious, soft potato pillow. It's as close to eating a salt-and-vinegar potato chip as you can get.
Then I had another late-night After Eight.
Monday, July 22
Had my morning coffee, but the kid ate all of his oatmeal. It's great when that happens. I love it.
Ate a morning banana around 9:30 a.m. Lunch was granola, this time with yogurt and blueberries.
Later, more of the Brandenburg seeded sourdough, toasted with butter, peach jam, and two soft-boiled eggs. I love bread, and I will basically judge a restaurant on how their butter tastes, if they have butter.
Snacked on watermelon during the afternoon, and drank coffee and mint iced tea all day.
Had some baklava from Yiasou Café. Their baklava is good. Talking about judging restaurants on their butter, you can also judge a Greek restaurant on its baklava. It's delicious, it's super comforting, and in the middle of the day, if you're running errands, Yiasou is a good spot to go after you get dog food, for instance. You go and get a coffee and a baklava. The owner, George, is an incredibly, incredibly sweet man, so there's that.
I love the flavor profile of Greek food. Specifically, and this goes into the sweet and savory, I like the the spanakopita, the vegetable pies. That, to me, is just such a decadent way to eat your vegetables, so I've always loved that.
Around 6 p.m., I ate some of my kid's leftover borscht with dill and sour cream. Plus some of his potatoes. Later, we had our own borscht with some bakery bread for our own dinner.
My wife has her Caesar dressing, and I have my borscht. I make it every winter and then freeze some. This is the one week that I'm off during the summer, and borscht is one of the things I made with my family growing up, so I took some out.
My recipe is very elaborate. I would say there are some borschts out there that are a lot clearer. My family's recipe borders on stew, but if it gets to that consistency then you went too far. You either cooked it too much or you got the ratios off.
Part of the fun of it and part of the whole ritual of it is finding all of the ingredients. You know, picking out individual beets and trying to get them all the same size so I can cook 'em all at the same time so they cook at the same speed.
You boil the beets — you don't want to cook them all through — and then you save that water. That water is precious, which is why you really don't want to skimp on the time you take getting the right beets. The water will affect the stew.
My family also uses meat and — this is against the from-scratch element — I use Very Veggie. You fill a pot with a five-pound beef shank, you cover it with the Very Veggie and the cooking water, then cook it slow until the meat starts falling off the bone. Remove the beets and meat, and cut those up however you want to eat them. Half-inch cubes; cube everything.
I use a Napa cabbage. I shred it and cut an onion, add those with salt, pepper, and then depending on the flavor you want, you can do a little bit of tomato paste and lemon juice. Then you cook it on low, but you don't want to overcook it.
When it's done, you add some sour cream and chopped-up dill, hot or cold pieces of bread on the side, and that's your meal. I freeze it in giant mason jars, so, you know, I defrost one of those and I can serve a couple people.
I really like making my own broths and making stews out of that. I don't always do it, but it's nice to get into these involved processes, to revisit and mix them in with everything else in your life, you know?