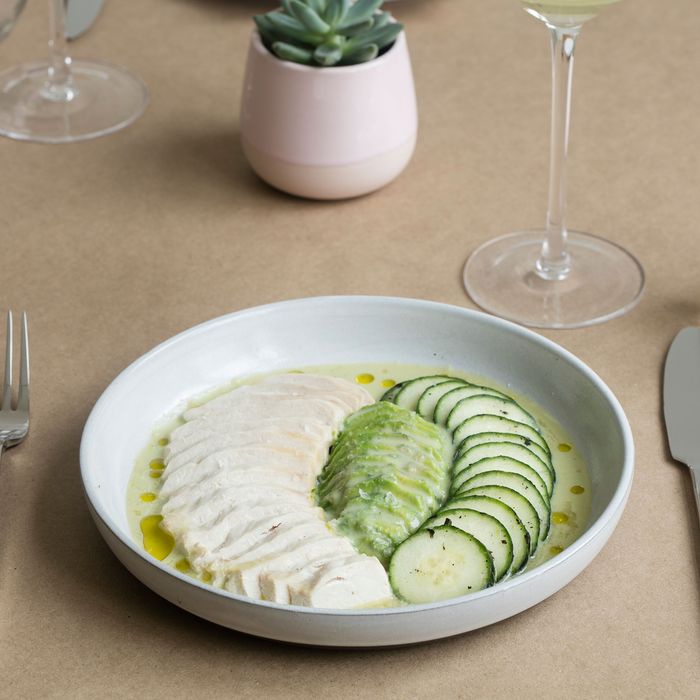 Coast and Valley's poached chicken outshines its crispy chicken.
Photo: Melissa Hom
At the Brooklyn wine bar Coast and Valley, the chicken dish to get isn't fried or roasted. It is a pearly white, polished chicken that's poached in salted lemon-vegetable stock. In recent years, the act of simply poaching chicken has been viewed — in Western cooking, anyway — as the dinner equivalent of New Balance sneakers, utilitarian but hopelessly uncool even with an endorsement deal with the NBA's best player. Yet when it's done well, the gentle simmering results in a concentrated chicken flavor, tender meat, and gloriously gelatinous skin. (Plus, you get that great broth.)
"People are like, 'Why would you put poached chicken on the menu?'" says Coast and Valley co-owner Stephanie Watanabe.
At her restaurant, chicken breast is neatly arranged in a shallow bowl, slices of flavorful, moist chicken stacked like dominos on one side, cucumber charred with a butane torch on the other, with creamy slices of avocado in the center. It's all a canvas for the supernova-bright sauce, which starts with buttermilk and ginger, but there's also some jalapeno ("so it has a little bit of kick"), a pair of vinegars, lemon, honey, and miso. "It's the thing people come back for," Watanabe said at the restaurant. Later, over the phone, she added, "People will come back, just order that and a glass of wine, and leave."
Watanabe and co-owner Eric Hsu took cues from two masterpieces of the poached-poultry genre: Cantonese bok chit gai, or white cut chicken, and Hainan chicken rice, which Hsu and Watanabe started eating when they lived in Los Angeles. "We had it maybe a little bit too much," Watanabe confesses.
Hainan chicken rice is a dish it's hard not to eat too much of, as the culinary cult around it in Southeast Asia makes clear. Poached chicken doesn't have the crispiness of a good roast, and it won't bliss you out on fat and chilies like Nashville hot chicken. It has its own thing going on. Part of this is a greater appreciation for the importance of texture and different textures in the cuisines of China, Japan, and elsewhere in Asia. "For it to be tasty, with textural contrast, you need the skin," says the cookbook author and food writer Andrea Nguyen, who grew up eating it with salt, pepper, lime juice, and finely threaded lime leaves. But it's also the soothing quality of poached chicken. It's gentle; it's comforting but won't cause a food coma; and it's something you can eat all the time, sort of like watching reruns of an old favorite like The Office that you realize you can't quit.
Coast and Valley isn't the only new restaurant where poached chicken is something you'll definitely want to order. One of the more invigorating things to eat at Van Da is the coi ga ($22), a chicken salad with fennel, crunchy cabbage, and aromatic herb rau ram. It comes with two dressings — one with vinegar and oil, the other a nuoc cham — and a lush congee made from the poaching liquids. The chicken is poached, owner Yen Ngo says, so it doesn't "overpower the cabbage in texture and flavor."
A short walk away, you'll also find poached chicken in pretty much every dish at Bep Gap (save the occasional pan-fried special.) It figures into two summer specials chef-owner An Nguyen Xuan has introduced: a bánh tráng trộn ($12), or rice-paper salad with poached chicken and other ingredients including mango, and a Dalat-style banh uot ga xé, or steamed rice noodles with more poached chicken. Sichuan-style spicy cold chicken, a staple of restaurants like Café China and Szechuan House, and Hainan chicken are gateways to the pleasures of poached chicken for the unfamiliar. The latter is a recent addition at Kopitiam, and its (steamed or poached) Thai counterpart khao man gai has, in particular, been showing up on lots of newer Thai restaurants here, like the recently opened Gai.
The fancy Le Coucou opened in 2016 with a poached chicken for the table, and since this spring has been serving a poule au pot during lunch ($58 for two courses.) You'll also find it on the menu at the second location of East One Coffee Roasters, in the form of an herb-strewn salad. The all-day café's Colombia-born chef Will Ono got a thing for poached chicken from his Japanese father. "He would poach it with soy sauce and ginger and we would eat it with pickles and rice," Ono recalls. "And he would make a sauce with ginger, scallions, chili flakes, vinegar, soy sauce, a little bit of sesame oil. It was super simple but had a lot of flavor." He goes in another direction at East One, serving it with chickpeas, green beans, lettuces, tomato, lots of mint, and dill. It's dressed in a buttermilk vinaigrette made with lime, more herbs (basil, mint, and dill), scallion, and onion, the kind of potent flavor combination that poached chicken is made to love.
When it's done well, poached chicken is like silky, tender perfection. Thankfully, this decade has seen an advancement in poached chicken methodology thanks to what Daniel Gritzer, the managing culinary director at the food-nerd utopia Serious Eats, calls "the cold start," a technique developed by J. Kenji López-Alt, which offers far more uniform results than dunking a raw bird into a bubbling vat of water. The muscle fibers don't tighten up as much, and the chicken is juicier, all the better for dousing in chili oil or, say, ginger-buttermilk sauce. (The New York Times' Melissa Clark's recipe for oven-poached chicken breasts uses the technique.)
"I think for most people who did not grow up with poached chicken it just seems really boring, really bland. Why in the world would you do that when you can roast it, or braise it, or fry it?" Gritzer says. "Whereas I would imagine in parts of the world where it's more common, there's a different understanding and appreciation."
The other side of this, of course, is how can you not appreciate poached chicken when you grow up on dishes like Haian chicken rice? Granted, we live in a country where someone thought, What if we use fried chicken for bread? Poached chicken is the opposite of this meat-sweats maximalism, and it's also better, when served with a zippy sauce, than something that just blasts your tastebuds and puts you in a food coma. You get to, you know, actually taste the chicken. Why in the world would you not want to poach it?