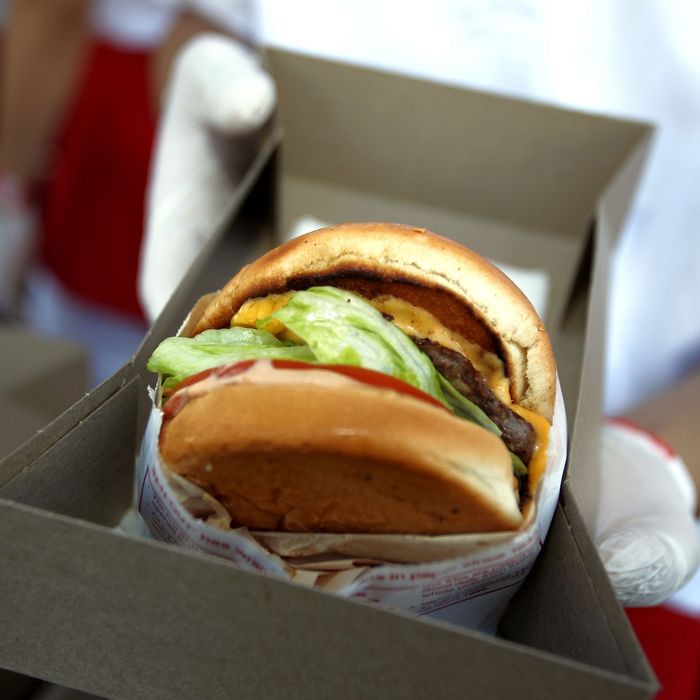 Meh.
Photo: Tommaso Boddi/Getty Images
Early Sunday morning, in what will almost definitely turn out to be a professional marketing stunt for something like a cross-country food-delivery start-up, a New Yorker "found" what appeared to be a perfectly preserved In-N-Out hamburger on Sutphin Boulevard in Jamaica, Queens. The burger in question was wrapped up like it had just been bought, meat and fixin's poking out just as they do when the burgers are straight from the drive-thru. The man who found the burger while waiting for an early-morning Long Island Railroad train, a self-confessed In-N-Out superfan named Lincoln Boehm, did what any right-thinking person would do, and alerted the New York Post. The story exploded.
There is, of course, almost no possible way a perfectly preserved burger could just arrive on a sidewalk in Queens, given that the nearest In-N-Out is more than 1,000 miles away. Boehm himself — very suspiciously — tells the Post that he's even tried to smuggle double-doubles back to the East Coast to no avail, but somehow, some way, this one landed not too far from JFK lookin' "as if it had come off the grill five minutes ago."
Two days later, it remains unclear why the burger was there, but theories are multiplying:
Did the scientist trying to find a mirror universe cause a glitch in the matrix? Had In-N-Out's henchmen put it there just to fuck with New Yorkers? (A rep for the chain denies knowing anything about the burger.) Or did some guy just do this to get in the news? (Boehm's over-the-top, made-for-consumption comments — the burger "genuinely shook me to the core," he claims — certainly bolster the case for that last theory.)
Whatever the cause, the rogue burger has unsurprisingly, and unfortunately, caused a frenzy among New Yorkers, who are unable to disregard any whiff of news that might even hint at the idea of In-N-Out arriving in New York City. AOC herself couldn't resist, and responded to a tweet about the story,
Even some brave Californians are willing to admit the chain is, at best, okay, and we all know its fries are absolute garbage. Plus we have Shake Shack (and approximately 1,000 other excellent hamburger options). It doesn't matter! This restaurant chain continues to openly, and brazenly, ignore New York, the greatest restaurant city in America. Why can't we return the favor and ignore them, too? Go eat some pizza.
Update: The individual who found the burger says it originally belonged to a high-school student, who dropped it while running to catch a bus.