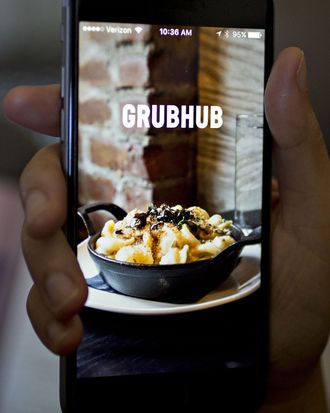 Earlier this month, it was reported GrubHub had created 10s of thousands of fake websites for restaurants.
Photo: Andrew Harrer/Bloomberg via Getty Images
A New York City council member wants an antitrust investigation into GrubHub. The news, reported by the New York Post, comes after another report that the platform created tens of thousands of fake websites for restaurants in order to drive up commissions. In addition, New York's Liquor Authority is working on new rules that will eat away at the ability of services like GrubHub to charge upwards of ten percent for online ordering and delivery.
Mark Gjonaj, who heads the city council's Committee on Small Business, wants New York Attorney Letitia James to open the investigation. In a letter dated July 2, he says that it might be time for James to look at the terms of the 2013 settlement agreement that allowed GrubHub to acquire then-competitor Seamless. Gjonaj went on to say that he does "believe that GrubHub's outsized market share and heavy-handed tactics could lead to artificially reduced competition," resulting in higher commissions paid by small businesses.
In June, as the Post reports, an antitrust lawyer testified that GrubHub controls as much as 69 percent of the online-ordering market. GrubHub responded to the paper's questions with a statement, denying any competition-reducing conduct and arguing "we face intense competition in New York City and throughout the country."