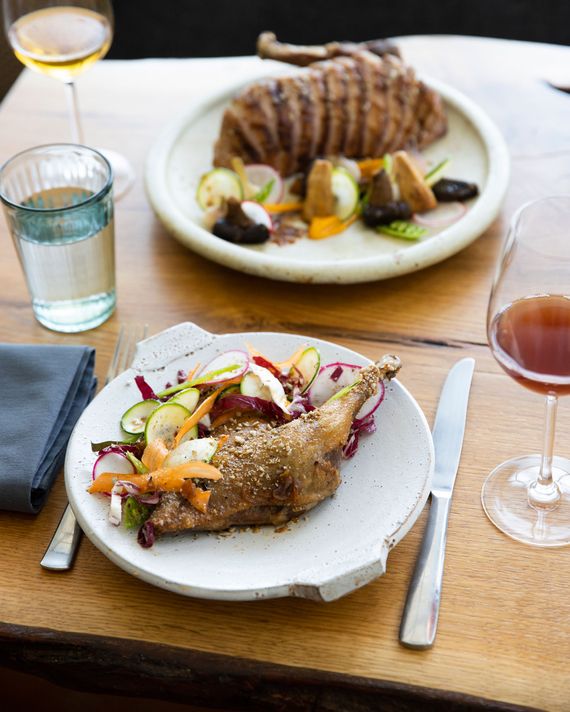 Local spot Cadence has appeared on at least three best-new-restaurants lists.
Photo: Ryan Collerd
Philadelphia is a mere two hours south of New York, and the city's dining scene — which has been impressive for a while now — arguably gives you more bang for your buck than its glitzier northern neighbor. So here are 12 reasons — an austere pizza temple down a Fishtown alleyway, two bars on top of a converted high school in South Philly, an innovative butcher shop funded via Kickstarter — why every roving New York gourmand should include Philly on their radar.
1. Because you can add "private hoagie room" to the list of places you've been.
Philadelphians may be excited about the return of hyped Pizzeria Beddia, but New Yorkers aren't about to travel for more pizza. So why not book a private dinner for six in the restaurant's hoagie room? Seatings are at 5:30 and 8:30 p.m. Thursday through Sunday and include a flight of three hoagies — roasted vegetable, traditional Italian, and smoked sardine and tuna — pizza, dessert, and amaro, for $75 per person. Add a magnum of wine and you're all set.
2. You can get two rooftop bars for the price of one.
What's the best use of a shuttered high school? Converting it into a bar, of course. Preferably multiple bars, with impressive views. Step off the elevator on the eighth floor of the former Bok Vocational High School and to your right you'll find Irwin's, an exceedingly stylish indoor-outdoor bar filled with tropical plants and plush settees that specializes in classic cocktails (Negronis, French 75s), natural wine, and Middle Eastern meze like hummus, lamb kofta, and falafel. Or if you've already had your fill and just want to get drunk and watch the sunset over the city, head to Bok Bar, which is right across the hallway from Irwin's and strictly about beer, wine, Mediterranean snacks, and a view that's not to be missed.
3. Two words: vindaloo sausage. 
In addition to grabbing some Soom Foods tahini, we must implore you to go to the new brick-and-mortar site of Primal Supply Meats, which was funded in part through a Kickstarter campaign. (Before that, the shop made money via wholesale and a subscription program.) Primal Supply is run by butcher Heather Thomason, formerly a Brooklyn-based graphic designer, who is putting creative spins on sausage. Of special import is her vindaloo sausage, because of course the component parts of that famously spicy curry — garlic, ginger, red chile peppers, turmeric, cumin, etc. — belong inside a sausage.
4. You could go to just one restaurant for breakfast, lunch, and dinner and that would be okay.
Fiore Fine Foods is an all-day café and Italian restaurant run by chefs Justine MacNeil and Ed Crochet, who count Craft and Del Posto among their previous employers. With lemon-verbena-sugar-dusted bomboloni and a sandwich inspired by Williamsburg's Saltie, among other things, the couple created one of the city's finest brunches. But then they got into the dinner game and, lo and behold, they're really good at that, too. Should you find yourself there after dark, go with the whole red snapper, served chin up and smothered in a Calabrian-chile-and-parsley vinaigrette.
5. Bow-tie pasta that will make you feel like a kid again.
There are a lot of reasons to love Ari Miller's Musi: The menu's descriptions are hilarious ("It's okay if you don't know what komatsuna is, we had to Google it, too"), the homey décor looks like it was chosen by someone's mom, and nothing on the menu is more than $18. But the undisputed highlight is the black-pepper soprese, bow-tie pasta with lemon butter. Everyone loves it, including noted Philadelphia culinary authority Questlove, and once you've eaten this delightfully unfussy and simple dish, you will, too.
6. To see if Cadence is as special as everyone says.
Whether or not you put much stock in restaurant rankings, it's impossible to ignore the fact that Cadence, the brainchild of three alums of High Street Hospitality, has been named to not one, not two, but three best-new-restaurants lists. The menu is breathtakingly global, remixing all sorts of ideas and turning them into such dishes as green curry with seared tuna and a whole roasted duck with cipollini onions, mushrooms, and Sichuan peppercorns.
7. Because you have to try this ridiculously over-the-top French toast.
What makes the French toast at the Dutch-leaning Winkel amazing isn't so much the final product as how its component parts take it to new heights: First, instead of plain old brioche, you're getting strawberry bread. Awesome. Then instead of just pan-frying some bread, chef Joncarl Lachman turns it into bread pudding. Then that bread pudding is deep-fried, plated, surrounded with almond-flavored custard, and topped with whipped cream, almond slivers, and fresh strawberries. There's nothing simple about it except the decision to order it immediately.
8. The city is home to some seriously special pastry.
Down the street from Pizzeria Beddia, you'll find Suraya, which even the local food press considers to be the best restaurant in the city. And yes, it's incredibly good and you'll actively dream about the pita and brown-butter fetteh and those kebabs even after you leave. But the highlight is the restaurant's pastry program. There's a perfectly laminated kouign amann with a crackly crust and the warm scent of cardamom swirled throughout; a rose-and-pistachio cruller that's both crunchy and tender; and a take on the classic Lebanese dessert maamoul, a buttery shortbread cookie with pistachio, walnut, or date filling that nearly brought one of Grub Street's Lebanese friends to tears.
9. Latke okonomiyaki just might change your life.
The standout item at Fishtown hotspot Cheu is the latke okonomiyaki, an ingenious meshing of Jewish and Japanese savory-pancake traditions. Cheu serves its version drizzled with kewpie mayo, bulldog sauce, kimchee, and bonito. Honestly, maybe this is the artistic direction Hanukkah should take.
10. See how a James Beard Award–winning chef runs a coffee bar.
If your knowledge of Philly coffee begins and ends with La Colombe, consider Vernick Coffee Bar, a brand-new café from chef Greg Vernick of local stronghold Vernick Food & Drink. The bakery menu is more than 25 items strong, you can grab a smoked-beet Reuben to go, and you can try a multicolored iced butterfly pea-flower matcha for what will surely be the first time ever.
11. Get in on the ground floor at Separatist Beer Project.
If you like drinking fun beer in a laid-back corner of town, please check out the newly opened Philly taproom Separatist Beer Project. Try the Kinfolk, a witbier brewed with Brettanomyces, or the Ultra, a wild fermented lager. Then grab a couple of cans to go and impress your NYC friends with them.
12. Zahav has still got it.
It's easy to lavish all your attention on what's new and exciting, but it's also comforting to know that one of the city's most notable restaurants is still as great today as it was 11 years ago. In May, Zahav took home the Outstanding Restaurant Award at the James Beard Awards, and despite having to close the charitably minded diner Rooster, Mike Solomonov and Steve Cook have three new restaurants up their sleeves — which means three more reasons to keep visiting Philly purely for the eats for years to come.