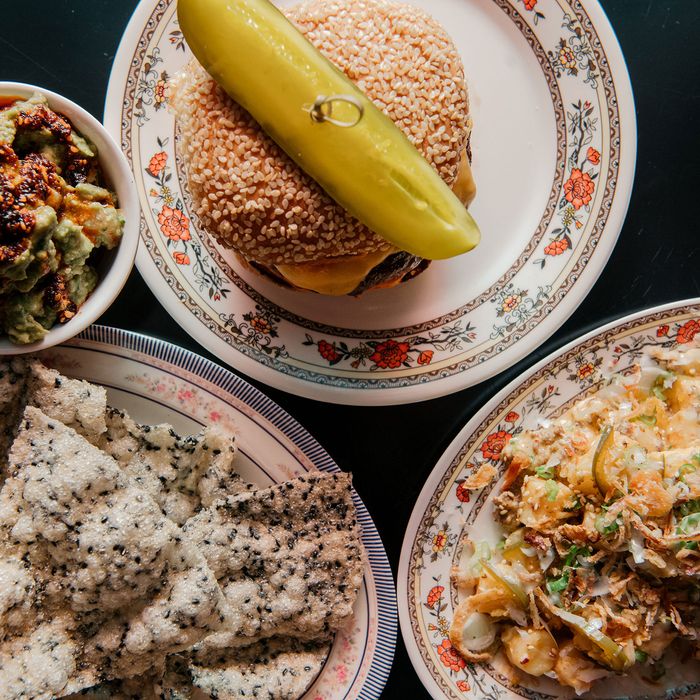 The spread from Korean-American pop-up Him, which operates out of East Village bar Black Emperor.
Photo: Scott Heins
Not every great restaurant has a permanent location. Just ask the dozens of chefs who make their money by running pop-ups out of bars and restaurants around New York City. What they lack in brick-and-mortar space they're more than making up for with stellar food — a lot of it inspired by immigrant backgrounds — and a lot of elbow grease. "In New York we value things that feel authentic, whether it's someone's cuisine or someone giving you their music," says Dane Risch, co-owner of Crown Heights bar King Tai, which hosts a rotating cast of pop-ups every weekend. "I think the art of it resonates with people and I think that's more appealing than going to a restaurant because it takes a lot of passion to show up at a location, bring your food, and cook it on the spot. You can't really fake it. " Below, a guide to all the top-of-the-line pop-ups worth checking out in New York City right now.
Him
Where: Black Emperor Bar
When: Open daily
Specialty: Korean bar food "with NY swag"
There's a lot of gems at the Black Emperor, a bōsōzoku-inspired bar in the East Village, but the crowning one is Him, the bar's resident food pop-up. Him was created by chef and amateur beatboxer Jae Lee. Come happy hour, you can sidle up to the bar (there's no table service) to try Lee's Korean-inspired takes on traditional bar food, which he elevates from afterthought to main attraction. If you're here with friends, split the yuzu guac with sesame rice crackers, the Ramen-spiced jumbo-wings, the honey-butter tater tots, and Lee's "Harlem rice cake," inspired by the chopped cheese of uptown. If you're craving lighter fare, try the blistered shishito black sesame caesar. But light or not, you'll want to leave room for the burgers: There's a limited amount of Lee's dry-aged steak burgers. The Washugyu double cheeseburger is also a must. It's served medium, with a generous slather of melted American cheese and kimchi mayo — a melting pot in miniature.
Brownsville Community Culinary Center
Where: Agern
When: Every Saturday through August 31
Specialty: Afro-American cuisine
Since June 24, the Brownsville Community Culinary Center — founded in part by Danish restaurateur Claus Meyer — has been on a summer break of sorts, but that doesn't mean the team isn't hard at work. Every Saturday, the organization is hosting a pop-up dinner at Meyer's Grand Central restaurant, Agern, where they are serving up the exact opposite of New Nordic fare. Instead, dinners will find a $37 three-course prix-fixe menu featuring a cooling watermelon and tomato gazpacho, crispy roast chicken with creamy purple yams, a filling barbecue-pork plate, classic banana pudding, and other Afro-American fare. Tickets are available via Seven Room.
Outpost by Queens Night Market
Where: Rockefeller Center
When: July 29 through ???
Specialty: Burmese cuisine, jerk chicken, Hong Kong street food, and more.
Team Grub is all about the Queens Night Market, so imagine our delight upon learning that the incredibly global food fair is coming to Manhattan for a three-week pop-up at Rockefeller Center, where nine QNM vendors will serve food Monday through Thursday starting at noon every day. Though it's currently being advertised as a three-week affair, founder John Wang says there's a definite possibility the pop-up could stick around a little longer.
Republic of Booza
Where: 45 Willoughby Avenue
When: Through September 30
Specialty: Stretchy ice cream
If you've always wanted to try the highly Instagrammable stretchy ice cream from Republic of Booza without trekking to Williamsburg, you're in luck. Since the start of the month, the popular ice-cream shop has been slinging scoops out of a small space in Fort Greene. The ice-cream makers have even created exclusive flavors for the neighborhood, including cinnamon leaf, caramel chutney, and mint chocolate chip. Best of all, you're just a skip and a hop from Fort Greene Park, so feel free to take the ice cream to go and enjoy it in the grass.
Supernatural
Where: Craft
When: Through July 28
Specialty: Vegan takes on comfort food
Meatless magic is happening in Gramercy, at least until July 28. Vegan chef Chloe Coscarelli and Tom Colicchio's pop-up collaboration, Supernatural, has returned to the private dining room of Craft for a second run. The pop-up, which debuted in March, features a new summer menu of brightened-up comfort food, including jalapeño macaroni and cheese, nachos with butternut-squash-and-cashew queso, cauliflower tacos with a sweet-and-spicy chili sauce, and a burrito (or burrito bowl, if you want it that way) that swaps out minced beef for a savory blend of black beans, shiitake carnitas, and maple "chorizo." Finish off a meal with some matcha soft serve, or — if you're feeling extra — an entire sprinkle cake. Suffice it to say, you aren't doing summer if you aren't sipping on one of their tropical guava punches with coconut rum.
Gorsha
Where: Hot Bread Kitchen at Chelsea Market
When: Through October 31
Specialty: A fast-casual approach to Ethiopian food
Chef Hiyaw Gebreyohannes's fast-casual Ethiopian eatery, Gorsha, is the first vendor to occupy Hot Bread Kitchen's permanent incubator space at Chelsea Market. With an additional outpost in Washington, D.C., Gorsha serves up classic Ethiopian fare with a fresh and customizable twist. Guests can choose from ready-to-order bowls, like the Market Bowl (a mix of braised lamb, beets, red lentils, fermented cucumber, ginger cabbage, parsley yogurt, and toasted chickpea sauce, over a bed of baby kale) and the titular Gorsha Bowl (with Berbere chicken, yellow split peas, string beans, carrots, pickled shallots, marinated tomatoes, injera crisps, and a white-honey sauce all over turmeric rice) or they can mix and match proteins and toppings to create their own bowls.
Kreung
Where: King Tai
When: July 27 and 28
Specialty: Cambodian home cooking
This weekend, ditch your friend's cookout and head over to King Tai Bar, where everybody's favorite mom-and-daughter Cambodian pop-up, Kreung, will be serving a special summer BBQ menu. For $35 a person (you can make a reservation by DMing chef Chinchakriya Un at @kreung_cambodia on Instagram — the deadline is tonight) you can treat yourself to a plate of khmer-style stir-fried lobster, grilled corn, and "a hug from Mama King." All of the lobster will be locally sourced from Greenpoint Fish, and vegetarian options are available upon request. And follow Un's Instagram for all future pop-ups.
Kaki Lima
When: TBA
Specialty: Indonesian street food
Until last month, Kaki Lima was a beloved pop-up in Boston. But recently, founders and married couple Pete Gelling and Retno Pratiwi packed up their bags and moved south to our fair city. Boston's loss is our gain in the form of complex but comforting dishes like asam keu-eung, shrimp stew with kaffir lime, turmeric, ginger, and more; and ketoprak, a mix of tofu, rice cake, and vermicelli noodles in tamarind-peanut sauce. Lucky us.
Sofrito Y Salsa
Where: King Tai
When: August 25
Specialty: Cuban food by way of Miami
Since Miami isn't exactly down the street, the closest you'll get to the 305's vibe might just be at the Sofrito Y Salsa pop-up. The whole thing is run by self-described "pastelito connoisseur" Patricia Suarez, who puts an American twist on Cuban favorites. Take, for instance, her Cuban "Frita" hamburger with chopped garlic and onions, matchstick French fries, and homemade tomato sauce or the vegan tamales — masa, sofrito, corn, and absolutely no lard. Suarez also serves classics like flaky pastelitos with guava, papa rellenas, ropa vieja, and ham croquettes if you're looking for some old-school Cuban fare. She's heading to Miami for the next pop-up, but drop by King Tai at the end of August to try all of the above in Crown Heights.
Maxim's at the Norm
Where: Brooklyn Museum
When: Wednesday to Sunday through January 5
Specialty: French food with a global spin
Since 1893, Paris' Maxim has been serving classic French fare in a gorgeous Art Nouveau space. Now that aesthetic has arrived at the Brooklyn Museum, where in honor of a new exhibit celebrating designer and Maxim's owner Pierre Cardin, the bistro is materializing every samedi. True to form, there is steak frites, salad Lyonnaise with bacon lardons and a melty poached egg, and snappy crudités, but there's also chickpea crepes with avocado and tomatoes, a full bar, and two mocktails, which the booze-loving French might turn their noses up at, but will certainly go over well with teetotalers looking for a well-considered alternative.
Po-Po's
Where: TBA
When: August
Specialty: "Sichuan Chinese–Taiwanese–American"
Diane Chang's is a typical pop-up story: dead-end job, less-than-ideal health, and a sense of hopelessness. All of which she reversed by founding Po-Po's, a now four-year-old catering and pop-up company specializing in Sichuan Chinese and Taiwanese food with a touch of Chang's own American roots. Dishes that have appeared on Po-Po's menus include hibiscus tuna ceviche, fish sauce–braised chicken, polenta congee, and a spate of other mashups that are hard to imagine until they're right in front of you. Accordingly, Po-Po's pop-ups sell out fast, but Chang says she's planning one for next month, so consider this a heads-up.