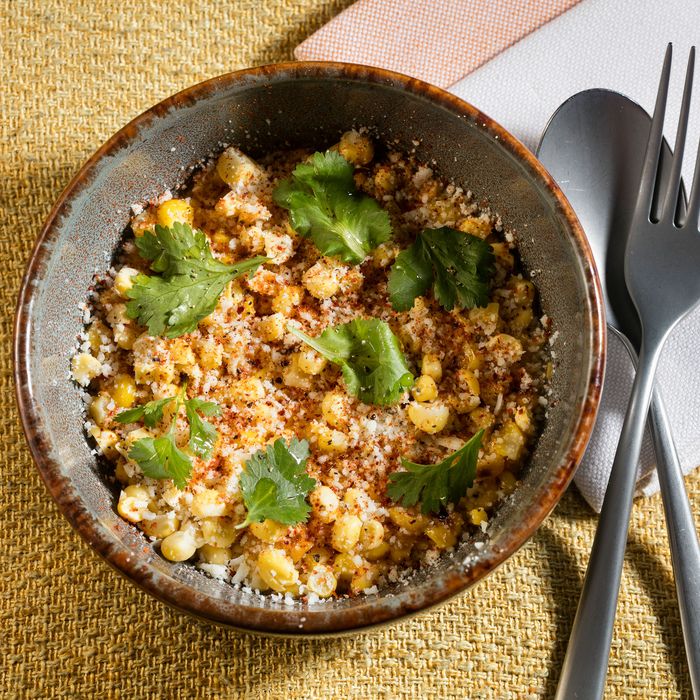 The savory elote custard from Ferris is a Japanese-Mexican crossover we can all appreciate.
Photo: Melissa Hom
Why restrict corn to the cob when you can turn it into gelato or deep-fry it into fritters? Chefs around New York appear to be on the same wavelength, treating corn like a blank canvas for their most wild culinary dreams. Below, 11 corn-based dishes that take yellow gold to new and interesting heights.
Elote custard
Where: Ferris
How Much: $16
Chef Greg Proechel recently stepped into the not-seen-often-enough "dinner custard" genre with this dish, where the flavors of Mexican street corn meet the savory Japanese custard known as chawanmushi. The custard base is a mixture of eggs and a broth made with all the parts of the corn — husks, cobs, threads, and whole corn— and steamed until it's just this side of jiggly. Proechel finishes the whole thing off with grilled corn glazed in chili butter, raw corn, crumbly cotija cheese, cilantro, and espelette pepper.
Sweet corn bbq cake
Where: MeMe's Diner
How Much: $8
MeMe's co-owner Bill Clark pushes the limits of what cake can be with this dessert featuring yellow cake dotted throughout with fresh sweet corn kernels. Clark then goes a step further by piping a barbecue buttercream made with hickory barbecue sauce and ancho and cayenne peppers between the cake layers to smoky effect. To sweeten it a bit more: blackberry buttercream that offers some nice balance.
Sweet corn saffron ice cream
Where: Malai Ice Cream
How Much: $5
There's not a single run-of-the-mill flavor to be found at Cobble Hill's Malai Ice Cream shop, so it's no surprise that owner Pooja Bavishi has found an interesting way to use corn in her frozen treats. Her sweet corn saffron ice cream, featuring fresh corn and sweet-savory saffron, is inspired by traditional Indian corn pudding, which also features the spice plus sugar. It's most definitely a step up from vanilla.
Halibut with zucchini and sweet corn–masa sauce
Where: Empellón
How Much: $39
To understand this dish, you first have to understand calabacitas, a Mexican vegetable dish featuring zucchini cooked down with corn and tomatoes. For his take on this comforting dish, chef Alex Stupak garnishes a filet of flaky halibut with a mixture of raw and griddled zucchini and drizzles it with a tangy tomato vinaigrette and jalapeño peppers. Where the corn comes in is in the form of a sauce made with the corn's juice that's thickened with masa.
Corn fritters
Where: Wayan
How Much: $9
Simplicity and deep-fried joy come together in this dish, based on bakwan jagung, or Indonesian corn fritters, from Cedric Vongerichten's Nolita restaurant. The base batter features corn kernels and diced Fresno peppers, which are plopped by the spoonful into hot coconut oil, patted down, and sprinkled with salt. The final dish arrives tableside with crunchy garlic and shallots, sliced scallions, and a sweet-spicy soy sauce, kecap manis, drizzled on top.
Corn toast
Where: abcV
How Much: $17
At Jean-Georges Vongerichten's veggie café, grated and whole corn kernels are mixed with cashew yogurt, black cardamom, and cumin then spread over sourdough blue grits toast. Toasted coconut adds crunch while ginger slaw, tomatoes, and cilantro cut right through the aromatic spices to stunning effect.
Polenta gelato 
Where: Superiority Burger
How Much: $7
The problem with a lot of vegan ice creams is that even when they're not coconut-flavored, they taste a bit coconutty thanks to the dairy-free industry's love of coconut milk. But Brooks Headley has found a way to circumvent that issue with his polenta gelato, which is made with corncob syrup and puréed pencil cob grits from Anson Mills, then churned into a creamy gelato that tastes jarringly like the real thing.
Chilled corn velouté with sea urchin toast
Where: Shun
How Much: Part of a three-course dinner for $135 or a four-course dinner for $155
Alain Verzeroli's month-old midtown restaurant gets its name from the Japanese concept celebrating food at "its very peak of flavor and freshness," so it's no surprise that the kitchen takes advantage of the corn bounty. This dish in particular embodies the restaurant's take on the intersection of French and Japanese cooking, combining a corn-based velouté with curry oil, orange peel, and star anise. For the toast, Verzeroli brushes uni with white miso, brûlées it, and then sets it on top of squid ink crouton to both amplify and complement the natural sweetness of the corn.
Market corn tlayuda
Where: Oxomoco
How Much: $16
This dish is essentially a cheesy, Mexican riff on corn pizza, set on top of a freshly baked blue corn tortilla. Said corn is prepped with mayo and epazote, a pungent herb not so dissimilar from oregano, and then sprinkled with Oaxacan quesillo cheese, a guajillo-pepper-based hot sauce, scallions, and, of course, plenty of crema.
Ute blue corn bread
Where: Dimes
How Much: $7
Corn bread is about as humble a corn dish as there's ever been, but the folks at Dimes are serving a seasonal take on the staple that is a nod to the late, great restaurant Angelica Kitchen. This particular corn bread is a violet hue, thanks to the use of blue corn, and gets its crunchy texture from black sesame seeds. Instead of butter, the restaurant tops its alien corn bread with a plum tahini because it's plum season, too.
Day boat scallops
Where: James
How Much: $29
'Tis the season for eating as much seafood as humanly possible, and this Prospect Heights restaurant has made that idea even more appealing with this dish featuring plump scallops set afloat in a bright-yellow sea of corn broth dotted with herbaceous dill oil. And because double the corn means double the pleasure, there's a little island of roasted corn with capers and Swiss chard in the middle to round this only-good-in-the-summer dish out.