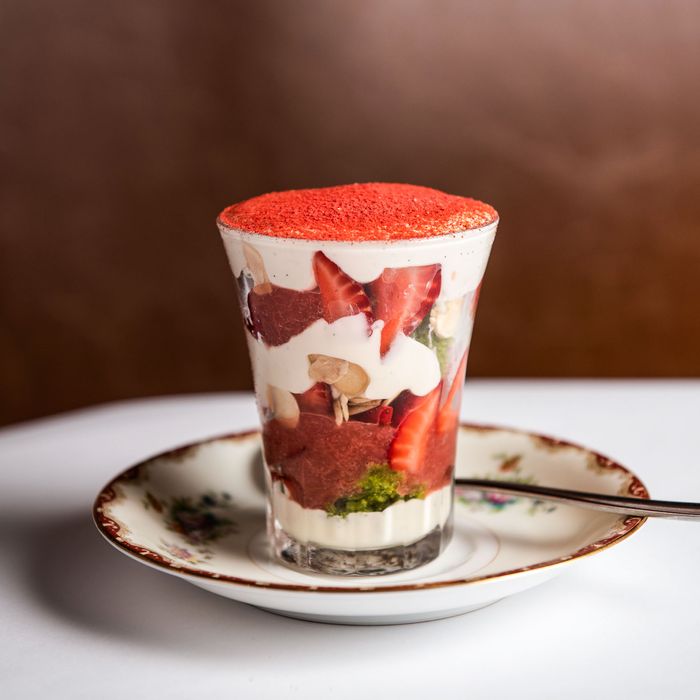 Augustine's strawberry-rhubarb trifle with basil cake.
Photo: Liz Clayman
Maybe it's just a side effect of The Great British Bake Off mania, but British desserts have made an unexpected return to menus around the city. "If you look at the classic desserts of England, they're extremely comforting and I think they're very traditional in the way that they're designed for the home cook," says British-born chef Jess Shadbolt of King, where an Eton Mess was recently added to the menu. "Nostalgia drives so much of our love and appreciation for food." That nostalgia has inspired a sticky toffee pudding that's sending diners into sugary nirvana, cherries jubilee set aflame tableside uptown, and Victorian sponges that the Mother of Europe herself would be head over heels for — all of them a bit elevated but nonetheless simple and comforting. "I definitely think that there should be more British desserts on menus," Shadbolt adds. "I, for one, believe in them." Below, a guide to all the British desserts worth ordering right now.
Strawberry-Rhubarb Trifle
Where: Augustine
How Much: $11
As far as British desserts go, trifles are pretty old hat, but leave it to Augustine to give the dessert a new coat of paint. The restaurant now serves a version of the trifle that starts with a sweet, egg-based pastry cream, followed by a layer of rhubarb compote, cubes of verdant basil cake, toasted marcona almonds, strawberries, whipped cream, and dehydrated strawberry powder.
Citrus Posset
Where: Cherry Point
How Much: $10
How do you follow up one too many old-fashioneds and a 70-day dry-aged steak for two? With a very simple, very light dessert. At Brooklyn's Cherry Point that dessert is a citrus posset featuring Cara Cara orange supremes. The original posset featured cream curdled with liqueur, but today's possets are more akin to nice custards featuring thickened cream. Cherry Point sweetens its version with sugar and vanilla, then allows it to set in the fridge before arriving tableside with crunchy Earl Grey meringue shards on top. It's the culinary equivalent of cooling down after a particularly hard-core workout.
Lemon Pudding Cake
Where: Simon & the Whale
How Much: $16
Pastry chef Zoe Kanan recently added a lemon pudding cake to the menu that features a pudding base and an egg-white-based cake on top. (The pudding is steamed as the cake rises to the top.) Each spoonful is a combination of light and airy cake mixed with a citrus bomb that Kanan says will "make you sit up straight" thanks to the addition of lemon juice, oil, and zest.
Sticky Toffee Pudding for Two
Where: Crown Shy
How Much: $18
The sticky toffee pudding at Crown Shy, just one part of the restaurant's truly impressive dessert menu, is a master class in decadence. Pastry chef Renata Ameni starts by making a date cake and soaking it in an apple-cider-caramel soak to keep it moist and drizzles it with syrup made with muscovado sugar, which is just shy of pure molasses. The cake is topped with smoked candied pecans and brown butter and then served with a scoop of Granny Smith–apple sorbet that cuts right through the heaviest part of the pudding. If that sounds like a bit much, Ameni recently started selling a small to-go version of the dish at lunch time.
Banoffee Tarte Tatin for Two
Where: The Clocktower
How Much: $25
At this British-leaning Stephen Starr spot, the classic banoffee pie with banana, cream, and toffee layered over a cookie crumble goes decidedly Continental. Pastry chef Mark Henning has taken a page out of the French playbook and stacked layers of caramelized bananas over puff pastry plus a scoop of hazelnut ice cream, drizzling the final result with toffee syrup.
Cherries Jubilee
Where: The Grill
How Much: $15
Yes, a French chef — Auguste Escoffier — invented cherries jubilee, but he did it to celebrate Queen Victoria. The folks at The Grill are similarly taken, it seems, and their version of the dish features sweet cherries, orange-vanilla cherry syrup, and a splash of bourbon set aflame in beautiful, highly Instagrammable fashion and then poured over a couple scoops of candied-almond ice cream.
Eton Mess
Where: King and LaLou
How Much: $13 and $11
Anyone can make an Eton Mess: strawberries, meringue, and whipped cream. For this most classic take, King is your best bet. ("It exemplifies simple deliciousness," says Shadbolt of her version.) But for a take that goes one step further, head to the recently opened LaLou. Like King, Chef Ashley Rath uses whipped cream instead of butter-fat-heavy double cream and mixes it with chunks of vanilla meringue. Both sit like a cloud over a handful of locally grown strawberries macerated with balsamic vinegar and black pepper to savory effect and then served in a coupe glass.
Pound Cake
Where: Loring Place
How Much: $16
Pastry chef Diana Valenzuela makes over the classic pound cake by substituting whipped cream for butter and then adding the eggs, flour, and sugar for a cake that's so airy and delicate that it might float away. Luckily, there are fresh blueberries and cherries plus a scoop of fennel-seed ice cream to keep it firmly grounded.