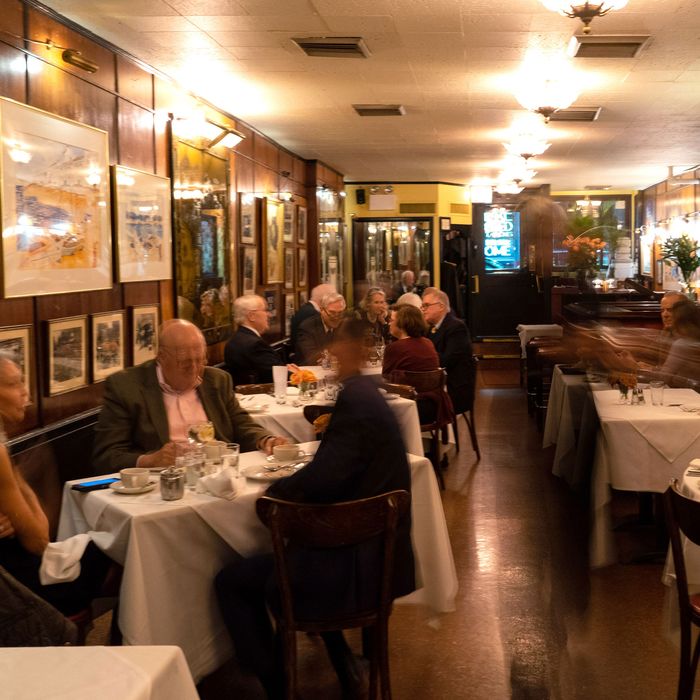 Le Veau d'Or's dining room.
Photo: Sophie Fabbri
"I'm gonna try for an uptown Frenchette," the chefs Riad Nasr and Lee Hanson are singing to themselves. The culinary duo, whose aforementioned restaurant was New York's biggest opening in 2018, are branching out. But they aren't opening a new restaurant — they've purchased an 82-year-old one instead, Le Veau d'Or. The restaurant is closed for renovations, with plans to reopen in the fall.
A throwback to the days before nouvelle cuisine and chefs like Jean-Georges Vongerichten, Le Veau d'Or has existed outside the microscopically examined world of New York's trendy restaurant scene for quite some time. (This wasn't the case decades ago, of course. In 1968, Times critic Craig Claiborne gave it four stars.) But it has had its fans over the years. The late Anthony Bourdain visited it on No Reservations, and earlier this year New York's Adam Platt argued that it was still one of the city's finest French restaurants, calling it "a kind of living museum" where "the menu hasn't changed in what seems like centuries."
Frenchette, on the other hand, is one of the city's buzziest restaurants. But it doesn't sound like Nasr and Hanson plan to revamp Le Veau d'Or; Hanson told the New York Times that "we love the idea of taking over a legacy restaurant" while maintaining its identity. Classics like frog's legs and tripe à la mode de Caen (which Platt claimed was "legendary among old-time tripe connoisseurs") will likely stay, though the plan is for the menu to adopt a more seasonal approach.
Le Veau d'Or had been owned by the same family since 1985 — Catherine Treboux took it over in 2012 from her father Robert after he died. Speaking to the Times, Treboux explained that the restaurant's kitchen needed work but that she wasn't willing to deal with the red tape. As Nasr and Hanson tell it, they'd thought about buying the restaurant ever since Robert's passing. It sounds like they weren't the only ones interested; their former boss Daniel Boulud told the Times, "I thought of possibly taking it over myself." In any case, the restaurant would appear to be in capable hands.