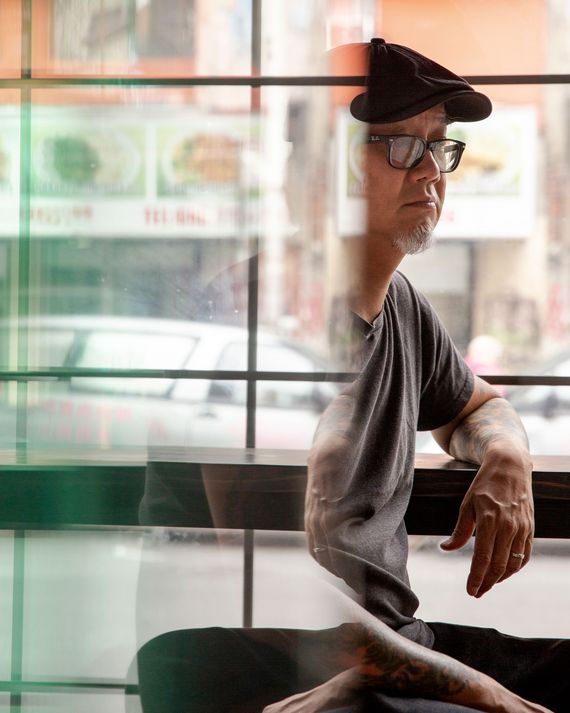 Fong On owner, Paul Eng, in the new space that should open later this month.
Photo: Mark Abramson
When Fong Inn Too, a circa-1933 family business on Mott Street, closed in 2017, it was seen as one more nail in the coffin for old Manhattan Chinatown. For three generations, the Eng family manufactured soy milk and tofu from scratch, as well as other Toisanese classics like house-made grass jelly and rice noodles. But times have changed: Manhattan's Chinatown has swelled with later waves of Chinese immigrants; newer food trends like boba and fried chicken are replacing Cantonese butcher shops and dim sum parlors; gentrification has rapidly raised rent; and people no longer look for small shops specializing in certain foods, preferring to get everything in supermarkets. Besides, the younger generations of such small food producers weren't interested in keeping on with rickety appliances, a geriatric labor force and, well, geriatric pricing.
"We were selling noodles for 15 cents more than we sold it 15 years ago," says Paul Eng, the youngest grandson of one of the founding partners in the business. "I know it's Chinatown pricing, but we can't exist that way, and we're lucky we own the building,"
At the end of July, Eng will reopen his family's shop at their original manufacturing location, at 81 Division Street, and he will produce many of the same products: homemade tofu and soy milk; dau fu fa (also known as douhua), a silky tofu pudding with syrup; and bai tang gao, a steamed, sweet rice cake that his family has always made from rice ground fresh in-house, selling them to go from the retail counter.
"I wanted to concentrate on what we're most well-known for," Eng says.
It will be a very welcome return. "I've been going there since I was a little kid; that's where I hung out, the neighborhood shop where you would pick up soy milk," says Wilson Tang, the current owner of Nom Wah, the storied dim sum parlor founded in 1920 that he inherited from his uncle. "My mom would give me $2 to pick up soy milk, so on a hot day we would just walk to that store and pick it up," Tang recalls, "and they also made the tofu with syrup and grass jelly so we would get four or five of them to take home as a snack."
Tang has been helping advise Eng on best practices throughout the process of reopening the shop. He can also relate to Eng because the real estate of his restaurant is family-owned, a crucial reason why he's managed to stay in business. "These businesses are super hard in today's environment," Tang says. "It's kind of the same old story of, Okay, what's the next generation gonna do?"
It's a question that families continue to wrestle with. "For businesses that have been in families for generations … even if it's very successful or important to the neighborhood, is that something the children want to take on?" asks Herb Tam, Director of Exhibitions at the Museum of Chinese in America. "And if not, it's very hard to then take the business out of the family, sell it, or have someone else manage it. So that's why you have so few businesses left."
He points to Wing on Woh, a ceramics shop on Mott Street that was in danger of closing before one of the daughters of the family left grad school and decided to run the business "and kind of reinvent it." Tam adds that the family also owned their building the store was housed in, which takes a big part of the challenge out.
"When places like this come back and continue to do business," Tam says, "I think a lot of people see them as almost like these cultural spaces where a certain aspect of the history of Chinese in America is kept alive." He adds, "people go there not only to buy something but to experience something that is very critical to the culture."
Although their now-shuttered retail location on Mott Street was last known as Fong Inn Too, Eng says that originally, the company name was Fong On, the Toisanese pronunciation of his grandfather's nickname. It roughly translates to "grand peace." Eng's grandfather emigrated to New York by way of Cuba in the 1920s and opened the shop with partners, who eventually left or were bought out. New partners were brought in at times and were eventually bought out, as well. Over its 80-plus years, the business underwent fires, disasters, and rumored attempts at sabotage. Last year, Eng had to sue an imposter business that opened up in his family's old Mott Street location.
But Fong On, which Eng has trademarked and will use as the name for his new shop, has been run exclusively by the Eng family since the 1980s. Though he had only worked the counter when he was in grade school, Paul is taking the reigns as the only family member in charge of this latest reboot.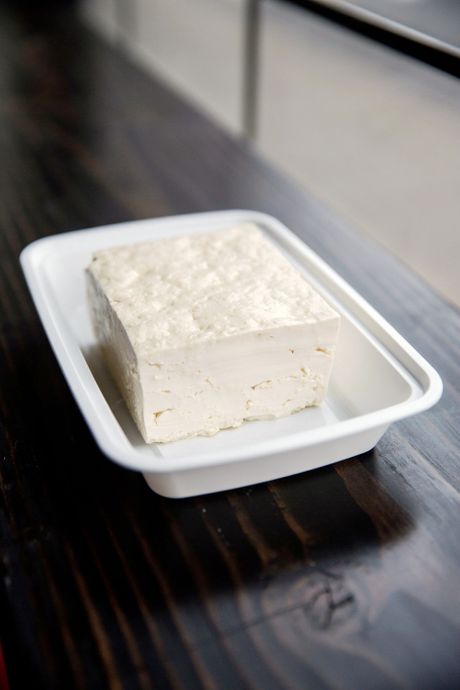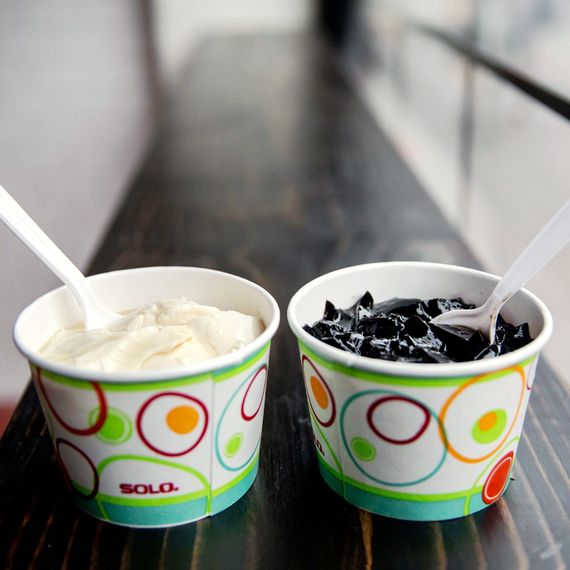 "Paul was kind of the artist of the family and did his own thing and at some point he came back to the neighborhood and Chinatown," Tang says.
As the youngest of his siblings by 11 years from the next-youngest brother, David, Paul had studied architecture then went on to play guitar in bands and work in music stores; he moved to Moscow for ten years, where he met his wife, and returned to New York in the mid-2000s. As his parents and older siblings were getting ready to retire, they met with a nonprofit that was interested in reopening the business without them and transforming it to a worker-owned. That's when Paul began to get the itch.
"I thought, this doesn't feel right, especially if it's my family's store name on the line," he says of those meetings. "What's the point of opening up if we can't put something of ours behind it?"
It has been easier said than done to recreate the classics that his family has served for generations. His family's recipes were locked up in certain cups, buckets, and ladles around the shop, now gone, rather than standardized measuring equipment. But Eng is hoping to put his own twist on a few things — increasing the protein content of the soy milk, for instance, so it's always thick and rich-tasting, which he prefers. And he's invested in modern equipment to replace the aging appliances and inefficient techniques his family had insisted upon for decades. For instance, he bought a steam oven rather than steaming every rice cake over woks with baskets. But it's still labor-intensive; even the grass jelly is made from dried leaves that are washed then boiled into a condensed syrup, then jellied with starch.
"There is no second-day douhua, it's ground and soaked and cooked on the same day," says Eng. He says that prices will go up, too. In the past, his family members felt they had to keep prices so low they could barely survive on the profits. But Eng is determined to find customers appreciative of the quality and real cost of food that's typically made in industrial quantities these days. (Can anyone imagine if Katz's pastrami sandwiches had increased by only a quarter for decades?)
"We've had customers who would challenge us in the past and were like, 'That other guy sells it for cheaper' and I was like, well ours is better," Eng says.  "Our price would go up 25 cents and some lady is complaining about it while her son is sucking down a boba tea that costs $5 and I'm like, we ground the beans, we steamed it into a custard, and then we coagulated it."
Right now, the plan calls for a soft opening on July 27. They'll start out with tofu, soy milk, dau fu fa, grass jelly with or without toppings, herbal tea, and bai tang gao rice cakes in both white and brown varieties. Eng is looking forward to rolling out more desserts and some savory snacks in time as well. While he hopes that many of the old customers who miss the taste of his family's products come back, Eng hopes to attract new customers with his these time-honored foods, because maybe they've just never had it before.
"My wife is Russian and she loves rice cake and the grass jelly, which I didn't expect her to like," he says. "So if she likes it, I'm sure others will, too — they just need to know about it."