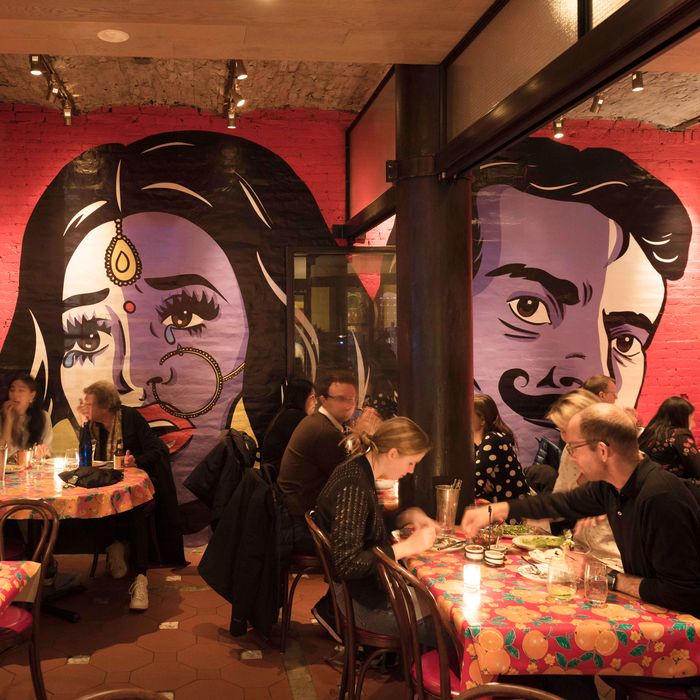 The chef gave the dining room a colorful face-lift (and a new name) in 2018.
Photo: Liz Clayman
The chef Floyd Cardoz will close the Bombay Bread Bar, the Soho restaurant that he first opened, as Paowalla, three years ago. It will close at the end of September, when its lease expires. The news comes only a couple weeks after Cardoz announced he promoted his chef de cuisine Jai Lakhwani, and had stepped aside for a new role with the Estiatorio Milos group.
"It's been on the table since January, since minimum wage went up," Cardoz tells Grub. The chef had tried alternative means of making money, like, for example, lending the space over during weekdays to the co-working service Spacious. "I do understand you have to pay people a livable wage; that's not what I'm disputing," Cardoz explains. "It's all the other things the state makes you do."
When it opened, Paowalla was celebrated as the chef's return to cooking Indian food in New York, following the 2010 closing of Tabla, the pioneering space he opened with Danny Meyer in 1998, and which is still talked about longingly by food obsessed New Yorkers, in particular its Bread Bar — the magic of which served as the inspiration for the rebranded Bombay Bread Bar, which debuted in early 2018.
By transforming the space into Bombay Bread Bar, Cardoz took a casual and more colorful turn. More emphasis was put on the breads, while the space was redesigned by Wes Anderson collaborator Kris Moran into a louder, festive, and more photogenic room with, among other things, a mural by the artist Maria Qamar. The restaurant kept evolving, with a Monday Kerala fried chicken night, special dosas created with chefs such Daniel Boulud, and Lakhwani's introduction of Indo-Caribbean flavors. The restaurant had its fans, but ultimately it didn't stick enough for today's New York. (Come October, Cardoz will still have two restaurants in Mumbai, where he operates the Bombay Canteen and O Pedro.)
"In the city, it's kind of impossible right now," Cardoz says. "Unless you make numbers like one of the three-star restaurants, you can't afford it." He adds, "I still love the cuisine, I still love everything about it, but if it was just going to limp along, what's the point?"