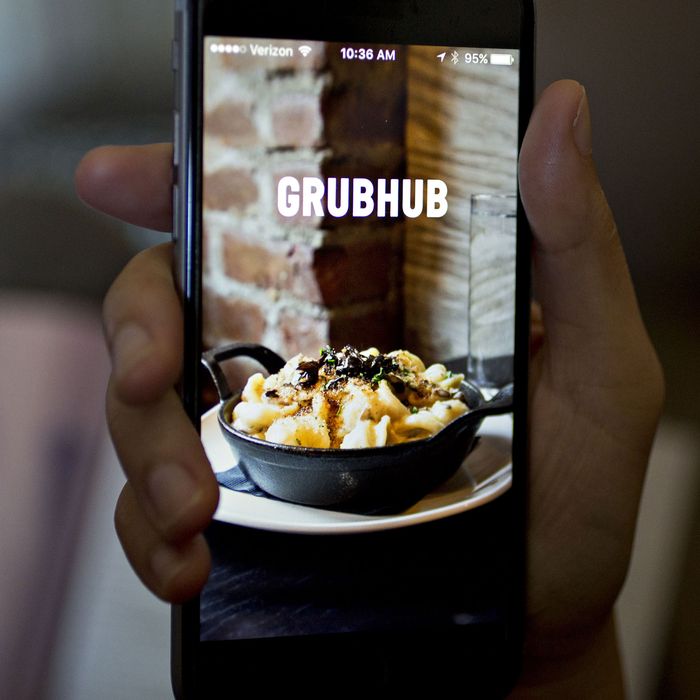 According to a new report, GrubHub has been registering fake websites for restaurants on its platform.
Photo: Andrew Harrer/Bloomberg via Getty Images
For many better-off residents of cities like New York, GrubHub is a service so integrated into their lives that they don't even necessarily think about it. You can imagine the conversations about life before the app: "You mean you used to have to call the restaurants?" GrubHub, ostensibly, is a boon for restaurants, which get marketed through the platform, get an increased online presence, and expand their delivery reach. But, according to a report in the New Food Economy, GrubHub and its subsidiary Seamless are, in effect, competing with its clients and finding sketchy ways to drive up its own profits by registering tens of thousands of domain names that appear to be owned by restaurant. Here's everything you need to know about the report.
The company has registered a lot of fake websites.
GrubHub has registered either a bit more than 23,000 websites, according to the New Food Economy, or 34,000 over the last nine years, per the New York Post's report. The last domain GrubHub registered was in May, when the Post detailed the company's practice of creating phone numbers for restaurants in order to drive up its own sales.
Customers are effectively tricked out going straight to the restaurant.
These GrubHub websites are masquerading as ones operated by the actual businesses. As the Post reports, the fake sites use the restaurants' logos and you have to scroll to the bottom of page (when you're trying to get food as lazily as possible) to find a GrubHub Holdings copyright.
GrubHub actually makes more off sales made through these fake websites and numbers.
As Stacy Mitchell of the Institute for Local Self Reliance tells the New Food Economy, the fake websites are "predatory." The phone numbers displayed on these websites aren't the actual numbers of the restaurants but ones listed in GrubHub's app. The calls are forwarded to the restaurant, and, GrubHub executives said at New York City Hall last week, the platform gets a commission from 3 to 15 percent on every order made this way. When a customer calls a restaurant directly, GrubHub does not get a commission.
The URLs seem like ones that would be owned by the actual business.
Further, the URLs do not make it clear that these websites are owned by GrubHub. One Brooklyn and Queens restaurateur, who asked to be identified only as Shivane M., tells the New Food Economy that GrubHub purchased three URLs that were variations on the name of her restaurant. These were bought in 2012, 2013, and 2014. The publication gives another example in Daytona Beach, Florida's Molly Hatchet's Sub Shop, which has its own website at www.mollyhatchetsubshop.com. In December of last year, GrubHub registered www.mollyhatchetssubshopdaytonabeach.com. The Post points to Chicago Salad House, which has its own domain of www.chicagosaladhouse.com and a GrubHub-registered website at www.saladhousechicago.com.
GrubHub is not asking for permission to do any of this.
Verge tech editor Natt Garun wrote about her family's experience with GrubHub's dummy-website practice: Her parents own the Queens restaurant Pochana (which is listed on Seamless/GrubHub and Caviar), for which GrubHub set up a fake website, "without their permission," that uses the restaurant's own logo as well as photos taken for Caviar. It lists a phone number that is not the restaurant's. Speaking to New Food Economy, Mitchell says that GrubHub is "inserting itself between a restaurant and a customer."
The company says that the fake websites are "a service" for clients.
In a statement emailed to the New Food Economy, GrubHub says it "has never cybsersquatted," but rather, "as a service to our restaurants, we have created microsites for them as another source of orders and to increase their online presence." The company says the practice is consistent with contracts but no longer provided.
It's not easy for small-business owners to take ownership of these URLs.
In the statement provided to New Food Economy, GrubHub says that "it has always been our practice to transfer the domain to the restaurant as soon as they request it." But the owner of Brooklyn's Abracadabra Magic Food tells a different story and says his attempt to get www.abracadabrabrooklyn.com from GrubHub was fruitless. He tells the Post that "this is what they do, you can't do anything" and that it was too difficult for a "very small business."
Along with listing GrubHub numbers, fake websites for restaurants like Chicago Salad House and Cliffside Park, New Jersey's 354 Steakhouse list inflated prices.
These fake websites and numbers aren't the only problem that small-business owners are having with GrubHub.
As Shivane tells New Food Economy, the dummy websites are just one reason why her relationship with GrubHub is strained. Commission fees have been rising, and Shivane has to spend on promotion or see her restaurant buried in rankings. The increasing cost of working with the platform, she says, is "putting us in a financial hole." The publication found that she paid GrubHub $8,000 in June. Meanwhile, the platform says that the algorithm it uses to determine if phone calls result in sales results in mistakes. GrubHub wants restaurant owners to listen to all phone recordings to determine if any mistakes are occurring. A Philadelphia restaurateur behind the Indian chain Tiffin is suing the platform over this practice, claiming thousands of restaurants are being charged for calls that don't result in food orders. Shivane, who didn't know about this practice, estimates she's been overcharged to the tune of $30,000.