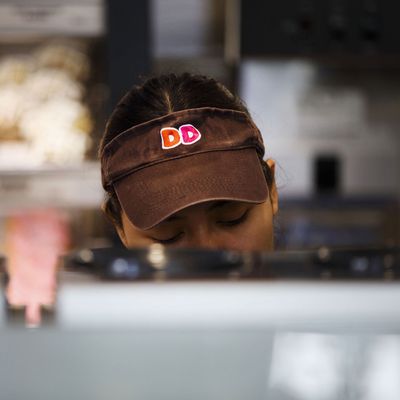 Dunkin' has lobbied on immigration reform since 2008.
Photo: Patrick T. Fallon/Bloomberg via Getty Images
Dunkin' (née Dunkin' Donuts) is suing franchisees that hire undocumented workers, the New Food Economy reports. The company has tried to close almost 30 restaurants on the East Coast since September 2018, and the lawsuits could further that effort. Labor attorneys and experts who spoke with the publication say they are not aware of other companies specifically targeting franchisees for hiring unauthorized workers.
This is happening as the Trump administration continues its hard-line immigration agenda and stance on undocumented immigrants, which includes a failed attempt to put a citizenship question on the 2020 Census and setting up migrant detention camps on the U.S.–Mexico border. Andrea Pitzer, an expert on concentration camps, compares these camps to ones from the turn of the 20th century, as well more recent ones, like the camps set up in 2012 to segregate Myanmar's Rohingya Muslims.
After finding that franchisees hadn't verified their workers' employment statuses, Dunkin' has attempted to terminate franchise agreements and taken owners to court. The most recent complaint was filed by Dunkin' on June 24 in a Delaware federal court, according to Restaurant Business. Dunkin' Donuts Franchising LLC, a part of Dunkin' Brands, alleges that franchisees Thomas Sheehan and Kenneth Larson maintained work records that were incomplete and out of date, and they did not verify the work status of a significant number of employees.
According to a termination letter filed by Dunkin', the company could not find I-9 forms for dozens of hires at Sheehan and Larson's stores, according to the New Food Economy. (I-9s confirm that a person is authorized to work in the U.S.) In April, Dunkin' also sued franchisees who did not close 14 New Jersey and Virginia stores after being sent termination letters. Issues with I-9 forms were also found during the ten-month review of those 14 stores by Dunkin'.
In both instances, the franchisees did not use E-Verify, an online system that runs I-9s against a database maintained by the Department of Homeland Security. Dunkin's adopted the system in 2006, at a time when it was only used for checking government hires; the company began serious lobbying efforts on immigration reform in 2008. Dunkin' has sued franchises in the past, filing 100 lawsuits in 2006 and 2007. But labor lawyer Vikrant Advani told the New Food Economy that not complying with E-Verify used to be one of many things cited in a lawsuit rather than the focus.
According to reports from this past November, 7-Eleven franchisees believed that the corporation was using ICE to target critics. ICE agents had raided 98 7-Elevens in 17 states, the New York Times reported in January 2018, and at least four of those occurred at stores operated by franchisees who criticized CEO Joe DePinto.